When the high and mighty came calling
Last updated on: December 24, 2010 08:09 IST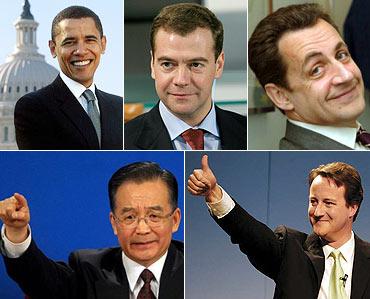 In the last six months, and for the first time ever, the heads of state of the five most powerful nations on earth -- United States, United Kingdom, France, Russia and China -- have paid a visit to India. The five nations -- all permanent members of the United Nations Security Council and collectively referred to as P5 -- have tried to strengthen their ties with the emerging economic superpower.
Rediff.com takes a look at how the Indian sojourn turned out for the presidents and prime ministers of the mighty P5.
Barack Obama
Last updated on: December 24, 2010 08:09 IST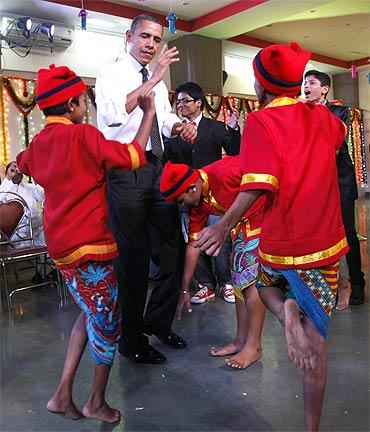 The most powerful man in the world undertook his longest stay yet in a foreign country when he landed in Mumbai on December 6. In a symbolic gesture, US President Barack Obama stayed at the Taj Mahal Palace Hotel in Mumbai, which was targeted by terrorists during the 26/11 siege.
Obama also fielded some tough questions from students during a town-hall session in St Xavier's College in Mumbai. He, along with wife Michelle, won over many hearts by matching steps with the students of a local school during a traditional Koli dance.
But Obama saved the best for the last. While addressing the joint session of Parliament, the US president strongly backed India's bid for a permanent seat in the United Nations Security Council.
Deals signed: Obama announced deals worth $10 billion in aviation, power and other sectors that will create 50,000 jobs in the US. In a landmark agreement, India signed a deal with Boeing to buy 10 C-17 transport aircraft for nearly $3.5 billion.
Nicolas Sarkozy
Last updated on: December 24, 2010 08:09 IST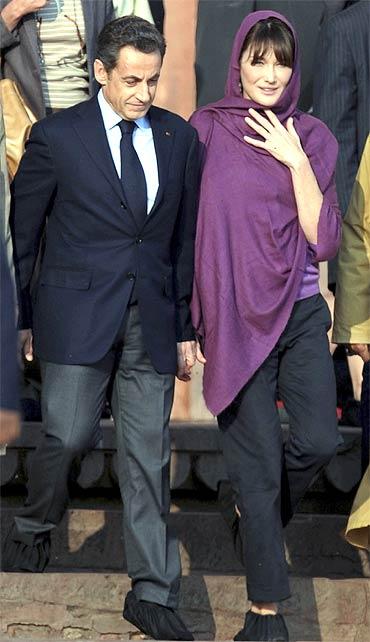 French President Nicolas Sarkozy made a strong pitch for India's inclusion in the UNSC on the first day of his 4-day India visit, while addressing scientists and other dignitaries at the Indian Space Research Organisation in Bengaluru.
During his visit to Mumbai, he attended a special memorial service held at the Trident-Oberoi Hotel, which had been one of the targets of the 26/11 terror strike.
Sarkozy, along with his glamorous wife Carla Bruni, also visited the Taj Mahal in Agra and the Fatehpur Sikri dargah. Bruni, a model-turned-singer, reportedly prayed for a son at the famous site.
Deals signed: France became the first country to sign agreements to set up nuclear reactors in India. Five path-breaking agreements to establish the first two of the six reactors in Jaitapur in Maharashtra at a cost of approx $25 billion were inked.
French company Areva would set up the nuclear plant at Jaitapur that would go on to produce 10,000 MW of 'non-polluting' energy.
David Cameron
Last updated on: December 24, 2010 08:09 IST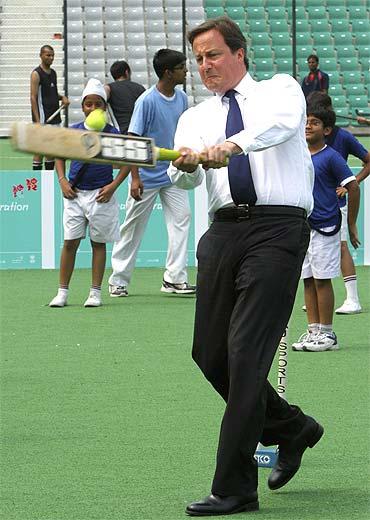 British Prime Minister David Cameron was the first P5 leader to visit India this year. The Conservative leader undertook a three-day visit of India within three months of taking over as the PM.
During his stay, Cameron visited Mahatma Gandhi's memorial in Rajghat and played cricket at a Delhi stadium. He also shocked the Pakistan government by sending out a hard-hitting message asking Islamabad to stop the 'export of terror'.
Deals signed: Cameron led a delegation including six ministers and more than 30 senior executives from top United Kingdom firms. He also sealed a major $1.1 billion aircraft deal, enabling the UK's premier defence manufacturer British Aerospace to supply 57 Hawk Jets to the Indian Air Force and Navy.

Wen Jiabao
Last updated on: December 24, 2010 08:09 IST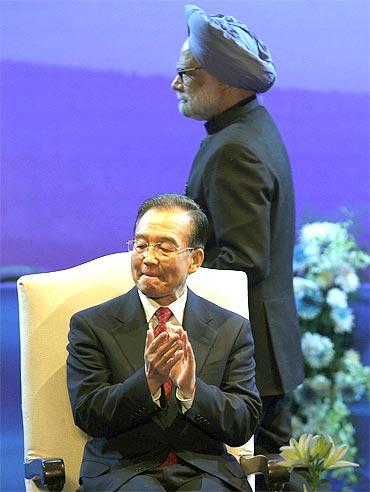 The much-hyped visit of Chinese Premier Wen Jiabao to India, in the wake of increasing unease in bilateral ties, turned out to be a damp squib.
The issue of stapled visas or the Mumbai terror strike, which was carried out by terrorists from China's main ally Pakistan, did not figure in the joint communique. But Indian diplomats claimed that India's concerns about the visa issue as well as Pakistan-sponsored terrorism had been raised with the Chinese PM.
Deals signed: The investment and trade promotion mission accompanying the Chinese PM signed economic and trade agreement worth more than $16 billion with Indian companies.
Agreements signed during Wen's visit include those between China Development Bank and Reliance Power, China Aluminium International Trading Co and Vedanta Aluminium Ltd, Bank of China and IDBI, Dongfang Electric Corporation Ltd and Abhijeet Projects Ltd.
Dmitry Medvedev
Last updated on: December 24, 2010 08:09 IST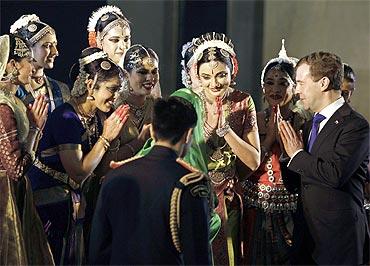 Russian President Dmitry Medvedev, on a two-day visit to India from Tuesday, also sent out a strong message to Pakistan.
"Terrorists are criminals, they should be extradited to be punished. Those who hide terrorists conceal criminals," he said while addressing a joint press conference with Dr Singh.
The Russian prime minister also visited the Indian Institute of Technology in Powai and Film City in Goregaon, Mumbai.
Deals signed: A deal for the design of advanced fifth generation fighter aircraft at an estimated cost of $295 million was among the 30 pacts inked by India and Russia in several key areas such as defence and civil nuclear sector.
The key pacts include Preliminary Design Contract for FGFA envisaging joint design and development by Hindustan Aeronautics Limited and Russia's Sukhoi Design Bureau and Rosoboronexport, Framework Agreement on Cooperation in hydrocarbon sector and MoU for joint research and development in reactor technology and related fields for peaceful uses of atomic energy.