Cash-for-votes: Cops yet to ascertain money trail
Last updated on: September 6, 2011 21:09 IST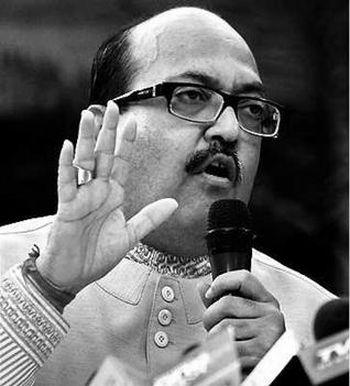 Rajya Sabha member of Parliament Amar Singh was on Tuesday sent to jail for his alleged role in the cash for vote scam. He has been charged under section 120 (B) of the Indian Penal Code (criminal conspiracy) and section 12 of the Prevention of Corruption Act.

The Delhi police, which has been investigating the case for three years, brought immunity for itself from political wrath as the arrest was court-ordered. Highly placed sources in the Delhi police told rediff.com that this was what they preferred.

"We wanted the court to order the arrest as the evidence we have against Singh is largely circumstantial. Because of his political influence, we feared he could influence police witnesses," a senior police officer said.

According to the charge-sheet filed by the Delhi police in the case, the police have "sufficient circumstantial
evidence" that Amar Singh delivered Rs 1 crore as illegal gratification after entering into a "criminal conspiracy" with his secretary, Sanjeev Saxena.
Click NEXT to read further...
Amar Singh argues his own case in court
Last updated on: September 6, 2011 21:09 IST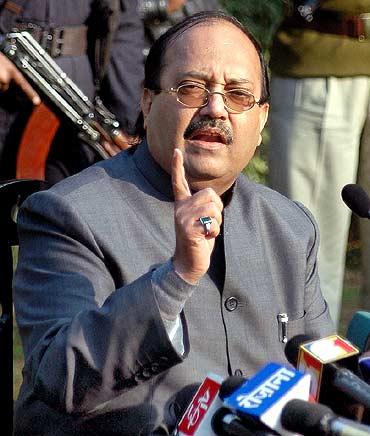 Sources said that the evidence Delhi police has is Singh's telephone records proves that Saxena called Singh 15 times both on his landline and his mobile phone - hours before the trust vote on July 22, 2008. The car in which the cash was delivered also belonged to Singh. Delhi police also have statements made by Sanjeev Saxena and Sohail Hindustani, a Bharatiya Janata Party worker, who was a part of a sting conducted by a CNN-IBN team.

It was an interesting day in the court on Tuesday. Hours after his counsel moved an application to exempt him from appearing before the court since he was unwell, Amar Singh entered the court at 12.35 pm.
Waiving his lawyers aside, the MP argued his own case for five minutes. "Since I have developed an infection, I have to travel to Singapore every three months for medical tests," Singh told the court. Singh had undergone a kidney transplant recently at Mt Elizabeth Hospital in Singapore and now suffers an infection.
Click NEXT to read further...
'All weak circumstantial evidence against Singh'
Last updated on: September 6, 2011 21:09 IST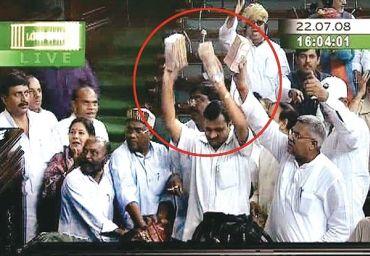 An unmoved Special Judge Sangita Dhingra Sehgal asked for his medical history since September 2010, to which Singh replied he did not get the time to collect all documents.
Judge Sehgal later sent Singh to judicial custody till September 19. She also rejected the bail pleas of BJP MPs Faggan Singh Kulaste and Mahavir Singh Bhagora and sent them to judicial custody as well.

Singh's legal team now says that they will fly in doctors from Mt Elizabeth hospital in Singapore to corroborate his medical condition.

"We have applied for another bail, which will be heard on September 8.
In this application, we have mentioned Amar Singh's delicate health condition. He has developed a kidney infection, for which he will need to travel abroad constantly," Singh's lawyer, Hariharan said.

When asked about the charges against Singh as leveled by the Delhi police, Singh's lawyer said, "They are all weak circumstantial evidence. We are preparing for the September8 interim bail application for now. We will also apply for regular bail on September 19."

The Delhi police probe, which has been going on for three years, picked up speed after the Supreme Court slammed the agency for its 'half-hearted probe.' Within weeks, police arrested Sanjeev Saxena and the 'whistle-blower', Sohail Hindustani.
Click NEXT to read further...
'Statements by the 3 BJP MPs incriminate Singh'
Last updated on: September 6, 2011 21:09 IST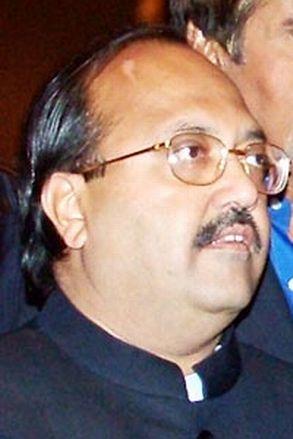 According to the sequence of events constructed by the police in the case so far, Amar Singh allegedly gave Rs. 1 crore to Sanjeev Saxena, who then contacted 'middle-man' Sohail Hindustani to distribute it to BJP MPs Faggan Singh Khulaste, Ashok Argal and Mahavir Bhagora.

Statements made by the three BJP MPs, Saxena and Hindustani incriminate Singh in the case. In addition, police also have the statement of Hashmat Ali, the driver of the car, who drove the MPs to Singh's Lodhi Estate residence on the morning on July 22.

Initially, Amar Singh had tried to distance himself away from Saxena (believed to be Singh's secretary) but a college admission form of Saxena's son showed his father's address as 27, Lodhi Estate  Amar Singh's residence. Police also recovered several letters with Amar Singh's letterhead in which Saxena has been introduced as Singh's
secretary. The Delhi police also established that Saxena's call records show several calls were made to Singh on July 22.

Interestingly, Amar Singh's legal team maintained that Amar Singh had no connection with Saxena.

"All the Delhi police have right now are certain documents they seized from Saxena, which has Amar Singh's signature. We refute the claim that he is connected to Amar Singh," his lawyer said.

Click NEXT to read further...
'Advani's former aide, Kulkarni, masterminded the scam'
Last updated on: September 6, 2011 21:09 IST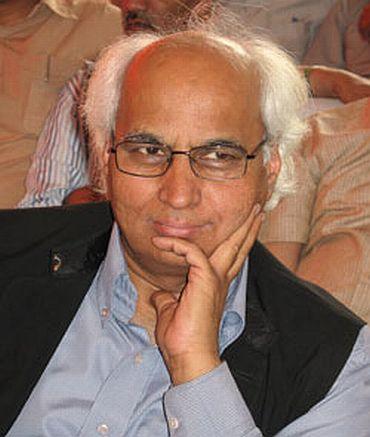 "We have enough evidence against Amar Singh as mentioned in the charge-sheet. We did not see the need to arrest Singh as he had answered our summons for questioning. What we need to investigate now is the money trail, which we have not been able to establish," a senior police officer said.
In the 80-page charge-sheet filed by the Crime Branch, no mention has been made of the money trail. According to the bank notes' serial numbers, the cash was withdrawn from different bank accounts from cities across India like Mysore, Dehradun, Jaipur, Faridabad and Delhi.
The charge-sheet also says that the entire scam was masterminded by L K Advani's former aide, Sudheendra Kulkarni, who failed to make an appearance in court, as he is traveling in the United States. Police sources said
that Singh walked into a trap prepared by Kulkarni, who enlisted support from the three BJP MPs to market themselves as available for buying in exchange for vote.
About Kulkarni's role, the charge-sheet read, "Kulkarni throughout remained in contact with other conspirators and played an active role and masterminded, and when actually the bribe money was paid to the BJP MPs, he remained present at the spot."