Rahul, the next PM? On what basis?
Last updated on: March 23, 2011 11:30 IST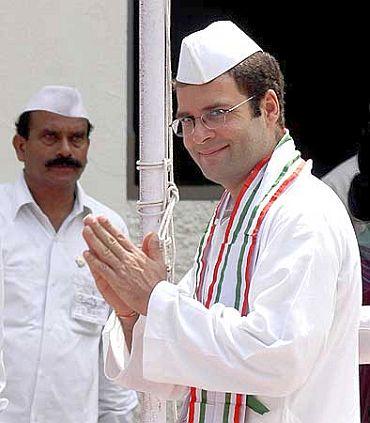 Congress General Secretary Rahul Gandhi has all the potential to become the next prime minister, at least the Congress seems to think so. But senior analyst B Raman raises a few doubts over his ability to lead the nation.
Is Rahul Gandhi fit to lead India and enable it to take its rightful place as an Asian power on par with China?
It is very difficult to give a comprehensive answer to this question because there is very little known about him, and the Congress has seen to it that his personality and stature have not become the subject of public scrutiny.
Without any scrutiny and without any enumeration of his positive and negative qualities and track record as a political personality, his followers in the party want to impose him on the country as the next prime minister in the unlikely eventuality of the Congress returning to power in the next parliamentary elections, whenever they are held.
Click NEXT to read further...
Rahul's ability to lead country has not been tested
Last updated on: March 23, 2011 11:30 IST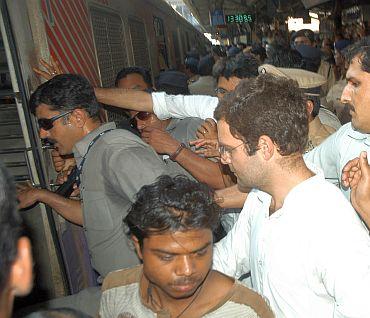 I consciously called him a political personality and not a political leader because his ability to exercise leadership over the country has not so far been tested. Even in his own party, in which he has been holding office as the general secretary for some time now, he has not set the Jamuna on fire.
If one has to prepare a comprehensive curriculum vitae on him for dissemination through the internet similar to the CVs on political leaders circulated in the United States and other democracies before elections, one will have difficulty in completing the task because there is so little known about him except the flattery disseminated by the members of his party.
When we are told by his party members that he is fit to be the next prime minister, we have a right to know on what basis they have come to that conclusion. Leadership does not necessarily require high educational qualifications.
K Kamaraj, the former chief minister of Tamil Nadu, who subsequently became the president of the Congress and played a key role in the post-Nehru transition of power, was hardly educated. And, yet, he turned out to be one of the successful leaders produced by India.
Click NEXT to read further...
Rahul has given no evidence of intellectual spark
Last updated on: March 23, 2011 11:30 IST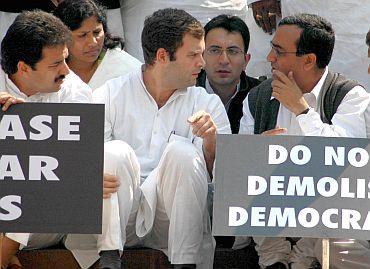 Let us, therefore, keep aside the question of Rahul's educational qualifications which, in my view, are not important for this debate. My perceptions of Rahul are marked by the following thoughts:
A potential leader must have something more than good personal qualities. He must have an intellectual spark, which does not necessarily come from his or her educational qualifications.
Rahul Gandhi has not so far given evidence of such an intellectual spark. Till now, he has not demonstrated any leadership qualities by way of ideas and actions.
His ability to understand and logically analyse the complex internal and external problems facing the country is yet to be proved.
His views tend to be very simplistic and do not indicate wide reading and an ability to think deeply.
A good leader of the future must excite the younger generation. Rahul doesn't not do so even in his own party.
Click NEXT to read further...
Congress will do disservice to India if they impose Rahul
Last updated on: March 23, 2011 11:30 IST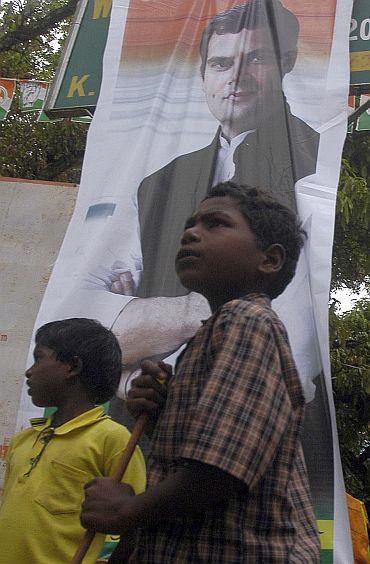 Under such circumstances, the Congress will be doing a tremendous diservice to itself and the country if its tries to have him imposed initially on the party and then on the country as the next PM. His track record till now -- whether in respect of contribution to new ideas or new policies -- has been mediocre.
Apart from the fact that he has come from a highly privileged political family, which has made a tremendous contribution to the nation, he is yet to demonstrate any qualities which compel attention and could make us look upon him as a leader of the future.
Click NEXT to read further...
Don't treat Rahul as a sacred cow
Last updated on: March 23, 2011 11:30 IST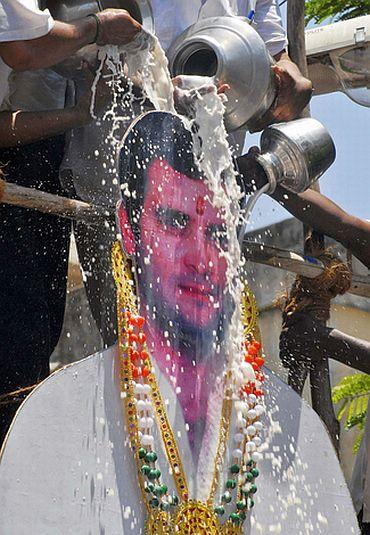 It is important to have an objective and balanced debate on this subject devoid of rhetoric, abuses and ideological arguments so that we have a complete picture of him before our eyes on the basis of which we can decide whether he is fit to lead India in the difficult years to come.
The Congress could contribute to this debate by opening a separate website for him in which they could give all data about him relevant to this debate,
If the Congress expects the people of this country to seriously consider him as a potential leader, he should not be treated as a sacred cow which has to be accepted by the people without any scrutiny.