Blunt feedback from party workers leaves Rahul STUNNED
Last updated on: April 30, 2012 22:40 IST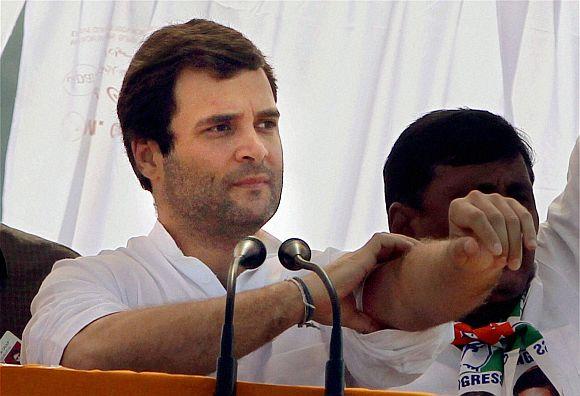 Congress General Secretary Rahul Gandhi's first visit to his own parliamentary constituency in Amethi after the party's devastating debacle, not only all across Uttar Pradesh but also in the family bastions of Amethi and Rae Bareli, openly displayed the simmering discontent and disillusionment of his own party insiders with him. Sharat Pradhan reports.
Rahul, who arrived here on a three-day visit to hold open house sessions with workers of each assembly segment under the huge parliamentary constituency, faced an unusual howdown among his very own people, who had until recently held him like demigod.
The Gandhi scion, who had prepared a long reprimand list for the party workers engaged in the assembly election campaign and booth management, received a rude shock when a few partymen rose to  tell him point plank, "Rahulji, you may fix the responsibility on us, but don't absolve yourself of the larger responsibility for the debacle."
This came in response to Rahul's repeated warnings about taking action against erring party workers during the March election, when he spearheaded the party campaign with his man Friday Digvijay Singh in tow.
Congress workers, who were known for their traditional docility and who usually remained in awe of the Gandhi family, did not hesitate to tell their icon, "This is not just the defeat of you candidates, but your own defeat, because people in this region vote in your name."
Click NEXT to read further...
'You depended solely on middlemen'
Last updated on: April 30, 2012 22:40 IST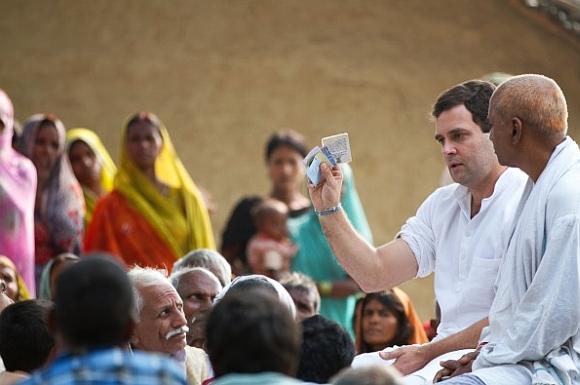 A stunned Rahul, however, chose to give everyone a patient hearing. And it was no wonder that each of his interactions with workers in Tiloi assembly segment followed by the one in Salon segment lasted nearly three hours.
Even though both the meetings remained closed-door affairs, a few outspoken workers freely talked about the goings-on inside. According to an insider, one of the party workers in Salon, where the party nominee lost miserably, went to the extent of accusing Rahul of depending solely on "middlemen".
He even sought to ask Rahul, can you recognise and name five workers who were closely involved with the electioneering process," to which Rahul confessed apologetically, "sorry".
Rahul was even questioned about the poor state of development in the Amethi parliamentary constituency. They also did not seem to be in any mood to accept Rahul's plea that Amethi could not get what it deserved largely on account of continued rule by politically hostile governments over the years.
Click NEXT to read further...
'We needed urgent and ruthless surgery'
Last updated on: April 30, 2012 22:40 IST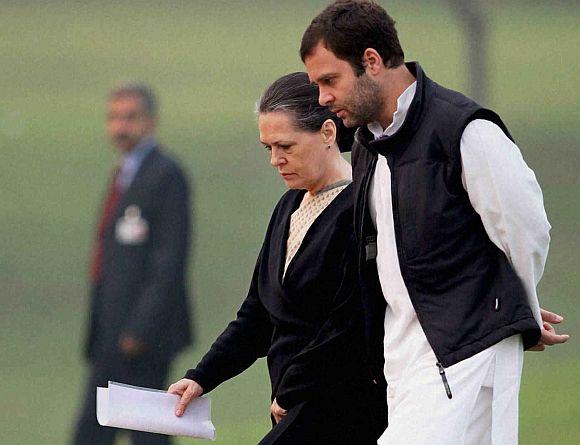 "How is it that your own party leader Pramod Tiwari managed to do so much for his constituency in the neighbourhood," asked another worker, leaving Rahul completely stunned.
At least 500 workers -- right from the party's assembly nominees down to the booth-level workers -- attended each of the two meetings, clearly aimed at eliciting an honest feedback of the ground reality.
"What we needed urgently was ruthless surgery by plugging the loopholes and by restructuring the party well before the crucial Lok Sabha elections in 2014," observed Binda Prasad, the head of Chatoh Block in Salon assembly constituency. "It is high time our top leaders prepare themselves to listen to harsh truths if they sincerely want
the party to stand up on its feet again," he added.
Monday's  candid confessions and pointed accusations were bound to encourage many more partymen to speak out, when Rahul hold a similar open-house in Amethi and Gauriganj assembly segments on Tuesday and in Jagdishpur on Wednesday.
But for two assembly segments of Tiloi and Jagdishpur, the Congress party had lost in the remaining three assembly segments including the Amethi assembly segment of Amethi Lok Sabha constituency. What was worse that the party faced a complete rout in the neighbouring Rae Bareli parliamentary constituency held by Rahul's mother and  Congress president Sonia Gandhi.
TOP photo features of the week
Last updated on: April 30, 2012 22:40 IST
Click on MORE to see another set of PHOTO features...