Blast aftermath: 'I still can't trace my father'
Last updated on: September 7, 2011 20:36 IST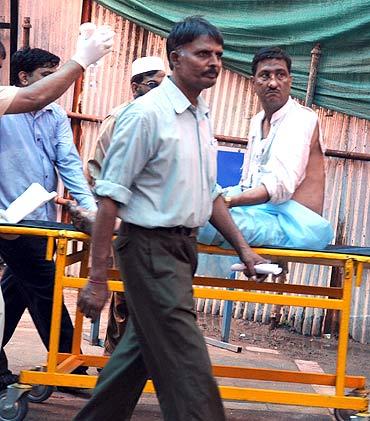 Soon after a powerful bomb hit the Delhi high court Wednesday morning, the injured were being admitted to nearby hospitals. A majority of those injured were brought to Ram Manohar Lohia Hospital and by the evening 51 injured patients were being treated there.
57-years-old Pratap Singh Dabas was one of the early casualties at the hospital. His brother narrated that while Pratap Singh joined the senior citizen's line to get an entrance ticket, his son Rohit Dabas, 20, was standing just a few steps away from him, when the high-intensity blast stuck.
The blast was so severe that it instantly ripped-off his lower waist body. Rohit carried his father to the hospital immediately, but Pratap Singh succumbed to his injuries.
"There was just a few steps distance between the two and now he is no more," recalled his tearful brother.
Please click NEXT to read further...
'He wanted his son to complete his studies. But now, all is gone'
Last updated on: September 7, 2011 20:36 IST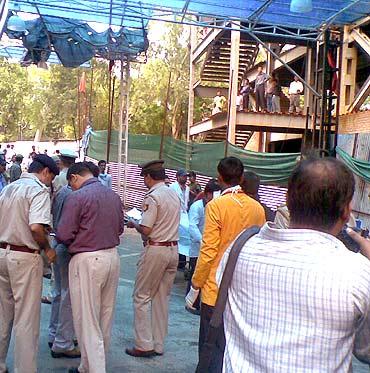 Angry relatives and friends of those who were being brought to the hospital filled the open areas outside the entrance of the emergency ward of the hospital. Most were agitated because they were not being let inside the hospital premises even as patients were being carried in and out of the ward on stretchers.
As Delhi Chief Minister Sheila Dikshit made a visit to see the patients and was straightway led inside the hospital, one exasperated relative of an injured shouted, "We aren't being allowed inside the hospital because we are no netas. We just want to make sure that our relatives are okay."
High political drama continued as one minister after another visited the hospital, but the desperation of close friends and relatives of those who were injured only grew as time passed by.
For Manmohan Singh, a businessman owning real estate properties, all hell broke lose when he realised that his elder son Amanpreet Singh Jolly, 20, had passed away.


Amanpreet was a practicing lawyer at the high court and the Tees Hazari courts; he was also studying law at IME Law College, Sahibabad, and was in the third semester of second year.
Usha Sharma, an advocate and his close associate, recalled how Manmohan Singh had told his son a few days ago that he would help him start his own practice.
"He just wanted his son to complete his education. But now, all that is gone and it is so sad," Usha recalled.
'Bodies kept in a very bad state'
Last updated on: September 7, 2011 20:36 IST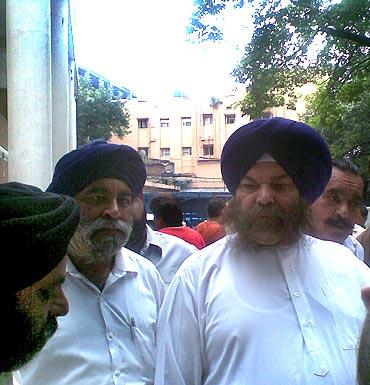 Amanpreet's senior at college Amar Shingal described him as a "very down-to-earth person who was always eager to help."
But nothing could console the grieved father. He complained that the bodies were being kept in a very bad state and proper care was not being taken. He said that the rooms in which the bodies were being kept were not even air-conditioned. 
Onkar Singh Thapar, chairman of the Punjab State Industrial Development Corporation, had accompanied the father and said the hospital authorities were not taking proper care of the injured and those who were dead.
"I am just coming after seeing the patents inside; all of them bore injury marks that are below the waist and are mainly on the legs. It is understandable when a person dies because of head injuries. But how can one die because of injuries on the lower body parts?" he asked.
In fact, a majority of those who were brought injured to the hospital bore injuries on legs, calf and thighs.
Relatives and friends of the injured had started trickling inside the hospital by noon; most were waiting outside operation theatres to hear the news of their loved ones.
'Luckily, my father is conscious'
Last updated on: September 7, 2011 20:36 IST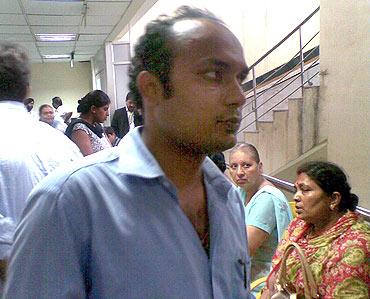 Software professional Shishir's father B K Thakur and his uncle had gone to the high court for a case hearing and was entering the gate no 5 when the blast happened.
Thakur is a yoga instructor and was hit by shrapnel in the left leg. "Initially, nobody was being allowed inside the building. After pleading, the police people let me inside and after much running around I was able to find my father in the old emergency building, room no.12," Shishir said.
"We couldn't shift him to any other hospital because the hospital denied giving us a refer letter, without which it is not possible to get blast victims admitted into a hospital. So, I didn't have any choice, but to stay here. Luckily, my father is conscious and he spoke to the doctor too," said Shishir.
'Doctors are operating on my husband's badly-injured leg'
Last updated on: September 7, 2011 20:36 IST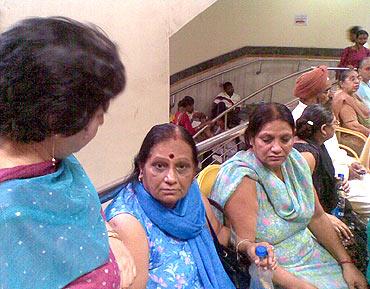 Pramod Kumar Mahindra along with wife Neeru Mahindra had come to the high court in the morning in their daughter's dowry case hearing.
"He was a mere ten steps ahead of me. The entrance line for ladies was relatively vacant so we made a quick entrance inside the court premises. He was standing in a queue for men, and was there were five to six men standing ahead of him. But as soon as I entered the court gates and walked a few steps, the blast occurred," narrated Neeru Mahindra, waiting outside the operation theatre for news about her husband.
"As soon the blast occurred, they closed the gates of the court. Now, we were locked inside the court and he was lying outside the court, injured. I was very scared and tensed. We wanted to get to him and bring him to hospital as soon as possible. We requested the authorities to verify our identity cards and let us go outside because there was nobody to take care of my husband. Finally, somebody said we had just walked in, they checked our cards and I rushed him to the hospital. His right leg is badly injured and the doctors are operating right now," she said.
Family members who had rushed to the hospital on hearing the news were consoling her.
'I don't know if my father is here'
Last updated on: September 7, 2011 20:36 IST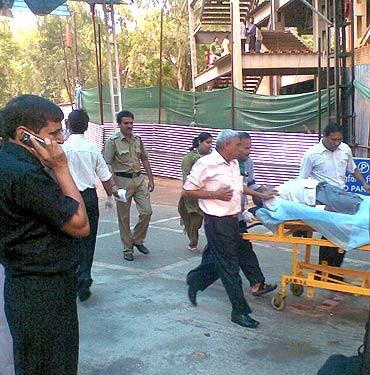 Also among those who were waiting news about their relatives was schoolteacher Kanchan. Her father Veer Pal had gone to the high court in the morning with a friend.
After getting the news of the blast, she has been trying to locate her father, but hasn't found him yet.
"They told us there are a few people who are unconscious and are not able to tell their names. So, I don't know if my father is here or is at any other of the hospitals. I am waiting here while other family members have gone to check in other hospitals," she said.


She looked expectedly every time people were called for verification of patients at the operation theatres entrance of the new building at Ram Manohar Hospital.
Sources told rediff.com that it is unlikely that the bodies of those would be given to their family members on Wednesday. The team of doctors was busy operating on those who were injured till late evening.