Swaraj, Jaitley arrested as BJP rally enters Jammu
Last updated on: January 25, 2011 22:17 IST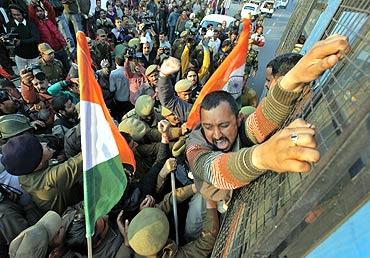 Amid high drama, the Bharatiya Janata Party's flag yatra was stopped at the Lakhampur border of Jammu and Kashmir with its three senior leaders being arrested even as they lashed out at the state government and the Centre for committing a "historic mistake".

The Jammu and Kashmir Government booked the top BJP leaders, including Sushma Swaraj and Arun Jaitley, under Section 188 of of the Ranbir Penal Code (RPC) and will produce them in court of law on Wednesday in Kathua district.The BJP leaders will be kept in a hotel for the night before producing them before the magistrate, a senior police officer said.
A day after being thrown out of Jammu and Kashmir, Sushma Swaraj, Arun Jaitley and Ananth Kumar tried to re-enter the state along with the Ekta Yatra being led by the party's youth wing president Anurag Thakur but it was foiled by police which had put up barricades.

"Crossed bridge, then stopped," tweeted Swaraj.

"What can be more unfortunate that those who burn the national flag are being provided security while those holding the national flag are being stopped," said Swaraj as she was being arrested along with Jaitley, Kumar and Thakur on entry into Jammu and Kashmir from Punjab. They were arrested for violating Section 144 which prohibits assembly of more than four persons at any particular place.

"What is our crime? Why are we being arrested? We have been marching peacefully," Swaraj said while addressing thousands of party supporters carrying the national flag.

Four BJP leaders were detained on arrival at the Srinagar airport. A senior police officer said three sitting BJP MLAs -Jugal Kishore, Gharu Ram and Sham Chowdhary and national vice president of the party's youth wing Pawan Khajuria were detained by the police and were not allowed to enter the capital city."The BJP leaders were detained and taken to the nearby police mess where they are being lodged for the night," an official said.

With PTI inputs: Mukhtar Ahmed in Srinagar
Check out the latest developments here

Click on NEXT to read further...
Swaraj, Jaitley arrested as BJP rally enters Jammu
Last updated on: January 25, 2011 22:17 IST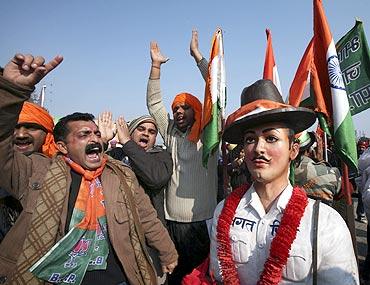 Earlier, Swaraj and Jaitley addressed a public meeting at Madhopur on Punjab border and vowed to go ahead with the plans to to unfurl the national tricolour at Lal Chowk in Srinagar.

"Jammu and Kashmir Chief Minister Omar Abdullah has said if you visit the state, the separatists will be provoked. This shows the psychological surrender by the state government before the separatists; it is a historic mistake," Jaitley, Leader of the Opposition in the Rajya Sabha, said. Later, a group of activists were seen crossing the bridge on the river Ravi on the Punjab-JK border where they were stopped by security forces.

The Bharatiya Janata Yuva Morcha activists continued to shout slogans demanding that they be allowed to proceed to Srinagar to hoist the tricolour at Lal Chowk. Jaitley said when a "group of separatists" gathered in New Delhi and made anti-India speeches, the government did not take action contending that freedom of speech was their right. "But when we took he tricolour to unfurl it at Lal Chowk, they dub it as a crime," he said.

Jaitley said the central government too had shown a panic reaction to the yatra despite the BJP's repeated appeals that their actions would not breach peace. He said Jan Sangh founder Shyama Prasad Mookerjee, whose ideology the BJP follows, had also faced similar resistance from the then Prime Minister Jawaharlal Nehru when he wanted to enter the state without the mandatory entry permit.

"It was Shyama Prasad Mookerjee's supreme sacrifice that resulted in the revocation of the entry permit requirement in the state. It also saw the Election Commission and the Supreme Court gain jurisdiction in the state," he said.
Swaraj, Jaitley arrested as BJP rally enters Jammu
Last updated on: January 25, 2011 22:17 IST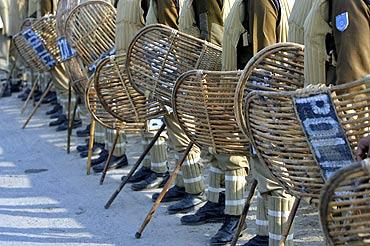 Swaraj said they were determined to hoist the national flag at Lal Chowk in Srinagar on Republic Day. "We told the authorities in Jammu to either arrest or allow us to proceed further for the party rally there," she said.

"There were two condemnable speeches, one from Jammu Kashmir Liberation Front chief Yasin Malik and another from Omar Abdullah. Yasin dared saying, 'I will see who hoists flag and of which country.' I replied to that person that we will hoist flag and that of India," she said.

Omar Abdullah told us that the J&K government can't provide security. "We don't want security, we don't expect it from you but allow us to enter Jammu and Kashmir. Allow us to hoist flag in Lal Chowk. We don't want to confront our security forces. We want to confront separatists. If they kill us we won't hold you responsible Abdullah," the Leader of Opposition in the Lok Sabha said.

"We request don't stop us. We are firm we will hoist tricolour tomorrow at Lal Chowk," Swaraj said.

On Monday's developments, she said, "A policeman came inside our plane and told us to go back. We didn't budge. After seven hours we were told we are under arrest and taken away in a car without knowing where we are heading towards. We were left in Madhopur) in dark with no one around. This is how you treat Leaders of Opposition," Jaitley said.
He along with Swaraj had been "illegally detained" by the police on Monday at Jammu.