Lalu style politics gets a resounding slap in Bihar
Last updated on: November 24, 2010 17:52 IST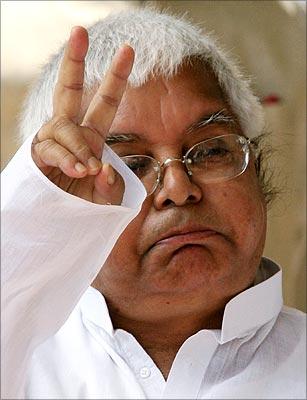 Lalu Prasad Yadav, the rustic politician who once promised to make Bihar's roads as "smooth as Hema Malini's cheeks", was dealt a resounding slap by voters in Bihar bringing into question whether his kind of politics can flourish again.
The darling of the masses, the 62-year-old Rashtriya Janata Dal strongman is one politician who defies stereotypes but the magic which helped him and his wife Rabri rule Bihar for 15 years till 2005 making them a dominant force appears to be on the wane if the party's rout in the assembly elections is a pointer.
Lalu, who in terms of flowery wit and personal charisma has hardly any match in the political arena, rose from the ranks of a student leader during the days of JP movement to a national level politician with his stint in Railways an important milestone in public life after he was credited for its much publicised turnaround.
Lalu's caste-based politics had yielded dividends in an impoverished state with poor roads and deteriorating law and order situation until the Nitish juggernaut ended the RJD rule in 2005.
Lalu's career has been marred by corruption charges
Last updated on: November 24, 2010 17:52 IST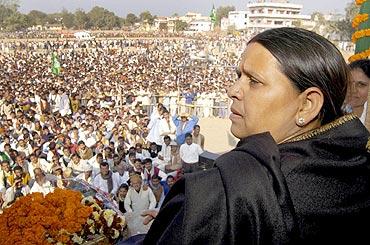 For the second time in five years, Lalu has been consumed by Nitish's new 'SSS' of politics: Sadak, Shiksha, Suraksha (road, education and security). However Lalu's career has been maligned by charges of corruption against him and his cohorts.
When the RJD was in power, Bihar had been even lampooned in Bollywood and beyond as a land of thieves and kidnappers. Lalu was Bihar chief minister twice between 1990 and 1997 before he handed over the reins of power to his wife Rabri Devi after the Supreme Court asked him to surrender before a trial court following a non-bailable arrest warrant against him in a conspiracy case in connection with the Rs 950-crore fodder scam. He has also been sent to jail on a few occasions. 
Lalu was president of the undivided Janata Dal between January 1996 and July 1997 before launching the RJD, engineering a split in the party in July 1997 after his detractors like former Union minister Sharad Yadav and Ram Vilas Paswan, now president of Lok Janshakti Party -- an ally of RJD -- launched a campaign for his ouster.
A BA and LLB from Patna University, Lalu made his entry to the Lok Sabha in March 1977 from Chhapra. He was a member of the state assembly between 1980 and 1989 for two terms and was leader of the Opposition between January 1989 and November 1989.
The Janata Party gave Lalu his first success
Last updated on: November 24, 2010 17:52 IST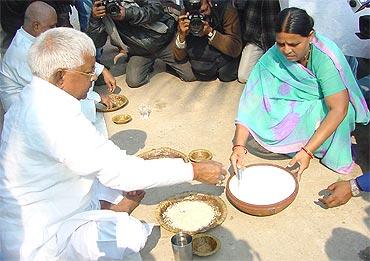 Lalu was born poor in a family of farmers in Phulwaria, Gopalganj district, Bihar to Kundan Rai and Marachhiya Devi.
On June 1, 1973 he married Rabri Devi. The couple have two sons and seven daughters. According to him, his large family symbolised the protest against the forced sterilisation during the Emergency (1975 -77) declared by Indira Gandhi.
Lalu's first political step was his active involvement in the elections of the Patna University Students' union. He led the student movement inspired by Jayaprakash Narayan in the 1970s.
The former chief minister of Bihar and the then president of Bihar state Janata Party, senior leader Satyendra Narayan Sinha(affectionately called "
Chhote Saheb
") placed him as a candidate for the Lok Sabha and campaigned for him. Lalu was subsequently elected as a member of 6th Lok Sabha on a Janata Party ticket at only 29 years of age, becoming one of the youngest members of the Indian Parliament then.
Lalu was elected to the 14th Lok Sabha from Chhapra and Madhepura seats of Bihar.
Lalu has a sizeable fan following
Last updated on: November 24, 2010 17:52 IST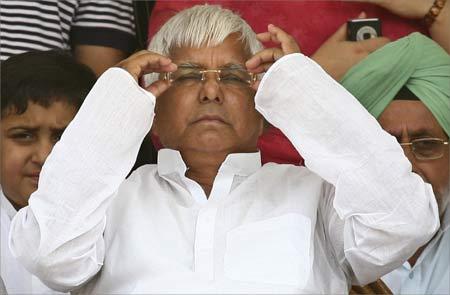 During his stint as Union Railway minister, Lalu banned plastic cups to serve tea at railway stations and ordered that they be replaced by
kulhads
(earthen cups). He claimed that the measure would generate more employment in rural areas.
Later, he also said that he had plans to introduce buttermilk and khadi. Many books have been written in praise of Lalu by local writers including
Lalu Chalisa
and
Lalu Hala
(especially by fellow Yadavs).
There are entertainers who mimic Lalu as a profession. Lalu has been recognised as a brand on his own amongst a few industries in rural Bihar. Lalu even has a sizeable fan following in Bollywood, which includes actors Sunil Shetty and Raza Murad; and directors Mahesh Manjrekar and Mahesh Bhatt to name a few.
In the 2009 Lok Sabha poll, he contested from Saran and Patliputra constituencies. Prasad emerged victorious from Saran, but he lost to his friend-turned-foe and Janata Dal-United nominee Ranjan Prasad Yadav in Patliputra.
© Copyright 2022 PTI. All rights reserved. Republication or redistribution of PTI content, including by framing or similar means, is expressly prohibited without the prior written consent.