Bihar CM is poorer than his ministers!
Last updated on: January 3, 2011 14:58 IST
Chief Minister Nitish Kumar lags far behind his ministerial colleagues in his wealth, details of which were made public on Monday.

Details of the assets of 30 Bihar ministers, including Kumar's, were uploaded in the government websites as a step towards ending corruption and promised by the chief minister.

Kumar's moveable assets include Rs 31,760 in cash, Rs 57,770 in bank account, a Santro car of 2003 model, an old TV set, an old airconditioner, a fridge, a cooler and cows worth Rs 1.67 lakh.

The list of his assets also included a computer worth Rs 34,475, a treadmill of Rs 35,000 and a house in Sansad Vihar in New Delhi presently valued at Rs 40 lakh. He has a loan of Rs 1.93 lakh from the secretariat branch of State Bank of India.

Click on NEXT to read how much Nitish's ministers are worth...


Bihar CM is poorer than his ministers!
Last updated on: January 3, 2011 14:58 IST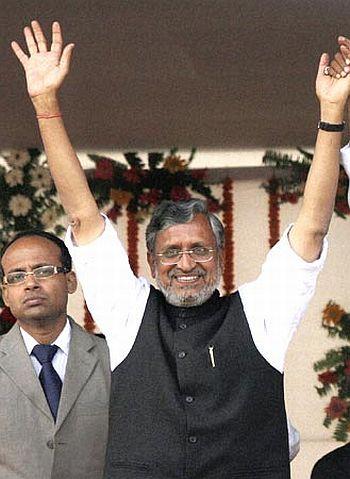 Kumar's son Nishant owns Rs 1,769 in cash, a bank deposit of around Rs 41 lakh, Rs 13.93 lakh in post office schemes, jewellery worth Rs 9.20 lakh and agricultural land worth Rs 31.34 lakh at Kalyanbigha, besides a building in Kankerbagh in Patna.

He is also the owner of a residential/commercial building at Kalyanbigha worth Rs 1.31 lakh and in Bakhtiyarpur worth Rs 8.27 lakh.

Deputy Chief Minister Sushil Kumar Modi has around Rs 26,000 cash, Rs 10.56 lakh deposit in banks, Rs 1.83 lakh in bonds-shares, LIC/NSC worth Rs 1.89 lakh, jewellery worth Rs 1.52 lakh, a Maruti Swift besides other property worth Rs 5.26 lakh.
He and his wife have jointly invested Rs 14.49 lakh in a house at Ghaziabad and Rs 36.7 lakh in another house at Gautam Buddha Nagar in Uttar Pradesh.
Modi has a loan of Rs 40 lakh from ICICI Bank in New Delhi, besides a government debt of Rs 2.5 lakh and Rs 10.70 lakh from his relatives. His wife and sons own jewellery worth Rs 6.84 lakh, Rs 9400 in cash, Rs 14.91 lakh cash in bank and NSC and other certificates valued at Rs 5.28 lakh.


Bihar CM is poorer than his ministers!
Last updated on: January 3, 2011 14:58 IST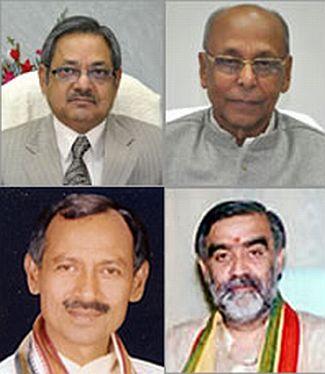 The richest member in Bihar ministry is Human Resources Department Minister Prashant Kumar Sahi, a lawyer-turned advocate general-turned minister, who has declared moveable and immoveable properties worth around Rs 4.5 crore.

State Labour Resources Minister Janardan Singh Sigriwal with a net worth of Rs 16.77 lakh is the poorest minister.

Among the 'crorepati' ministers are the Minor Irrigation and Sugarcane Minister Awadhesh Prasad Kushwaha whose net worth is Rs 2.59 crore, Health Minister Ashwini Kumar Chaubey's assets total to Rs 1.18 Crore, urban development and Housing Minister Prem Kumar worth Rs 1.12 crore and Transport Minister Brishen Patel, the website showed.


Bihar CM is poorer than his ministers!
Last updated on: January 3, 2011 14:58 IST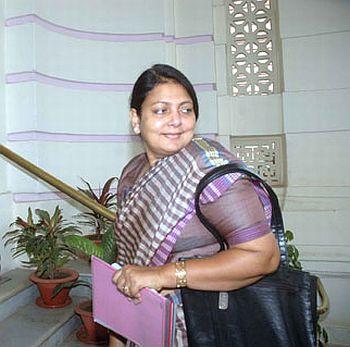 Other ministers whose assets are over Rs one crore are Building Construction minister Damodar Raut (Rs 1.03 crore), Agriculture Minister Narendra Singh (Rs 2.07 crore), Revenue and Land Reforms Minister Ramai Ram (Rs 1.08 crore), PHD Minister Chandra Mohan Rai (Rs 1.20 crore) and Mines and Geology Minister Satya Deo Narain Arya (Rs 1.35 crore).

Social Welfare minister Parveen Amanullah, whose husband Afzal Amanullah is the principal secretary in Bihar cabinet coordination department, owns property worth more than Rs one crore, besides a revolver.

Afzal Amannullah has Rs 96,000 in cash, Rs 10.29 lakh deposit in banks, Rs 2 lakh in shares and bonds, Rs 6 lakh as insurance premium, a Maruti Wagon R and jewellery of Rs 4 lakh.

He also has a revover worth Rs 67,000, a rifle worth Rs 30,000 and a DBBL of Rs 20,000 besides non agricultural land in Patna measuring 2.1 cottah worth Rs 5.5 lakh.


Bihar CM is poorer than his ministers!
Last updated on: January 3, 2011 14:58 IST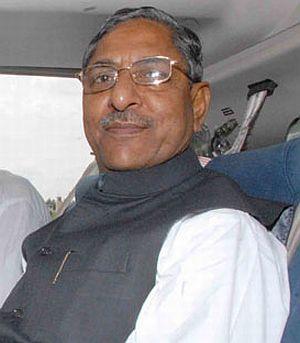 State Road Construction Minister Nand Kishore Yadav has Rs 15,000 in cash, deposits of around Rs 18 lakh, NSC and LIC premiums of Rs 1.09 lakh, two Ambassador cars, one scooter, jewellery worth Rs 2.02 lakh, non-agriculture land valued at Rs 17 lakh and a plot at Fatua Industrial Area of Rs 10 lakh.

Transport Minister Visan Patel has Rs 5 lakh in cash, Rs 18.76 lakh deposit in banks, bonds/debentures of Rs 5.50 lakh), NSC-LIC of Rs 5 lakh, a Maruti Swift, agriculture  and valued at Rs 32.5 lakh, buildings in Patna of Rs 48.50 lakh and Hajipur of Rs 38.25 lakh.

His wife has Rs 5.5 lakh in banks and NSC of Rs 75000, besides jewellery worth Rs 5.24 lakh.

All the ministers had submitted details of their assets to Kumar on December 31 following his directive. He had made it mandatory for his ministerial colleagues to declare their assets every year.