Dr Singh's cricket diplomacy and challenges before India
Last updated on: March 27, 2011 16:39 IST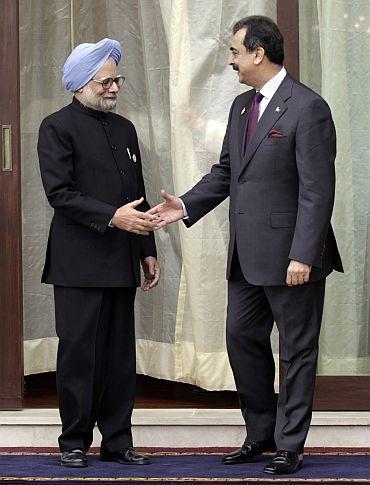 With Pakistan Prime Minister Yousuf Raza Gilani accepting Dr Manmohan Singh's invitation to watch the India-Pakistan World Cup semifinals, Mohali has hit fever pitch. India's security agencies face daunting challenge before Wednesday's high-profile clash as intelligence agencies have warned for a possible terror strike at one of the WC venues, says senior analyst B Raman.
The website of the Dawn newspaper from Karachi has reported as follows, "The guessing game ended early hours on Sunday when Prime Minister Syed Yousuf Raza Gilani decided to accept Indian Prime Minister, Manmohan Singh's offer to go to India and watch the 'high voltage' India-Pakistan cricket world cup semifinal in Mohali on March 30.

The decision was taken after a meeting between the prime minister and the President Zardari, which according to the presidential spokesman, Farhat Ullah Babar, continued for more than two hours, the report said.

"It may be recalled that Pakistan had welcomed the Indian Prime Minister's invitation to President Zardari and Prime Minister Gilani to witness the match and had said that a decision will be taken after PM Gilani's return from visit abroad," Babar said. "The foreign diplomats based in Islamabad, earlier felt that declining the invitation would be a serious mistake and a snub for Dr Singh as he had made normalisation of ties with Pakistan his personal priority," he added.
Click on NEXT to read further...
'Pakistan apprehensive about exposing Zardari to India'
Last updated on: March 27, 2011 16:39 IST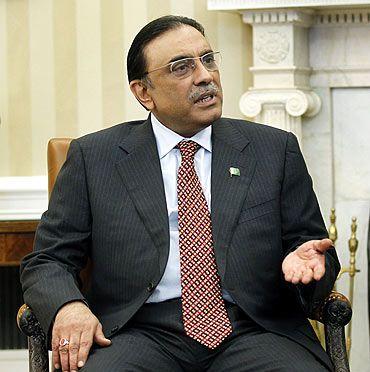 The
Dawn
report does not say anything about Dr Singh's invitation to President Asif Ali Zardari too. The absence of any reference to the invitation to Zardari in the media briefing by Babar could be interpreted as indicating that Zardari is not coming. I would avoid giving a political interpretation to this. I would attribute this to the concerns of those responsible for the security of Zardari about the dangers of exposing him to the public in Mohali.
Zardari is the most threatened leaders of Pakistan today because of his perceived closeness to the United States, his personal friendship with the late Punjab Governor Salman Taseer, who was assassinated his security guard in January because of his open criticism of the blasphemy law and his perceived role in bringing about the release of Raymond Davis, a member of the staff of the US Consulate General in Lahore, who was sought to be prosecuted for allegedly killing two Pakistanis on January 27.
In Pakistan, on the advice of his security he avoids travelling in Pakistani Punjab. His internal travels are largely confined to Sindh. There have been unconfirmed reports that all Punjabis have been removed from his security entourage after the assassination of Taseer.
'Unwise for Dr Singh to invite both Gilani, Zardari'
Last updated on: March 27, 2011 16:39 IST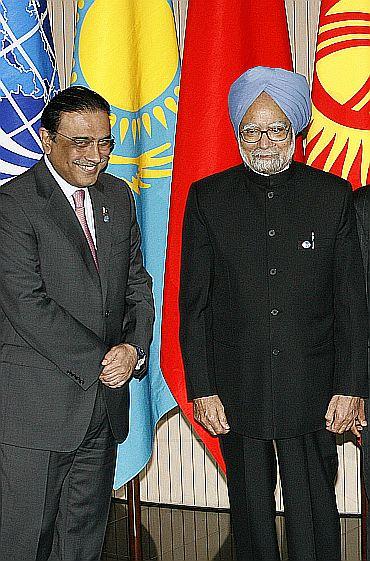 It was unwise on the part of Dr Singh to have invited him as well as Gilani. I am sure that our intelligence and security agencies would have been aware of the very high level of the threats to Zardari and that had they been consulted beforehand by the PM, they might have advised him to confine the invitation to Gilani only.
Presuming only Gilani is coming, the responsibility for ensuring the security of the World Cup cricket semi-finals, while still quite complex, can be manageable. In recent weeks, there have been reports -- some of them attributed to foreign intelligence agencies -- about alleged plans of the Lashkar-e-Tayiba and other Pakistani jihadi organisation to target one of the venues of the cricket World Cup games.

Till now, as a result of the tight security enforced by our agencies under the supervision of Home Minister P Chidambaram no threat has materialised.
'Beef security in Mohali keeping in mind dangers of terror attack'
Last updated on: March 27, 2011 16:39 IST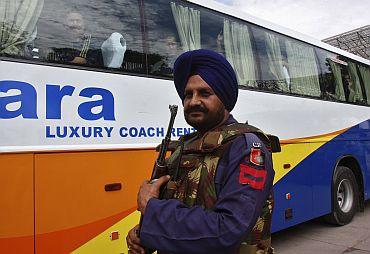 Mohali is particularly vulnerable to commando-style swarm attacks of the kind witnessed six times since the 26/11 terror strikes in Mumbai in 2008. Of the six commando-style attacks after 26/11, three were in Afghanistan and three in Lahore in areas close to the Indian border.
The three commando-style swarm attacks in Lahore were directed at a Sri Lankan cricket team (March 3, 2009), a police training school (March 30, 2009) and in a busy area on the Mall Road of Lahore (May 27, 2009). There have been a number of other terrorist strikes in Lahore including on targets associated with the Inter-Services Intelligence and the Federal Investigation Agency.
In the case of the repeated terrorist strikes in Lahore, the Pakistani investigators were not able to conclusively establish who was responsible, but it was strongly suspected that these attacks were carried out either by the Tehrik-e-Taliban Pakistan, as the Pakistani Taliban is called, or by the Lashkar-e-Jhangvi (LEJ), a Sunni extremist organisation or by the LeT either by acting alone or in tandem.
These strikes showed the ability of such organisations to mount terrorist attacks in Pakistani Punjab and the inability of the Pakistani intelligence and security agencies to prevent them through timely intelligence. The security arrangements at Mohali should seriously factor into the security planning the dangers of a swarm-style commando attack mounted from the sanctuaries of the so-called Punjabi Taliban in Pakistani Punjab.
'India needs to strengthen trans-border security before semis'
Last updated on: March 27, 2011 16:39 IST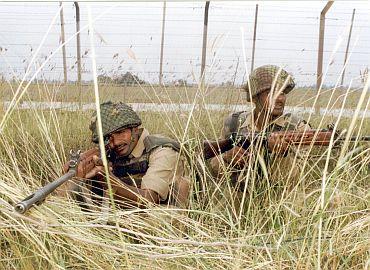 Normally effective defensive physical security for events such as the cricket semi-final at Mohali would depend on effective access control to the venue and the VIPs attending the match and effective anti-explosive checks in and around the venue.
In addition, keeping in view the dangers of a commando-style swarm attack at the venue as well as in the town itself, counter-swarm deployment by our own commando units would have to be an important component of the planned physical security.
In addition to this, we need to strengthen trans-border security to prevent jihadi elements from infiltrating into our territory in the garb of spectators, picking up arms and explosives from their India-based accomplices and mounting an attack.
The government should go by the advice of our intelligence and security agencies in this matter. This danger could be met by effective monitoring of trans-border movements and airport, train and bus arrivals and by stepped-up patrolling in Mohali itself without the need for a ban on the issue of visas till the semi-finals are over.
'Ask US to step up security in entire Af-Pak region'
Last updated on: March 27, 2011 16:39 IST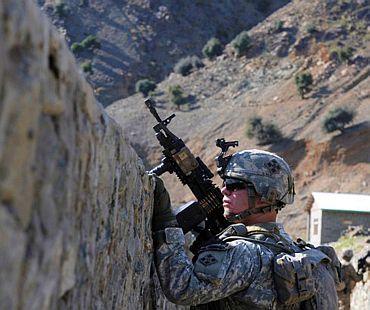 Gilani's personal security from the moment he arrives in India and till he lands back in Pakistan will be our responsibility.
While his close-proximity security would be the responsibility of the Pakistani VIP security set-up, the access control and anti-explosive and anti-swarm checks would be our responsibility. These have to be planned with precision and a lot of attention to details.
Indian and Pakistani intelligence agencies would have already stepped up their intelligence coverage -- human as well as technical. We should not fight shy of asking the United States to step up its coverage too in the entire Af-Pak region with the focus on detecting and neutralizing any threats to his security while he is in India.