Azhagiri kills two birds with low-key wedding
Last updated on: November 19, 2010 13:51 IST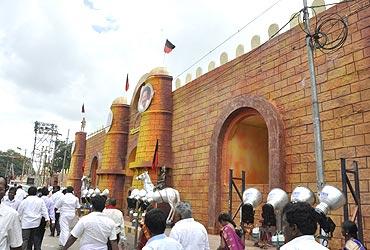 Ever since Union Chemical and Fertilizers Minister and Dravida Munnetra Kazhagam strongman M K Azhagiri's son's  wedding was announced, everyone's ears perked up.
The first image to come up in people's mind was a similar wedding some 14 years ago: The then chief minister J Jayalalithaa's foster son Sudhakaran's wedding, which came a few months before the assembly elections in Tamil Nadu.

One of the reasons the people of Tamil Nadu voted overwhelmingly against the All India Anna Dravida Munnetra Kazhagam (Jayalalithaa was the only candidate to win) was because they were turned off by the conspicuous display of wealth and brazen power.
Was this the end of the DMK?
Last updated on: November 19, 2010 13:51 IST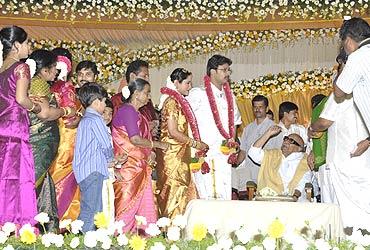 So, when Durai Dayanidhi Azhagiri's wedding to Anusha was announced, everyone wanted to know: How big will this wedding be? And if it indeed is, then will it spell finis for the DMK, as the other wedding did for the AIADMK?
But in the end, the wedding went off so smoothly and low-key, some hardcore cadre are asking whether it wasn't too simple.
Heck, even the chief minister and groom's grandfather M Karunanidhi flew in on a scheduled Indian Airlines flight.
'Extreme caution was taken to not to turn off the people'
Last updated on: November 19, 2010 13:51 IST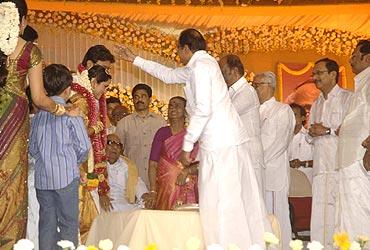 "Our opponents were trying to dig dirt, snooping around the wedding venue and the airport to check the preparations and see if there were any special flights chartered for the occasion so that they can use such things during election campaigning. But sadly for them the only person who came on a special flight must have been Vijay Mallya (liquor baron). Extreme caution was taken not to turn off the people with any brash display," quipped a party worker.
Normal life in Madurai was not hit by the wedding
Last updated on: November 19, 2010 13:51 IST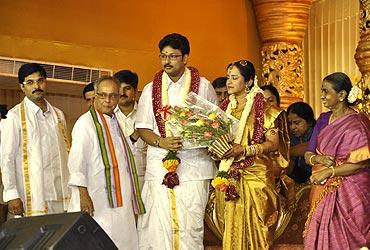 Sources close to Azhagiri said the minister had made up his mind to keep the wedding a low-key affair, for a long time.
"He called the partymen and made it clear that the first thing to take care was that there was no hassle to the general public. It was a strict order. Likewise, apart from some bottling up of traffic near the Tamukkam grounds in Madurai (the wedding venue, which is usually used for exhibitions, expos and massive political rallies) there was no problem to the people at large," said a middle-level leader, who did not want to be named.
Thus, there was no doubt that the city had been taken over, normal life was not hit.
Pranab's camaraderie with Karunanidhi was evident
Last updated on: November 19, 2010 13:51 IST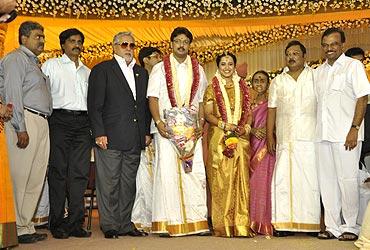 Sources also said that the party's first family did not want to give critics any stick to beat it with. "There is also the recent spectrum scam. And we did not want anything to follow immediately," the leader said. For the alliance watchers, though the absence of Prime Minister Dr Manmohan Singh and Congress president Sonia Gandhi was a let down, they were impressed by the easy camaraderie between Finance Minister Pranab Mukherjee and Tamil Nadu Chief Minister M Karunanidhi.
Azhagiri cares for his cadres
Last updated on: November 19, 2010 13:51 IST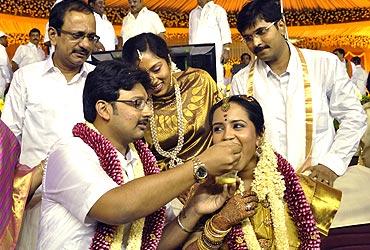 "The alliance seems to be on a firm footing. There is no need for concern on that front. These two parties will go to the polls together, as things stand right now," a businessman, who was present at the wedding, said.
But more than these things, what seems to have been missed is how much Azhagiri is loved by the cadre and what kind of a people's person he is.
Sources very close to the family, on condition of anonimity, said about the preparations for the wedding, that the foremost thing Azhagiri had in mind was the cadre.
"For the grassroots workers, they erected dining stalls in six places in the city. There were volunteers to take care of all the workers' needs and it was a feast no less than what was served inside the wedding venue. This shows how much annan thinks about the common worker," he said.
'There was no special entry for VIPs'
Last updated on: November 19, 2010 13:51 IST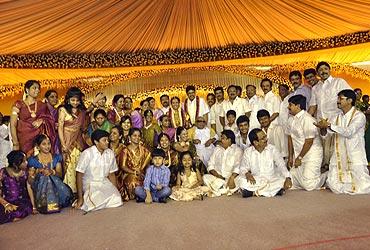 Then, Azhagiri himself handpicked a few hundred district level party workers and invited them for a meeting, where he is supposed to have distributed gift vouchers worth Rs 3,000.
"He told them they can collect anything from his wife's chain of clothing stores for that amount. The workers were thrilled," the source said.
(It is custom for the hosts to buy trousers, shirts, sarees or dhotis to close guests during weddings)
And the most significant gesture came at the entrance to the grounds.
"There was no special entry for VIPs and common men. I went through the same entrance through which cine stars went and the party workers entered through that same entrance. Waiting with folded hands to invite us and send us on our way in were Azhagiri and Stalin. I felt important. Then imagine how the party workers would have felt?" asked a stunned businessman who attended the wedding.
Azhagiri is a keen grassroots leader
Last updated on: November 19, 2010 13:51 IST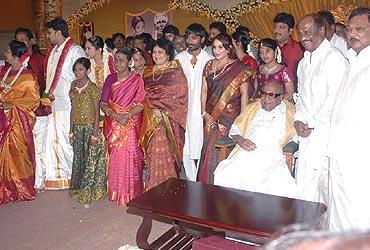 Though initially it was said that only select invitees with special passes would be allowed inside, when the reception started on Saturday night, people were freely allowed to enter the venue. And it was bonanza for the party workers.
Thus, not only did Azhagiri show that he is a keen student of history, he also displayed what a shrewd grassroots leader he is.
Because the truth is, the massive turnouts for Jayalaithaa's rallies have indeed worried the DMK. And Azhagiri knows very well that if the party is to have any chance in getting a second term (which has not happened in more than two decades. The state usually votes out governments after a single term) it will be up to him.
He has to deliver the south. And that will take extraordinary work at a grassroots level.
The wedding has primed the workers for campaigning
Last updated on: November 19, 2010 13:51 IST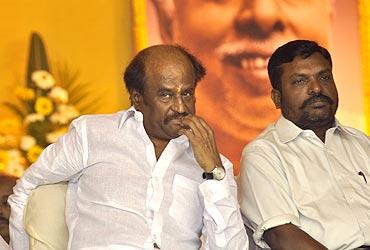 "What he has done with the wedding is primed up the workers for campaigning. This is basically winding up the cadre for the electioneering," said a political observer.
"Imagine, your supreme leader has invited you to his son's wedding, where you are virtually rubbing shoulders with the who's who of not only the state, but the entire country. This is a story you will tell your grandchildren. With that in mind, fast-forward to the election time. If such a leader comes and tells you, the situation is looking tough for our party, you have to pull up your socks, imagine how this worker will react. He will do everything possible to ensure that his leader is not embarrassed."
And indeed, as day turned to night, the wedding songs that were blaring from speakers across the city were stopped. And the campaign songs began.