Aung San Suu Kyi's extraordinary new challenges
Last updated on: April 9, 2012 20:07 IST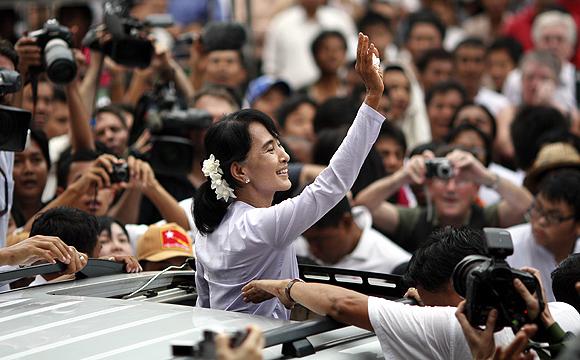 Aung San Syuu Ki's victory marks the beginning of a new chapter in Myanmar, the contents of which are yet unclear, says Rajiv Bhatia.
Rarely have by-elections in a remote, developing country attracted such international attention.
The polls held in Myanmar on April 1 have produced an extraordinary outcome. Of the 45 vacant seats in the parliament and regional assemblies, Aung San Suu Kyi's National League for Democracy has won 43 seats (96 per cent), leaving merely two to other parties.
Participating for the first time in an election, Suu Kyi won her seat by a huge margin. She will now assume public office after her 24-year-old struggle.
She spent about two-thirds of this period under house arrest. Hers is a rare story of suffering, sacrifice and triumph of the human spirit that the world is celebrating, along with her growing band of fans and followers.
Even her opponents recognise her star power, so vividly confirmed by the polls.
Click NEXT to read more...
A reality check
Last updated on: April 9, 2012 20:07 IST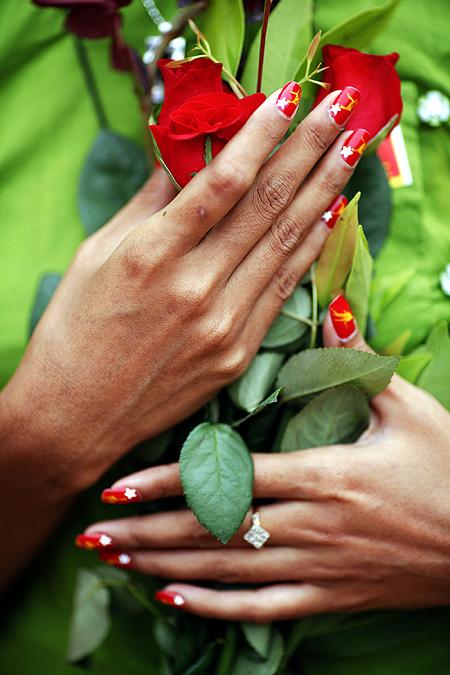 Suu Kyi's supporters are justified in savoring the NLD's electoral victory, even though many of them had claimed earlier that free and fair elections were unlikely.
Suu Kyi herself had complained about gross irregularities noted during the electoral campaign.
The NLD also made a tactical mistake by 'announcing' its victory, thus usurping the right of the union election commission to do so. But it may be forgiven such actions because it has suffered immensely in the past, and is now feeling especially empowered.
Soon, it will have to address grim realities. Its 43 MPs will sit in parliament, which has a total of 664 seats. The NLD will thus have only six per cent presence in the legislature, although it may exercise influence well beyond its numbers due to two reasons: Its MPs enjoy a truly popular mandate, and their leader is seen as the nation's moral conscience.
Click NEXT to read more...
What will the NLD do now?
Last updated on: April 9, 2012 20:07 IST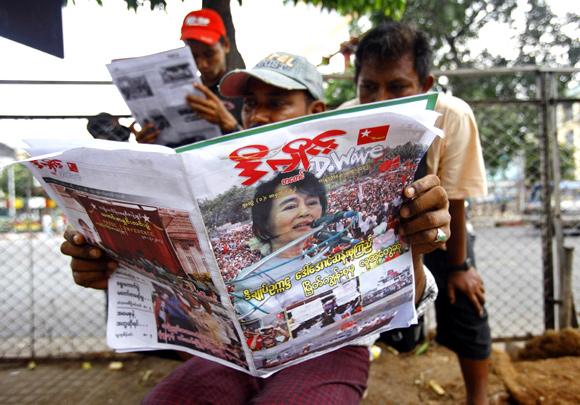 In this lies a fundamental question: Will the NLD and Suu Kyi work with other parties and President Thein Sein's government, showing patience and a will to compromise in order to seek more reforms, or will they push for a bigger prize -- true democracy and exclusive power, causing inevitably unease and resistance by the conservative camp and military?
 
After half a century of oppressive military rule, this country with two names is faced with many complex challenges: Glaring poverty and deprivation, stark under-development despite rich natural resources, long-lasting ethnic strife, a deep distrust between the NLD and military, a divide between reformers and conservatives within the power structure, and challenges of managing foreign relations in a turbulent region.
For Suu Kyi, a daunting task is also to re-build her party, especially its next generation of leadership.
Click NEXT to read more...
Changing power equations
Last updated on: April 9, 2012 20:07 IST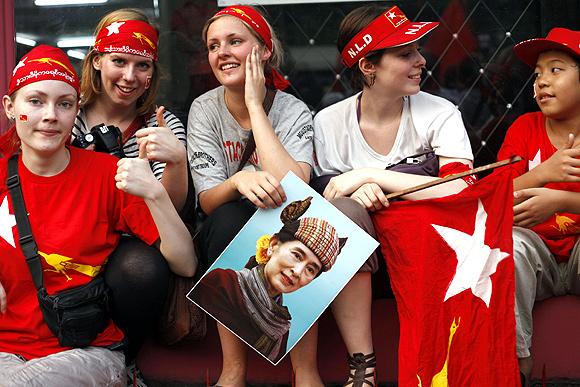 Where Myanmar stands today can best be understood if we recall where it is coming from.
The 2008 constitution, under which the 2010 general elections and the recent by-elections took place, was given to people by the Tatmadaw (military), which continues to be the dominant player in the political arena.
The currently unfolding transition to democracy was conceived by the previous regime's strongman -- Senior General Than Shwe.
His personal choice Thein Sein, the president, deserves credit for executing and supervising the transition with a reformer's zeal. His boldness and wisdom in opening the dialogue with Suu Kyi and her pragmatic responsiveness made it possible for her to graduate from a prisoner of conscience languishing in that famed house by the lake to the leader of the opposition in parliament's lower house in the country's new capital -- Naypyidaw.

If this unusual alliance between an ageing general and the brave lady holds, and if they succeed in widening national consensus around them, they could achieve much more in the future.
Click NEXT to read more...
What Suu Kyi needs to do
Last updated on: April 9, 2012 20:07 IST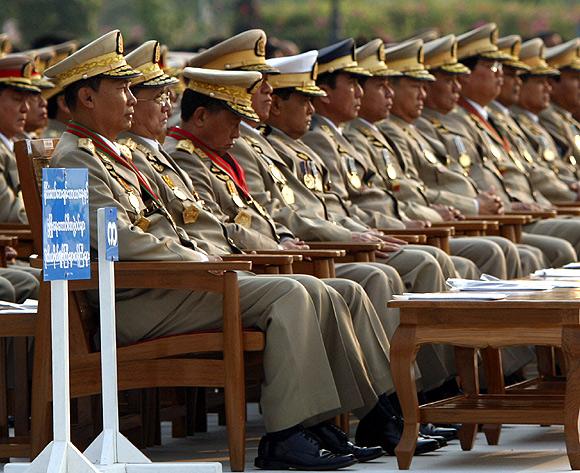 Suu Kyi has repeatedly observed that the president wants reform and that she trusts him, but she has also added: 'I have never been certain as to exactly how much support there is behind him, particularly from the military.'

To add to the complexity, there are at least three other protagonists in the power drama: Thura Shwe Mann, speaker of the lower house and a reformer; Tin Aung Myint Oo, the country's vice president and leader of conservative camp; and Vice-Senior General Min Aung Hlaing, commander-in-chief of the defence forces, who would be the obvious strongman if the military chooses to derail democracy again.
All three will be contenders for president in the 2015 elections, a position to which Suu Kyi is barred at present due to constitutional provisions.
Clearly, Suu Kyi will need to cooperate with the president and the speaker in order to ensure that the other two figures do not get tempted to drag Myanmar to the Stone Age again.

Click NEXT to read more...
The world responds positively
Last updated on: April 9, 2012 20:07 IST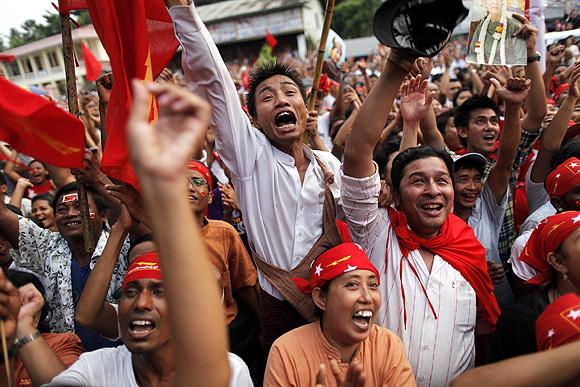 Leaders from across the world have been nearly unanimous in hailing the NLD's victory under Suu Kyi's leadership and in wishing the country well as it moves further on the path of reform and democracy.
More important reactions have come from the United States and European Union.
The US state department has asserted that the US would 'match every Burmese action'.
The EU spokesperson has said that EU foreign ministers are likely to recognise the changes, assuring that there will be 'a positive signal' from them soon.
These are clear indicators that sanctions imposed on Myanmar, will begin to be lifted in the near future.
Although not a significant player in Myanmar affairs, Canada has aptly pointed out that Suu Kyi -- 'this honorary Canadian citizen' -- makes Canadians and all freedom-loving people around the world 'extremely proud of her role in writing a new chapter in Burma's history.'

Click NEXT to read more...
The dragon is watching
Last updated on: April 9, 2012 20:07 IST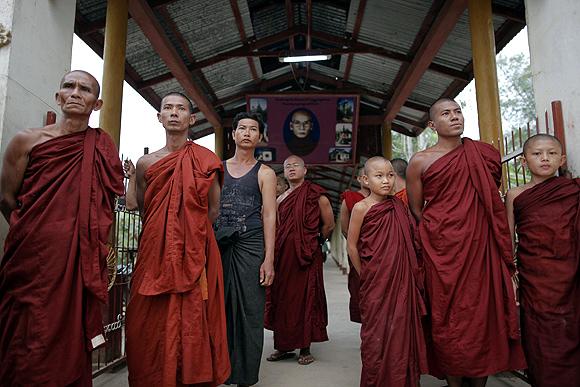 Reactions in Asia are of wider interest.
Cambodia, the present chair of Asean, announced the elections were 'successful and peaceful' and urged the West to lift sanctions. Asean secretary general Surin Pitsuwan observed that the outcome would facilitate Myanmar's 'more effective integration' with the global community.
Interestingly China, Myanmar's closest partner, is yet to articulate its official reaction.
Liberal elements in its media have mocked Beijing's decision to send election observers to Myanmar, considering the authoritarian system in China itself.
Chinese authorities seem apprehensive about the potential for change and instability.
China-Myanmar relations have been strong, but they have come under exceptional stress lately. Beijing is also unhappy over the growing rapprochement between US and Burma.
Click NEXT to read more...
Let us hope it's not a false dawn
Last updated on: April 9, 2012 20:07 IST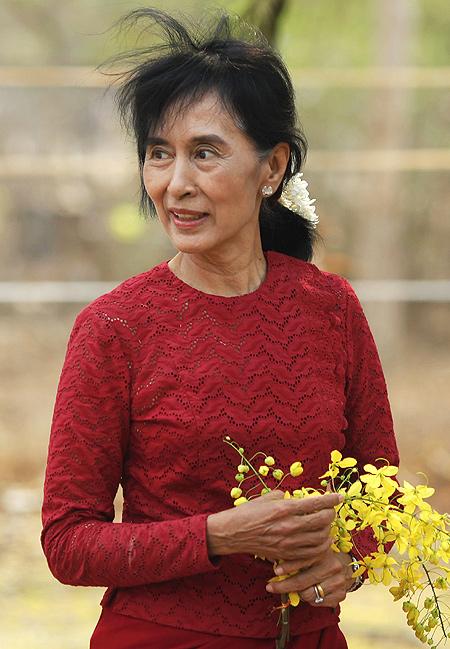 In contrast, New Delhi came out quickly with a measured statement, conveying 'heartiest congratulations' to Suu Kyi and hailing elections as 'a major milestone'. India also reiterated its commitment to extend 'all possible assistance' to strengthen national reconciliation and democracy.
All this, however, is inadequate to alleviate NLD's discontent with India's deep engagement with the military. Suu Kyi has made it abundantly clear that India must do more to help the pro-democracy movement in Burma. How Prime Minister Manmohan Singh handles this challenge as he prepares to visit Myanmar soon will be watched globally.
Much will depend on the wisdom of Burmese leaders. Will they listen to people and build a future together? The world can help them by being supportive, without being intrusive.
While welcoming the new era, let us hope it will not be a false dawn — of the kind that Burma has experienced several times before.
Rajiv Bhatia, former Indian ambassador to Myanmar, is a visiting Senior Research Fellow at the Institute of Southeast Asian Studies, Singapore.