Suu Kyi meets PM; pays homage at Rajghat, Shantivan
Last updated on: November 14, 2012 15:21 IST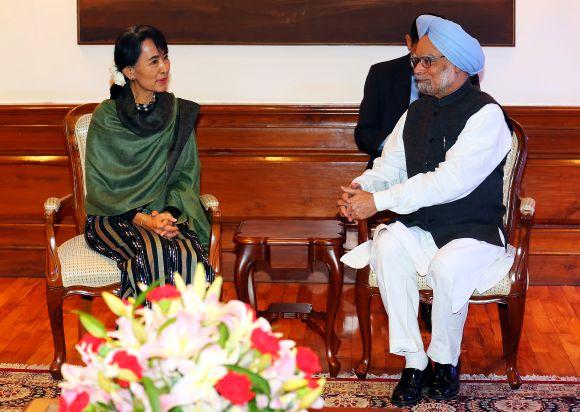 Chairperson of the National League of Democracy of Myanmar Aung San Suu Kyi met Prime Minister Dr Manmohan Singh at his official 7 Race Course Road residence in New Delhi on Wednesday.
The Nobel laureate, who arrived in India for a week -long visit, began her trip in New Delhi on Wednesday by paying homage to Mahatma Gandhi at Rajghat.
According to official sources, the prime minister told Suu Kyi that "our good wishes are with you as indeed with your struggle for democracy. We admire you for the indomitable courage you have shown" during the meeting which lasted for about half-an-hour following which they met without aides.
"The two discussed a variety of issues including the national reconciliation process underway in Myanmar and the process of democratisation in this context. The prime minister welcomed the progress made by Daw Suu Kyi and President Thien Sien," the sources said.
The two leaders also agreed that people-to-people relations were important apart from holding discussions about greater cooperation between the Parliaments and judiciaries of the two countries.
With inputs from PTI
Please click NEXT to read further...
'One does not come with just expectations'
Last updated on: November 14, 2012 15:21 IST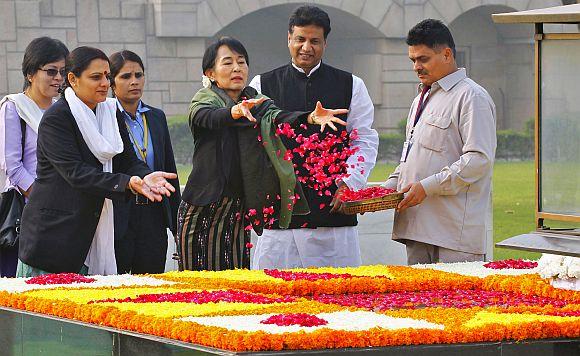 She then visited Shantivan to pay tribute to Jawaharlal Nehru.
Later in the day, she will deliver the Nehru Memorial Lecture on the occasion of his birth anniversary.
Suu Kyi told the media that her visit is an attempt to strengthen ties between the two countries.
"People keep asking me about my expectations and that seems a bit selfish. One does not come with just expectations; one comes in a spirit of friendship and with a desire to strengthen ties between the two countries," Suu Kyi said.
On being asked if she saw any changes in India since her last visit, which was a few decades ago, Suu Kyi said she was happy to see the expansion and growth while she was glad that things like the memorial did not change.
"It is like life in general. There are things that change and there are things that never change and things that I can recognise from way back. There are things that are different but things like this (memorial) never changes and I am very happy at that," said Suu Kyi.
Please click NEXT to read further...
Suu Kyi to visit LSR college, Infosys campus
Last updated on: November 14, 2012 15:21 IST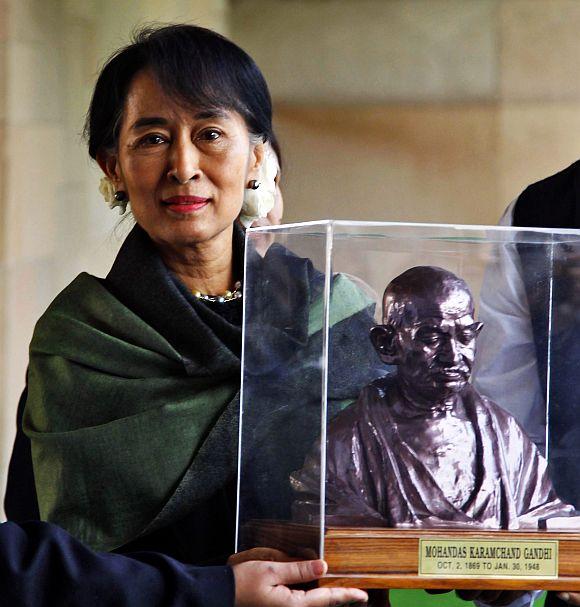 During her visit, Suu Kyi is scheduled to call on Vice President Mohammad Hamid Ansari, Lok Sabha Speaker Meira Kumar and External Affairs Minister Salman Khurshid.
Suu Kyi will also visit her alma mater, Lady Sri Ram College, where she will interact with the faculty and students, and also visit The Energy and Resources Institute in Gurgaon.
Besides her engagements in Delhi, she will be travelling to Bangalore where she will visit the Indian Institute of Science and the Infosys Campus.
Suu Kyi spent several years in India during her early days when her mother Daw Khin Yi was the ambassador to India. She also spent some time as a Fellow at the Institute of Advanced Study in Shimla in 1987.
The close and friendly relations between India and Myanmar have been strengthened in the recent past through exchanges of high-level visits, including the state visits of the president of Myanmar to India in October 2011 and the prime minister of India to Myanmar in May 2012.
TOP photo features of the week
Last updated on: November 14, 2012 15:21 IST
Click on MORE to see another set of PHOTO features...
Source: ANI