Assembly polls: All questions set to be answered
Last updated on: May 13, 2011 08:49 IST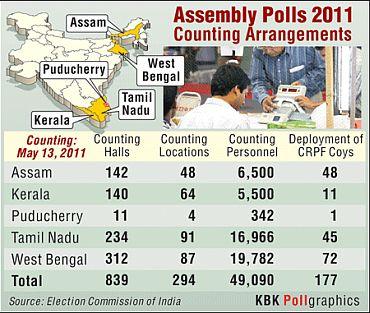 The six week-wait for who will rule Tamil Nadu, Kerala, Puducherry, Assam and West Bengal is set to end as counting of votes for assembly elections began on Friday.
At 8 am, the counting process started in 839 halls spread over in the four states and a Union Territory involving 43,982 personnel.
Complete Coverage: Assembly Elections 2011
The Election Commission has made elaborate arrangements for the massive exercise and pressed into service nearly 17,700 central security personnel to provide a three-tier security.
The entire process, which would decide the fate of several political leaders, would be videographed to prevent any malpractice. According to Chief Election Commissioner S Y Quraishi, the poll outcome is expected by 'early lunch.' The counting would take place in 142 counting halls in Assam, 140 in Kerala, 11 in Puducherry, 234 in Tamil Nadu and 312 in West Bengal. While Kerala has an assembly strength of 140, Assam has 126, Tamil Nadu 234, Puducherry 30 and West Bengal 294.
A total of 14.16 crore voters exercised their franchise in the five states which was 20 per cent of the total 72.8 crore electorate in the country with Tamil Nadu and West Bengal registering 'all time record turnouts.'
Please click NEXT to read what the counting day means for West Bengal, Tamil Nadu, Kerala, Assam and Puducherry...


WEST BENGAL: Can 'winds of change' blow away the red bastion?
Last updated on: May 13, 2011 08:49 IST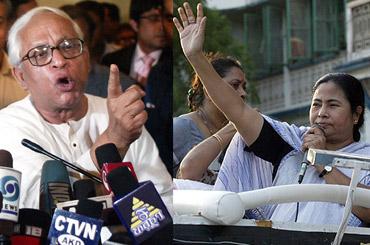 The international media and the national press have arrived in West Bengal in strength to cover the outcome of the toughest ever electoral battle in West Bengal as excitement among people for Friday's all-important results is palpable throughout the state.
With Mamata Banerjee's Trinamool Congress throwing a big challenge to the world's oldest democratically elected government and widely tipped to win, media houses have geared up to cover the possible big news.
The Trinamool leader's Harish Chatterjee Street residence, which has been on the international media map ever since the 2009 Lok Sabha election results gave a jolt to the Left parties, is flooded with requests from foreign journalists for interviews.
The mood at the Communist Party of India-Marxist headquarters at Alimuddin Street, on the other hand, is equally upbeat as Left Front chairman Biman Bose oozed with confidence of an eighth Left Front government coming to power.
However, the party workers in contrast gave little indication of any anxiety about Friday's results, going about their duties as they do in any other day.
Bose said confidently, to the point of almost a swagger, that all post-poll surveys and exit polls would be proved wrong and they would emerge victorious with a comfortable majority.
Asked how many seats he expected to win, Bose said, ''It should be near the 2001 assembly elections.''
Both the Trinamool Congress and Left camps claim that heavy turnout of voters in the gruelling six phases of the election would go to their advantage.
Trinamool Congress candidate and FICCI secretary-general Amit Mitra, who is considered a trump card for the party, told PTI, ''People voted without fear after many years turning out in large numbers. The Election Commission should also be praised for facilitating free expression by the people.''
A veteran Left Front leader and PWD minister Kshiti Goswami, a candidate from Alipurduar in north Bengal, said, ''The way people had voted in large numbers, I am confident of winning from the seat.''
In the 2001 assembly election, the Front secured 199 seats and five years later in 2006 it got a brute majority of 235 seats. For the CPI-M, it's question of survival, because reverses in Bengal will put an end to the 34-year Left innings in the country and may also rob it of its national stature.
'Gulal' (coloured powder), significantly both of the red and green variety, are on sale in street corners. On everbody's lips are the words: ''Is 'parivartan' (change) is really coming to the state after 34 years or there will be 'pratyabartan (return) of the Left front?''
Please click NEXT to read what the counting day promises for Tamil Nadu...
TAMIL NADU: Will Amma oust 'scam-struck' DMK?
Last updated on: May 13, 2011 08:49 IST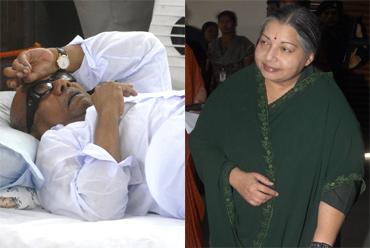 Ending a month-long suspense, Tamil Nadu will know on Friday who will rule the state for the next five years as the votes polled in the April 13 assembly elections will be counted at 91 centres across the state.
The fate of 2,773 candidates including arch-rivals Dravida Munnetra Kazhagam and All India Anna Dravida Munnetra Kazhagam chiefs M Karunanidhi and J Jayalalithaa respectively will be known with the results of the fiercely fought elections to the 234-member assembly expecting to be out by Friday evening.
DMK is seeking a second successive term and AIADMK itching to return to power after a five-year hiatus during which various issues including the 2G spectrum scam surfaced.
75.21 per cent of the voters had exercised their franchise in the recently-concluded state polls, which saw the Election Commission cracking the whip on political parties to check irregularities, particularly use of money power to woo voters, prompting contrasting reactions from the two major Dravidian parties.
DMK patriarch Karunanidhi had launched a scathing attack against the EC, which had adopted many tough measures to prevent flow of money, even calling for curtailing its powers.
His bete noire Jayalalithaa, on the other hand, had never let go even a slight opportunity to knock at the EC's doors.
The electoral outcome would come at a time when the probe into 2G spectrum allocation scam has reached the DMK first family with Karunanidhi's daughter and DMK Rajya Sabha member Kanimozhi been chargesheeted by Central Bureau of Investigation as a co-conspirator with former telecom minister A Raja in the case.
In the event of DMK retaining power, 87-year-old Karunanidhi is likely to assume charge as chief minister for his sixth term in the wake of simmering succession war between his sons M K Stalin and M K Alagiri.
DMK, which contested only 119 seats, will have to bank on
the support of the Congress, which had made a strong pitch for power-sharing after forcing the alliance leader to part with 63 seats in a tough bargaining during seat allocation.
The poll is crucial for Jayalalithaa, who fought a do-or-die battle to storm back to power which she lost in 2006. Her party had contested 160 seats besides allotting 42 to actor-politician Vijayakant's DMDK.
DMK is confident that its 'populist measures' like free TV and rice at Re 1 a kg would ensure it another term, AIADMK highlighted 'failure' of law and order and power cuts.
The EC has made elaborate security arrangements for the EVMs which are being guarded round-the-clock in a three-tier security.
Please click NEXT to find what the counting day means for Kerala...
KERALA: Will LDF break the penchant for change every 5 years?
Last updated on: May 13, 2011 08:49 IST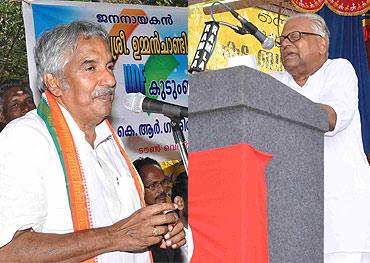 An air of anxiety pervaded ruling Left Democratic Front and opposition United Democratic Front camps in Kerala with the political profile of the state for the next five years to be decided as counting of votes begins on Friday.
Never before have voters and candidates in Kerala had to wait for such a long time to know the outcome after exercising their franchise.
Elections for the 140-member assembly were held on April 13, in what was one of the most bitterly fought elections in the state's history.
Most exit polls have forecast that UDF has a slight edge, but the gap between the two fronts would be narrow this time. The surveys have also indicated it would be a close call, adding to the anxiety in the two camps.
Chief Minister V S Achuthanandan, however, appeared unperturbed by the surveys.
Achuthanandan, however, seemed to draw comfort from the fact that all surveys had shown that a majority of voters acknowledged the 'good things' done by the LDF government in the last five years.
In the initial stages, the UDF seemed to have had an edge, but the veteran Marxist leader's aggressive campaigning has injected hopes of victory in the LDF camp.
As in the past, the battle of the ballot this time too is between the ruling Communist Party of India-Marxist-led LDF and the opposition Congress-headed UDF, which have been alternating in power since 1982.
Will Kerala live up to its penchant for change every alternate five years by giving the mandate to Congress-led UDF or will the CPI-M-headed LDF under Achuthanandan buck the trend by securing a second term ? This is the question dominating the state as the counting begins.
Besides Achuthanandan (Malampuzha) and Congress chief ministerial probable Oommen Chandy (Puthupally), leading candidates whose fate will be known on May 13 include CPI-M politburo member and Home Minister Kotiyeri Balakrishnan (Thalassery), Kerala Pradesh Congress Committee president Ramesh Chennithala (Harippad), Indian Union Muslim League leader P K Kunhalikutty (Vengara), late leader K Karunakaran's son K Muraleedharan (Vattiurkkavu), Kerala Congress (M) veteran K M Mani (Palai) and former Union minister and BJP stalwart O Rajagopal (Nemom).
Please click NEXT to read the significance of counting day for Assam...
ASSAM: Will Congress counter the anti-incumbency factor?
Last updated on: May 13, 2011 08:49 IST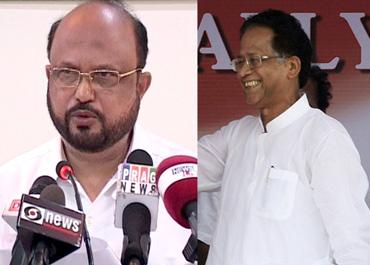 The stage is set for counting of votes for Assam assembly on Friday more than a month after the polls to decide the fate of 1,081 candidates in 126 seats.
Polling, by and large peaceful, was held in two phases on April 4 and April 11 and recorded a high voter turn out of more than 75 per cent.
Official sources said counting will start at 8 am at all the centres on Friday. While the Congress is all set for a third consecutive term in the state according to Union Home Minister P Chidambaram, exit polls have predicted a hung assembly.
Among prominent contenders are Chief Minister Tarun Gogoi, leader of the opposition and two time former chief minister Prafulla Kumar Mahanta, Asom Gana Parishad president Chandra Mohan Patowary and a host of ministers including Himanta Biswa Sarma, Bharat Narah, Pradyut Bordoloi and Rockybul Hussain.
The ruling Congress has 71 seats while opposition AGP has 20, Bharatiya Janata Party 8 and minority-dominated All India United Democratic Front 10 in the present house.
Assam Pradesh Congress Committee president Bhubaneswar Kalita has claimed the party will score a hat-trick with a comfortable majority. The AGP, which is expected to have the BJP as an ally, on the other hand is also confident of victory with Patowary claiming the anti-incumbency factor will work for the party's advantage.
According to Additional Chief Electoral Officer M Sahu there will be 48 counting centres throughout the state.
"There will be approximately 2,000 counting tables and nearly 8,000 personnel involved in the counting process," he told PTI.
Tight security will be in place. "There will be a three-tier security system with the police, other security forces and armed battalions and the central armed forces guarding them," he said.
Please click NEXT to read how the counting day will change Puducherry's politics...
PUDUCHERRY: Can Congress hit a hat-trick?
Last updated on: May 13, 2011 08:49 IST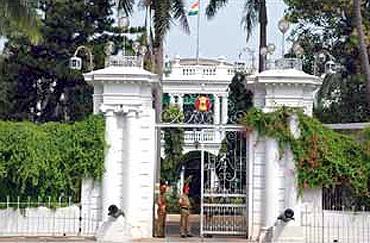 Elaborate security arrangements have been put in place in the Union Territory ahead of the counting of votes on Friday of the April 13 assembly polls.
Deputy Inspector General of Police Atul Khatiyar said 65 senior police officers, 625 constables and two sections of Central Industrial Security Force would be on duty to ensure law and order in and around the Bharathidasan Government College for women, the counting centre for the votes polled in Puducherry's 23 constituencies.
Police have identified 25 sensitive pockets in the Puducherry region and armed police personnel would be deployed in these pockets to keep vigil for 24 hours from 8 am on Friday, Khatiyar said.
District election officer G Ragesh Chandra said counting would start from 8 am onwards and elaborate arrangements were made at the centres for smooth conduct of counting.
For the voters, the choice in the assembly elections will be between incumbent Congress chief minister V Vaithilingam and former Congress chief minister N Rangasamy, who now heads the All India NR Congress.
The ruling Congress is eyeing a hat-trick of victories by coming to power for the third straight time.