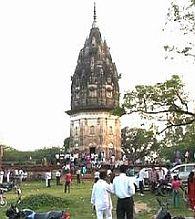 A team from Archaeological Survey of India on Friday began excavation work at the fort of Raja Rao Ram Bux Singh in Unnao district of Uttar Pradesh to dig out a hidden gold treasure suspected to be buried there.
Amidst tight security, the 12 member team led by P K Mishra, Deputy Director ASI, would carry out excavation work at the fort in Daudiakala village, which was formally started by the District Magistrate Vijay Kiran Anand.
Earlier in the day, the seer, Shobhan Sarkar, who apparently had a dream that 1,000 tonnes of gold was buried in the remains of the fort, performed "boomi pujan" and marked the points to be excavated by the ASI team.
When asked about how much time it would take to dig out the treasure, Sarkar said Geological Survey of India would be able to answer that accurately, adding the treasure would not be found concentrated at one place.
"1000 tonnes of gold will not be found at one place but deep digging would have to be done at several points," Sarkar said.
Heavy police force has been deployed around the fort, where huge crowd has gathered to have a glimpse of the excavation work happening there.

Barricades have been erected to control the crowd and media gathered at the spot.
Raja Rao Ram Bux Singh, who was martyred during 1857 fight with Britishers, appeared in the dream of the seer and asked him to take care of the gold treasure buried in the remains of his fort, said Swami Omji, a follower of Sarkar.

Sarkar reportedly convinced Union Minister Charandas Mahant about his dream, following which a team of ASI and GSI officials surveyed the area.
Mahant, Minister of State for Agriculture and Food Processing Industries, had visited Sarkar's ashram here on September 22 and October 7 and assured him of appropriate action in this regard.