Around the world on a Goa boat
Last updated on: May 26, 2010 12:52 IST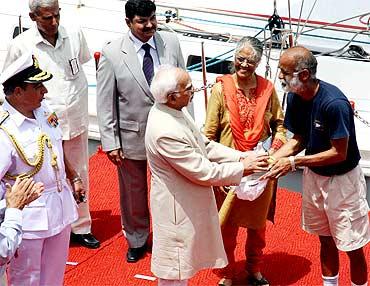 In the last 277 days, Dilip Donde, 42, watched several movies including Gentlemen prefer blondes and Chicago, read several books including One hundred years of solitude by Gabriel Garcia Marquez, and blogged regularly.
He did all this on board the Mhadei, an Indian Navy Sailing Vessel, while he was also trying to achieve the record of being the first Indian to successfully solo-circumnavigate the world.
A commander with the Indian Navy, Donde and his beloved boat Mhadei covered over 25,000 nautical miles (40,000 km) and crossed the Equator twice during their voyage.
"After leaving Mumbai on August 19, 2009, we had halts at four ports -- Fremantle in Australia, Christchurch in New Zealand, Port Stanley in Falkland and Cape Town in South Africa. Everywhere, people who welcomed us expressed surprise at the fact that from a country of billion people, I was the first one to attempt a solo circumnavigation," said Commander Donde, who returned to Mumbai on May 22.
Text: N Ganesh
Cook, skipper, crew and electrician
Last updated on: May 26, 2010 12:52 IST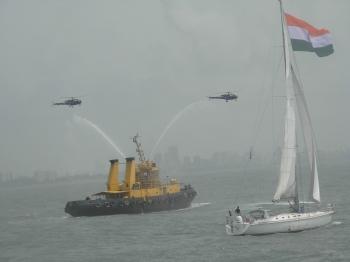 The mettle of the sailor lay not just in braving the rough seas and strong winds, but withstanding long durations of solitude, which stretched to a maximum of 48 days on the last leg of the journey, from Cape Town to Mumbai.
Donde, a bachelor, downplays the loneliness during his voyage. "There was no problem as there was so much work to do," he said.
In his blog, he had mentioned how manning the boat was similar to the endless chores of a housewife. "There is always something to do," he observed.
On several nights, he had to stay awake to guide the Mhadei towards its destination. In his blog, he talks about his multiple roles on board the ship, of being the cook, skipper, crew and electrician.
'How to make unheated canned food palatable'
Last updated on: May 26, 2010 12:52 IST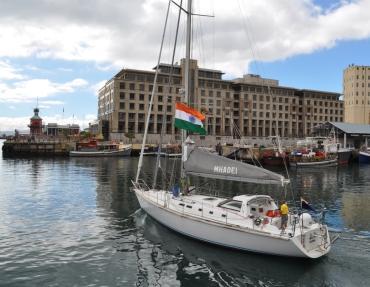 In one of the most touching entries in his blog, Donde mentions the surprise call he received from Jessica Watson, the 16-year-old Australian girl who created history by becoming the youngest solo circumnavigator in the world, to wish him a happy new year. On his post on January 1, he mentions "the gutsy girl 350 nautical miles away and the nearest human being."
During the initial leg of his voyage from Mumbai towards Fremantle, Commander Donde savoured the homemade food made by his mother. He also whipped up dosas, bhelpuri, dry prawn curry, Thai curries and pasta to sustain himself.
On the last leg of the journey, when he was 1,200 nautical miles away from Mumbai, his cooking gas ran out. With Mumbai still 12 days away, the commander had to be at his "creative best to make unheated canned food palatable".
He sorted out the cooking quandary by warming canned food in water heated using the engine coolant.
During his voyage, Commander Donde met two veteran solo circumnavigators -- Mark Schrader and Jon Sanders, who have gone around the world in a boat twice and four times respectively.
The woman behind the success of his voyage
Last updated on: May 26, 2010 12:52 IST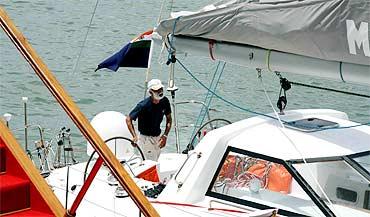 Throughout his tough journey, Commander Donde never lost his sense of humour, as indicated by his various blog posts. When his followers complained of not being able to comprehend the technical jargon of sailing, he provided them with a dinghy wind scale, where force 1 to force 5 ranged between boredom and delight. Notches higher than force 6 meant anxiety and worse, with force 10 indicating panic. Force 11, observed Commander Donde cheekily, meant the sailor was in a state of 'I want my mummy'.
He also pondered on the irony that he had never been part of the construction of any sailboat, while the maker of the Mhadei, Goa-based Rantakar Dandekar, had never worked with the Indian Navy and the powers that be at the Indian Navy had no idea of either!
Commander Donde's affection for his boat is evident from his blog posts, and the fact that he humbly attributed the success of his voyage to the Goa-made vessel. The boat is named after the river Mhadei that originates in Karnataka and flows as the river Mandovi in Goa.
When queried by journalists on the woman behind the success of his voyage, Commander Donde shot back, "Mhadei".