Now Anna refuses to come out of Tihar
Last updated on: August 16, 2011 22:13 IST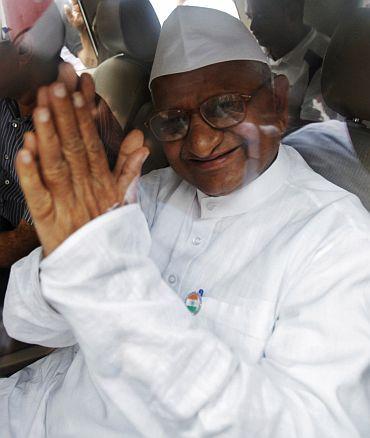 Veteran social activist Anna Hazare refused to come out of Tihar jail on Tuesday evening saying he wants an unconditional release and unconditional permission to go ahead with his indefinite fast at Jai Prakash Narayan Park in New Delhi.
Earlier, Delhi Police Commissioner B K Gupta issued a release warrant of Anna and his associates after police decided to withdraw its case against them.
Delhi Police sources said that warrants of release have been sent to Tihar Jail authorities for freeing Hazare and his seven associates who were held this morning ahead of their plans to launch an indefinite strike for a strong Lokpal.
The sources said the decision to release was taken after government is understood to have come to the conclusion that keeping him in jail would create unnecessary law and order situation.
Also Read: 'PM ordered Anna's release after consulting Rahul'
Tihar jail sources said that all the eight had been kept in separate lock ups and would be freed soon. Hazare and his associates had refused to take food during their detention under judicial remand.
Earlier, Anna Hazare was on Tuesday sent to seven days' judicial custody at Tihar jail after he refused to sign a personal bond and come out on bail following his arrest.
The veteran anti-corruption crusader was sent to jail no. four at Tihar where former Commonwealth Games Organising committee head Suresh Kalmadi has also been lodged.
Hazare, who was arrested in the morning on grounds of apprehension of breach of peace following his intention to defy prohibitory orders to go on indefinite hunger strike, was produced before a special executive magistrate.
Please click NEXT to read more...
'Hazare refused to give undertaking not to defy Section 144'
Last updated on: August 16, 2011 22:13 IST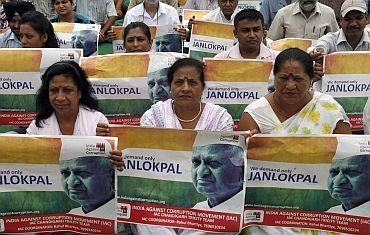 Gupta said the police was prepared for his being released on a personal bond if the Gandhian would have given an undertaking that he will not defy Section 144 of the CrPC that prohibits gathering of five or more people and also ask his supporters not to do so.
Sources said since Hazare refused to give an undertaking, the magistrate remanded him to a seven-day judicial custody.
He will be taken to Tihar jail where he will spend time in judicial custody. Three other leading activists of the team Hazare -- Kiran Bedi, Arvind Kejriwal and Manoj Sisodia -- were also sent to judicial custody on similar grounds.
Nearly 1400 activists were detained in various parts of the city when they came out in support of Hazare, who had planned to launch the fast at J P park near Ferozeshah Kotla and Delhi Police Commissioner B K Gupta said they would be released after "some time".
Protest march from India Gate to Parliament planned
Last updated on: August 16, 2011 22:13 IST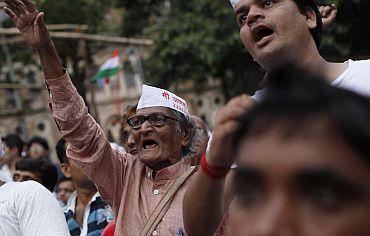 Meanwhile, hours after the detention of Anna Hazare, his aides on Tuesday vowed to take out a protest march to Parliament House from India Gate on Wednesday in defiance of prohibitory orders clamped in the high-security area as part of a country-wide agitation against the police action.
"A protest march will also take place tomorrow from India Gate to Parliament House," lawyer Prashant Bhushan, a key member of Hazare's anti-graft campaign, told mediapersons in New Delhi.
He said protests have been planned across the country to vent their anger "peacefully and in a non-violent" manner against the detention of Hazare and his supporters.
'There is no freedom for Delhi police'
Last updated on: August 16, 2011 22:13 IST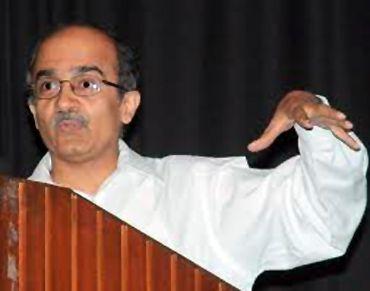 Alleging that the action against Hazare was taken at the behest of the central government, Bhushan said, "The decision to detain Hazare or to deny permission for his protest were taken by Cabinet ministers. It is not the Delhi police which is taking these decisions. There is no freedom for Delhi police. It has become a puppet, an ornament in the hands of Central government."
He said students of Delhi University will protest outside Chhatrasal Stadium, which has been turned into a special jail, and court arrest while another protest will be organised at Pragati Maidan from where the activists will take a march to Jai Prakash Narain Park.
Prohibitory orders have already been imposed in the localities mentioned by Bhushan.
Anna shares jail with Kalmadi, Kejriwal with Raja
Last updated on: August 16, 2011 22:13 IST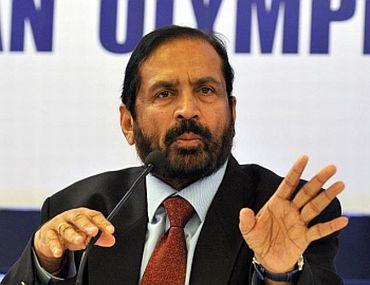 In a related development, Anna Hazare will share space with A Raja and Suresh Kalmadi both accused in the high-profile scams in Tihar jail.
"Anna Hazare has been lodged in jail number four where Suresh Kalmadi and Kalaignar TV Managing Director Sharad Kumar are lodged," Deputy Inspector General (Tihar) R N Sharma told PTI in New Delhi.
Anna will be with his associates Rajesh, Suresh Pathare and Manish Sisodia in a cell of the prison which houses 2,231 inmates.
Former Indian Revenue Services officer Arvind Kejriwal has been lodged in jail number one with former Telecom Minister A Raja and MD of D B Realty Shahid Balwa are lodged.
Navin, Dada Thakare and Pathare were accompanying Kejriwal in the cells of this jail which has 1,543 prisoners.
All the eight were brought at 4.15 pm and were quietly sent to their cells.
© Copyright 2023 PTI. All rights reserved. Republication or redistribution of PTI content, including by framing or similar means, is expressly prohibited without the prior written consent.