'I have always been the master of my art'
Last updated on: June 9, 2011 12:39 IST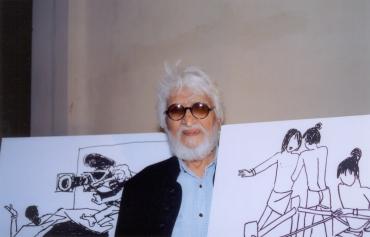 Maqbool Fida Husain, arguably India's best known artist, passed away in London in the wee hours of Thursday.
The maverick painter, whose work attracted the ire of the Hindu right-wing, died in exile.
In an interview with Rediff.com's Indrani Roy-Mitra in 2005, Husain had talked about his latest art projects, his passion for Hindi films and India's place in the world of art.
The interview had taken place shortly after his 90th birthday and a year before the self-appointed preservers of our culture forced the maverick painter to leave his country and seek refuge abroad.
How did you celebrate your birthday?
This year it was a strictly family affair. I spent the day with my children, grandchildren and great grandchildren -- 35 of them, you know. Parties, formal dinners and meetings were a strict no-no.
'If you think I am biased, think again'
Last updated on: June 9, 2011 12:39 IST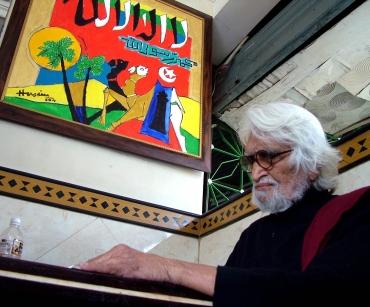 Tell us about your ongoing projects.
Apart from Vision, I am depicting the history of Indian cinema in a mural at filmmaker Yash Chopra's [ Images ] state-of-the-art studio in Oshiwara.
Titled Silver Silence of Dada Phalke to the Golden Dazzle of Madhuri Dixit, it celebrates the 100 years of Indian cinema.
Apart from these, I am up to my neck in another work, Husain Decoded.
It's my attempt at decoding my art and restructuring my thoughts. I hope to finish all of these by this time next year.
You are identifying Madhuri Dixit with an age of the Indian cinema.
Yes, of course. She is an irreplaceable part of Indian cinema. If you think I am biased, think again.
Wasn't the veteran actor Ashok Kumar of the opinion that she is the only complete actress Indian cinema has ever produced?
'I observe the world with a child's eyes'
Last updated on: June 9, 2011 12:39 IST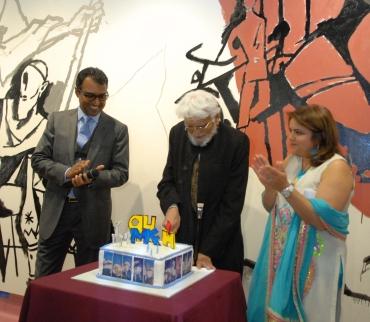 What is the secret of your speed and agility?
It's the gift of God. Pardon my insolence, but I observe the world with a child's eyes.
I am always interested in everything I perceive. To me, each day the world unfolds like a magic box, full of surprises, resplendent with colours. It is this sense of awe and amazement that keep me going even at this age.
Chronicling which phase of Vision did you like the most?
It was a pleasure recreating each and every phase of the century.
The past 100 years have been awesome. Man has achieved so much. From growing wings in the early part, he left his mark in every field, ultimately spearheading a revolution in the field of information technology. It's mind-boggling to backtrack how man has mastered the world.
No other century has been so dynamic. It was a revelation painting the century.
'I have to live 10 lives to accomplish the task'
Last updated on: June 9, 2011 12:39 IST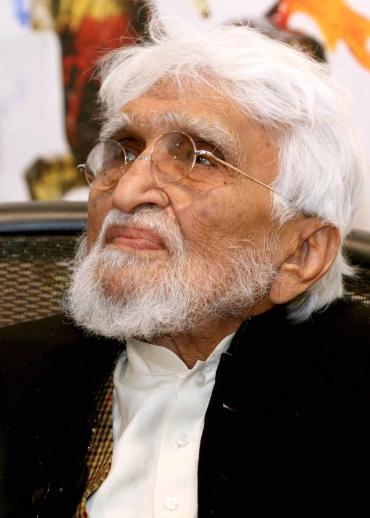 How do artists feature in your project? Do your works ever have any reference to the great artists of the world or do you prefer to play with colours your way?
I cannot paint a century ignoring its art. Art does feature in my project albeit indirectly. As for artistic influences in my works, I have always been the master of my art.
There are artists like Pablo Picasso, who I have worked with, and there are artists like Rembrandt and the human element of his art, which has left great impression on me.
But as a worshipper of art, I have always absorbed the greatness of my predecessors and evolved my style.
For in the ultimate count, only style stays. Think of Picasso. There were more than 5,000 artists during his time. But time does not remember any one of them.
If you were to start a new project Vision: 21st Century, what would come to your mind first?
I have to live 10 lives to accomplish the task. I am amazed, perplexed and bewildered by this century and its indescribable feats. Be it the technological advancement, electronic revolution or the intellectual achievements, the century will be a treasure trove and it will be quite an experience exploring it.
'India rules the world of art'
Last updated on: June 9, 2011 12:39 IST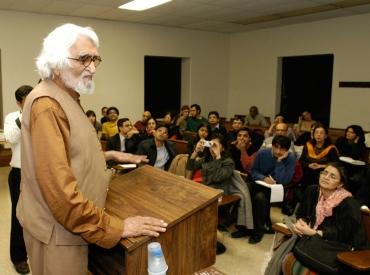 How do you rate Indian art vis- -vis the international scene? What future does art have in India?
India has asserted itself in the field of art for the last 5,000 years.
India rules the world of art and it is pointless to weigh it against the international standard.
New York is going to host a huge art auction on September 21 and 22. Thirty-five of my paintings will be up for auction and millions of dollars will be at stake.
Does one need to justify the strength of Indian art?
Has any incident made a strong influence on you and your works?
I don't live for moments. Neither do moments comprise my life.
Life to me is fun to live. One needs to be alert and alive to drink it to the lees. I am inspired by each and every incident that life offers me.
I draw inspiration from everything under the sun. Even a small stone in a corner of the room may catch my fancy and I can spend hours watching it. Therefore, it's unlikely that any particular incident will have any influence on me.