ISRO's Mars Mission blasts off: Launch termed successful
Last updated on: November 05, 2013 16:55 IST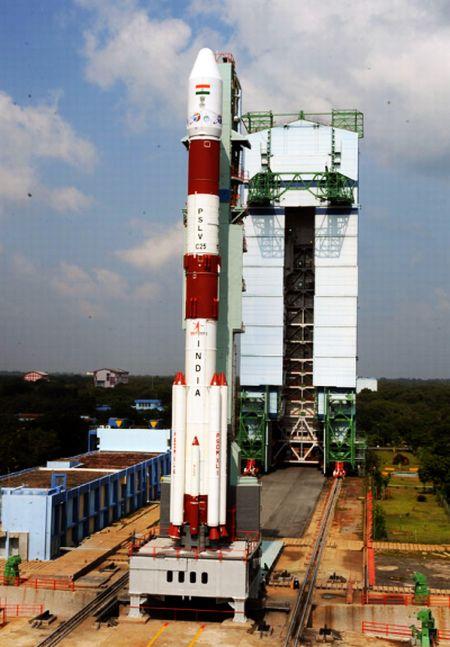 India's ambitious Mars Mission sent a spacecraft hurtling into space on a 400-million-kilometre journey that will last a year.
Mangalyaan, the Indian Space Research Organisation's Rs 450-crore Mars Mission, blasted off from the Satish Dhawan Space Centre on Sriharikota island at 2.38 pm. All parameters were normal at the time of the launch.
The first and most critical stage of the launch passed of smoothly.
The vehicle data stations, which have been collecting the data, have sent back information that the progress of Mangalyam has been very good.
All the three stages of the launch, termed a text book launch, were completed successfully.
The PS4 engine has started in the fourth phase of the ignition. The announcement was made amid cheers and confirmed by the tracking ship Nalanda.
The Mangalyaan orbiter has successfully separated from PSLV rocket and it has injected the satellite exactly as per plan into the specified orbit.
ISRO chief K Radhakrishnan, who looked nervous during the launch, finally smiled 40 minutes after the launch.
"It has been a new and complex mission for us. I want to salute the entire ISRO community," he said.
"It is a perfect mission. But this is the first step and there is more to go. We have crossed a major first milestone. I thank the entire ISRO team. No mission is beyond our capability," Radhakrishnan said.
Shivakumar, director of the ISRO Satellite Centre said, "Hats off to everyone. We are happy. We have a long way to go still and will continue to cover it systematically. We are confident the rest of the mission will go well. Each one has done very well".
"It is like a cesarean. Our baby is in space and it is our job to look after our baby," he said.
This is what Professor U R Rao, former ISRO chairman, had to say about the brouhaha over ISRO spending Rs 450 crore on the mission, "We have spent Rs 450 crore on a rocket which is going to travel several million km. Why make a hue and cry over this when Rs 5,000 crore is being spent on Diwali crackers".
Please click NEXT to read further…
ISRO's Mars Mission blasts off: Launch termed successful
Last updated on: November 05, 2013 16:55 IST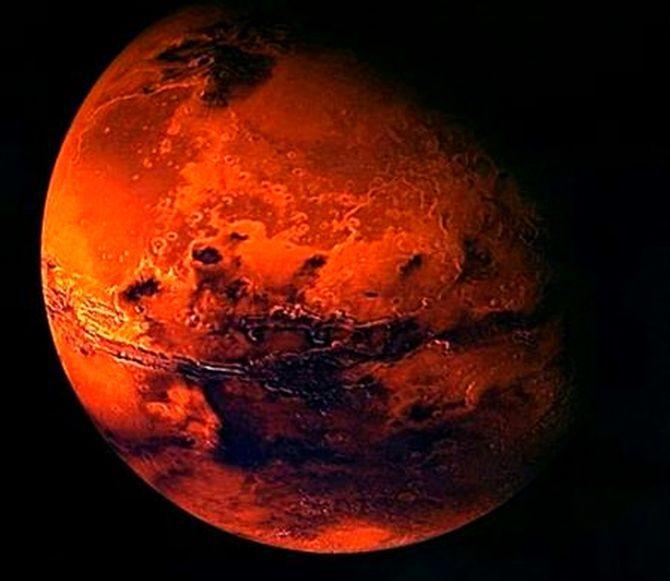 A successful inter-planetary foray makes India the sixth country to venture towards Earth's nearest neighbour after Russia, United States, Japan, Europe and China.
So far, there have been 51 missions to Mars, predominantly from the US, Russia and the European agency and the success rate has been less than 50 per cent.
Mangalyaan will not only showcase Indian scientific capability, but also reiterate the cost-efficient engineering the country offers. While ISRO's funding for the flight to the Red Planet is around $69 million (Rs 450 crore), the cost of America's scheduled launch to the same planet in mid-November is $671 million (around Rs 4,093 crore).
ISRO officials attribute the cost difference to indigenisation. An expert points out that one cannot compare the two figures because they differ in terms of number of payloads, production standards and so on. However, they aver that ISRO's cost of launching is "definitely" cost-competitive across the globe.
Courtesy: Business Standard
Please click NEXT to read further…
ISRO's Mars Mission blasts off: Launch termed successful
Last updated on: November 05, 2013 16:55 IST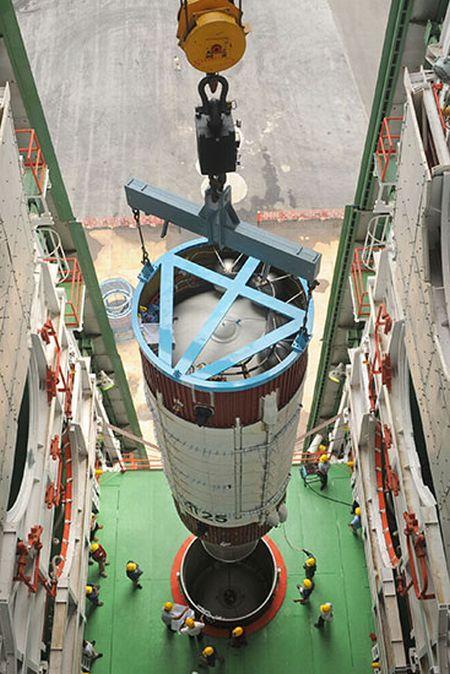 India has made judicious use of the funds available to it for space research. For instance, the launch pad is not specific to a mission, but allows the launch of any type of spacecraft. In contrast, other countries have dedicated launch pads for particular missions, which pushes up the cost of construction and integration with the rocket system. "ISRO adopted this set-up in the 1970s and this has led to cost advantages. A few foreign space-programme organisations too have adopted this format now," notes the expert.
Of the Rs 450-crore-budget, Rs 110 crore was used to build the PSLV-C25 launch vehicle, while Rs 150 crore was spent on the orbiter spacecraft. The balance went into augmenting ground facilities, including those required for deep space communication.
As with a mission of its kind, the timing of the Mangalyaan's launch was crucial. In the current calendar, a suitable launch window was open till November 19. The current configuration allows a rare trajectory which occurs when the Earth, Mars and the sun form an angle of 44 degrees -- something that affords substantial minimum-energy opportunities. A similar trajectory occurs at intervals of about 780 days, so if this opportunity is missed, the next window is possible only in January 2016 and thereafter in May 2018.
Please click NEXT to read further…
ISRO's Mars Mission blasts off: Launch termed successful
Last updated on: November 05, 2013 16:55 IST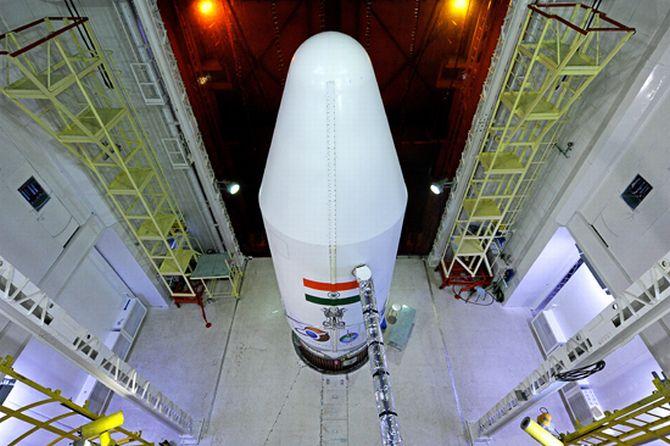 The space craft is expected to reach the Martian orbit by September 2014, and ISRO officials says that though the life of the spacecraft in that orbit is six months, Mangalyaan could well outlive its mission, noting that similar craft sent by other countries have sometimes lasted six-seven years.
The main objectives of MOM are twofold. Mangalyaan is first a technology demonstrator, to show that India has acquired knowledge and the technical know-how to send man-made machines into deep space. Secondly, it will conduct tests to see whether Mars ever had an environment in which life could have evolved, while exploring the planet's surface, topography, minerology and atmosphere. It will carry compact scientific instruments, totalling just 15 kg. There are five instruments on board to study Martian surface, atmosphere and mineralogy.
MOM will see some synergy with NASA's Mars Atmosphere and Volatile Evolution mission, which is scheduled to lift off some days after ISRO's vehicle. Both the space research organisations are expected to work together to solve some of the perennial mysteries surrounding Mars, including the possibility of life on the planet.
Please click NEXT to read further…
ISRO's Mars Mission blasts off: Launch termed successful
Last updated on: November 05, 2013 16:55 IST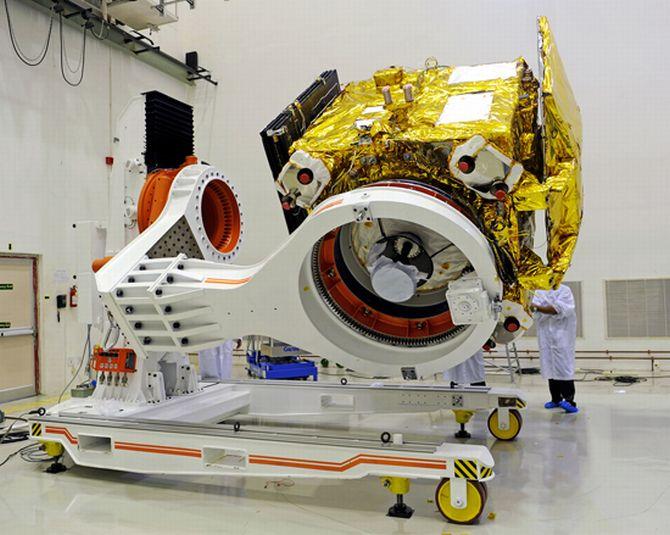 "As you prepare for your launch to Mars, do not forget one of the few, but important actions: pass around the peanuts!" NASA had wished ISRO. The allusion is to the tradition of peanuts being handed out at every American launch since 1964.
NASA has reaffirmed its communications and navigation support to India's Mars mission. The American organisation is providing communications and navigation support to MOM with its "Deep Space Network" facilities.
MAVEN will leave the Kennedy Space Center on November 18. Both MOM and MAVEN spacecraft will join Earth's armada of five operational orbiters and surface rovers currently exploring Mars once they reach the planet's orbit next year.
"If all goes well, NASA's MAVEN and ISRO's MOM will work together to address the mysteries of Mars atmosphere. We plan to collaborate on some overlapping objectives," Bruce Jakosky, MAVEN's principal investigator from the University of Colorado at Boulder, told Universe Today. He was further quoted as saying, "There are some overlapping objectives between MAVEN and MOM, and we have had some discussions with the Indian scientific team."
While MOM will analyse whether Mars' environment supported life, MAVEN is the first spacecraft from Earth devoted to investigating and understanding the upper atmosphere of Mars. MOM will also search for methane. On Earth, the gas is strongly tied to life and Reuters reported that methane, which can also be produced by non-biological processes, was first detected in the Martian atmosphere a decade ago.
MAVEN will focus on Mars' thin atmosphere and its objectives are designed to help scientists figure out how the planet managed to lose an atmosphere that at one time was believed to be thicker than Earth's. "MAVEN is going to focus on trying to understand what the history of the atmosphere has been, how the climate has changed through time and how that has influenced the evolution of the surface and the potential habitability -- at least by microbes -- of Mars," Reuters reported Jakosky as saying.
Please click NEXT to read further…
ISRO's Mars Mission blasts off: Launch termed successful
Last updated on: November 05, 2013 16:55 IST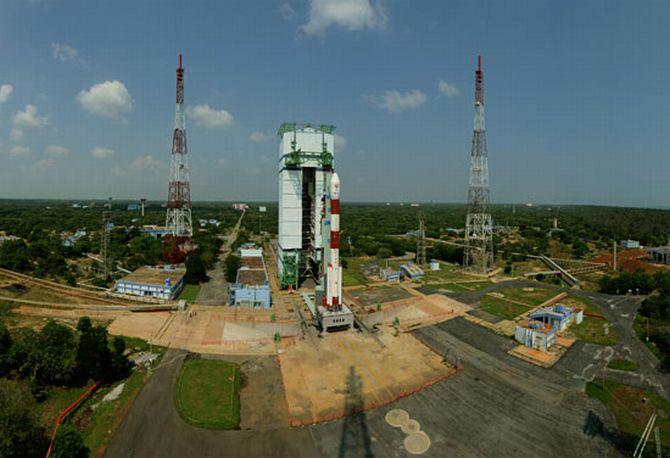 Sriharikota, from where Mangalyaan was launched, is a spindle-shaped island off the east coast of Andhra Pradesh. In 1969-70, the island was chosen as the site for a satellite-launching station, given its good launch azimuth corridor, nearness to the equator (benefiting eastward launches), and large uninhabited surroundings suitable for a safety zone. The spaceport has two launch pads.
The first test flight of Rohini-125, a small sounding rocket, took place on October 9, 1971 and since then it has proved India's historic launchpad for rocketry and satellite programmes.
The complex is tightly guarded. And though the local populace takes pride in the scientific facility, it can get annoying at certain times, when security is intensified, with the police, Coast Guard, Naval Marines and the Central Industrial Security Force summoned to patrol the shores and forests on the island. Fishermen are prevented from going about their daily forays into the sea.
But this year, the folks at Sriharikota may have more than just the pleasure of seeing a rocket arching into the skies above. They might well be watching the start of a new era in space exploration.
Please click NEXT to read further…
ISRO's Mars Mission blasts off: Launch termed successful
Last updated on: November 05, 2013 16:55 IST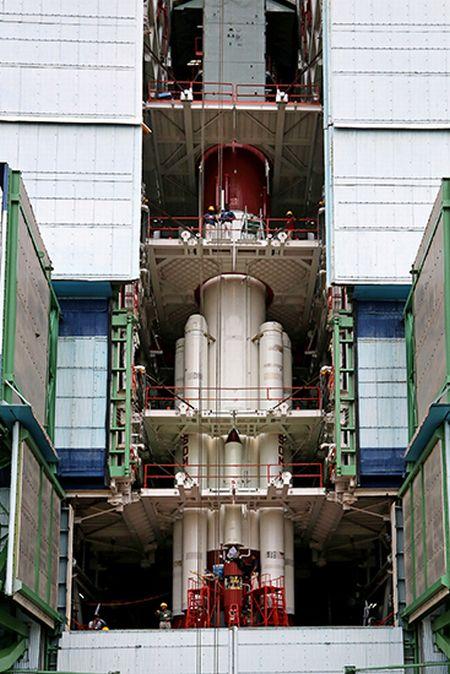 DESTINATION MARS
August 2010
ISRO forms a team headed by V Adimurthy to study Mars mission feasibility and gets go-ahead for the project
August 2012
In his Independence Day address, Prime Minister Manmohan Singh announces the Mars mission
August 2013
Assembly of Mangalyaan carrier PSLV begins at Sriharikota for the original scheduled launch on October 28
October 22
ISRO announces postponement of the launch to November 5 due to bad weather in the Pacific Ocean.
October 30
Two ships, SCI Yamuna and SCI Nalanda, reach destination in Pacific, 1,000 nautical miles east of Fiji, to monitor the course of PSLV-C25 as it sails over the ocean.