Akhilesh's Band, Baaja, Baraat idea for Maya's parks
Last updated on: May 23, 2013 11:32 IST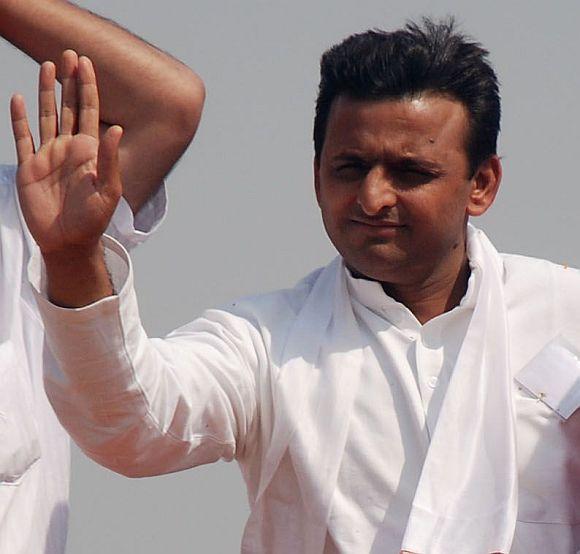 Bahujan Samaj Party supremo Mayawati's dream projects, including memorials and parks in the name of Dalit icons in Uttar Pradesh capital Lucknow, would now witness marriages and cultural events with the Akhilesh Yadav government deciding to use the space for public purposes.
"Yes...the decision has been taken in this regard. It was in the Samajwadi Party's election manifesto to utilise areas of these memorials and parks for public purposes. By doing so we have fulfilled yet another promise," In-charge Minister of Lucknow, Shiv Pratap Yadav, told PTI.
For utilising memorials and parks constructed by the previous regime, the suggestions given by the government to the management, security and maintenance committee of these parks have been adopted.

As per the plan, guest houses constructed at Ramabai Ambedkar ground and adjoining area will be handed over to the estate department besides its administrative building will be used as the Committee's office.

The administrative offices of other places could now be given to government, semi-government departments, corporations and different bodies on rent

Click on NEXT to read further...
Akhilesh's Band, Baaja, Baraat idea for Maya's parks
Last updated on: May 23, 2013 11:32 IST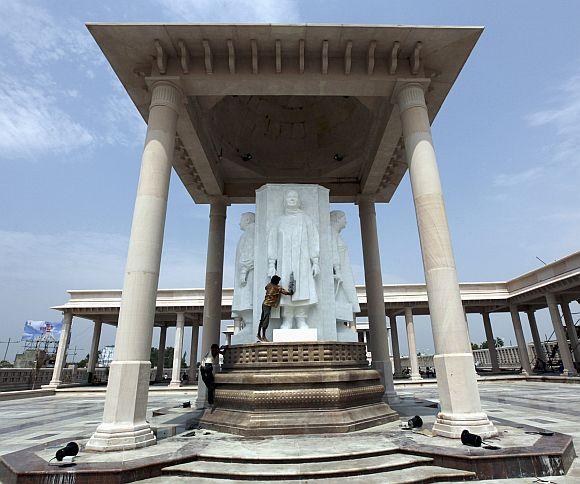 The dormitories constructed at memorials, parks and rally grounds will be given on rent to government and semi-government departments and the adjoining vacant land could be used for social functions, including marriages and cultural events etc.
Similarly, type four dwellings constructed at Buddha Vihar Shanti Upvan will be handed over to the estate department and canteen at eco-garden be given on rent to a private operator.
The administrative building at Bhimrao Ambedkar Samajik Parivartan Sthal, which was earlier allotted to National Investigative Agency (NIA), would be allotted to the National
Rural Health Mission (NRHM), Udyog Bandhu or any other department on rent.
Besides, outer administrative building of the Sthal would be given on rent to police or the home department.

Similarly, Kanshiram green (eco) garden would also be rented out by Estate department.

Click on NEXT to read further...
Akhilesh's Band, Baaja, Baraat idea for Maya's parks
Last updated on: May 23, 2013 11:32 IST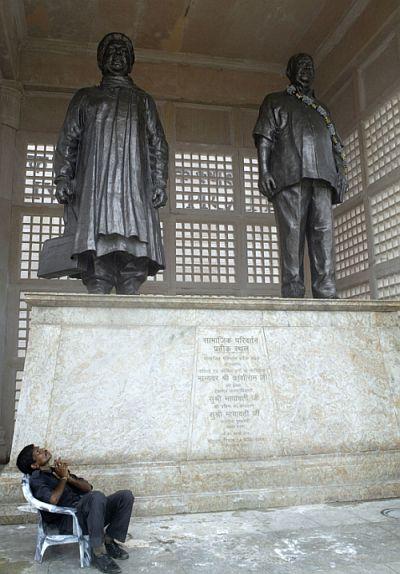 After leaving space for the annual Lucknow Mahotsava, the remaining space at Ramabai Ambedkar ground would be given on rent for organising expo-marts and other fairs.
The parking place would be given to the state Transport Corporation for inter-state bus terminal.
A committee headed by Lucknow District Magistrate Anurag Yadav was earlier constituted to give suggestions for the utilisation of vacant buildings and land in memorials and parks.
The BSP has termed the decision as "unfortunate" and said it would set a wrong precedent
"The decision is an insult to Dalit icons on whose name the memorials have been constructed. It will set a wrong tradition and in the future someone could do the same with projects of SP", BSP MP Brijesh Pathak said.