'Terrorised' airlines now want passenger profiling
Last updated on: February 1, 2010 18:16 IST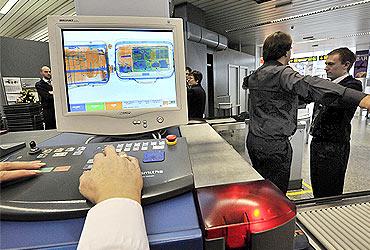 Chiefs of the world's leading airlines have warned that full body scanners will not eliminate the terrorist threat, and have demanded passenger profiling as well.
Security can only be guaranteed by making a risk assessment of people before they are even board an aircraft, The Telegraph quoted Giovanni Bisignani, director general of the International Air Transport Association, as saying.
"Instead of looking for bad things -- nail clippers and rogue bottles of shampoo -- security systems, we need to focus on finding bad people," he added.
Click on NEXT to read further...
Comprehensive review of airport security
Last updated on: February 1, 2010 18:16 IST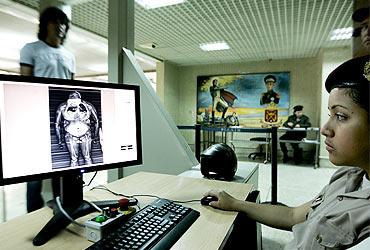 The intervention from one of aviation's most influential figures comes as passengers and airlines wait to hear the results of a comprehensive review of airport security announced by British Prime Minister Gordon Brown.
British Transport Secretary Lord Adonis will unveil the government's plans when he is expected to demand for the increased use of body scanners and order a swift increase in the use of explosive-detecting swabs at departure gates.
Over-reliance on scanners adds to woes
Last updated on: February 1, 2010 18:16 IST
Airlines fear that over-reliance on scanners and pat down searches of all passengers could bring airports grinding to a halt and 'waste resources'.
Airlines have urged governments to combine hi-tech screening with intelligence about terrorist threats and evaluation of the risk posed by individual passengers, to pick out potential terrorists who would be subjected to more detailed searches.
Passenger profiling is controversial
Last updated on: February 1, 2010 18:16 IST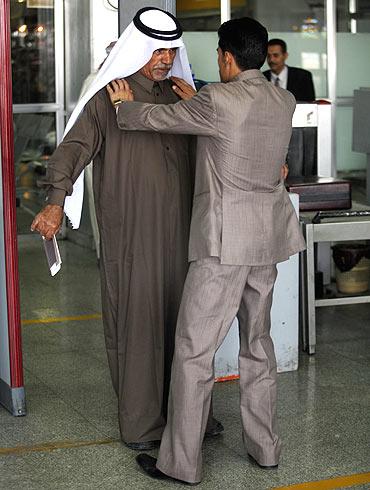 Targeting travellers seen as a potential threat -- known as passenger profiling -- remains controversial, with some critics arguing that it is potentially racist with Asian and Arab travellers more likely to be picked out than others.
But supporters of profiling say that techniques are more sophisticated and would include taking into account how tickets were bought -- a cash purchase would trigger concern -- previous travel and even behaviour at the airport itself.
Source: ANI