'Afghan withdrawal will not mean central role for Pak'
Last updated on: May 18, 2012 11:36 IST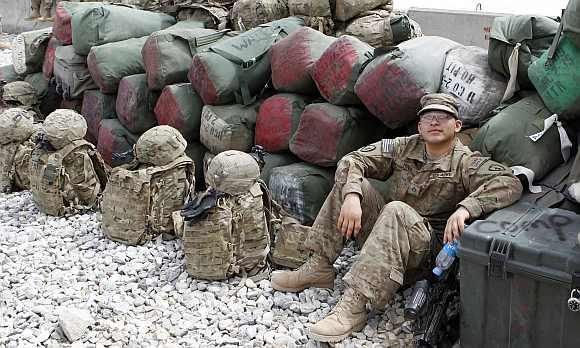 India has been discomfited by signs that the United States and its allies are preparing to leave Afghanistan.

The Obama administration has assured India that the withdrawal of its troops from Afghanistan does not mean Pakistan will now have a central role in that war-ravaged country and call the shots vis-a-vis reconciliation between the Kabul government and the Taliban.

United States lawmakers who have recently met with senior Indian officials said Indian decision-makers have become discomfited by signs that the US and its allies preparing to leave Afghanistan would necessarily provide a central role for Pakistan at a time when New Delhi wished to limit Islamabad's influence in a post-war Afghanistan.

Assistant Secretary of State for South Asian Affairs Robert Blake, told lawmakers that concerns by India were unfounded and noted that Secretary of State Hillary Clinton during her recent trip to New Delhi had assured them that the US-Afghanistan strategic agreement wouldn't allow for such a central Pakistan role.

Click NEXT to read further...
'India doing a lot to show their long-term commitment to Afghainstan'
Last updated on: May 18, 2012 11:36 IST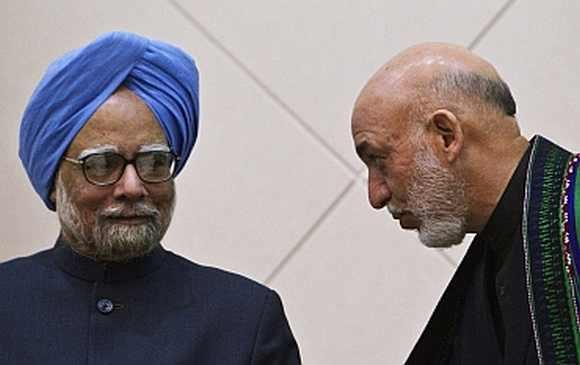 Blake said, "The Indians were very reassured by that -- reassured by the long-term commitment that we are demonstrating to Afghanistan, and indeed, the Indian themselves are doing a lot to show their own long-term commitment."

"They have a $2 billion assistance programme," he said, and noted, "they have recently invested in a very large iron-ore project -- it's a multi-billion iron-ore project -- where they will not only be investing in that but also associate infrastructure."

Blake said, "We really see India as a linchpin," of the future growth of Afghanistan and the region, "because they are going to be the largest market in the region. So, they are really so important to development in a lot of these regional projects like the Turkmenistan-Afghanistan-Pakistan/-India gas pipeline and many other things like that."

"And, of course," he added, "they have been making a lot of progress with Pakistan on the bilateral trade side, which is very important to this vision," of trade.
Blake said, "If we are going to create a trade-based economy in Afghanistan, a very important part of that would be to open up those trade routes to India."
'US-India not seeking to contain China'
Last updated on: May 18, 2012 11:36 IST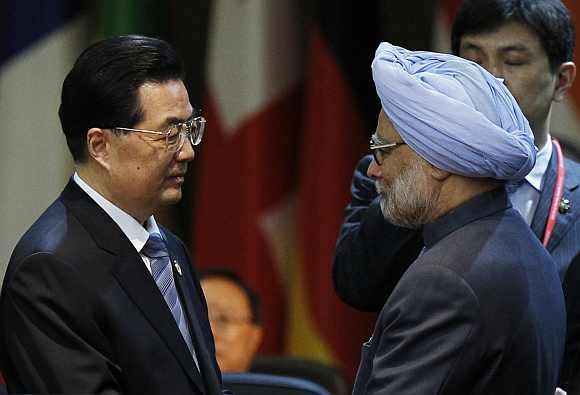 He also sought to alleviate the concern of lawmakers that China's recent muscular stance toward India -- as some Indian pundits had opined -- was a direct result of the growing US-India strategic partnership and recent trilateral partnerships that Beijing perhaps perceived was geared toward its containment.

Blake said, "Both the United States and India have continuously stressed that our expanded strategic engagement is not coming at the expense of China and that neither one of us are seeking to contain China."

"On the contrary, both of us, are seeking to engage China, wherever possible," he said.

Blake also noted that "Another important factor is that Sino-Indian trade has grown very fast and so that has given both of those countries an enormous stake in each other's success and has helped to give them an incentive to work through some of the very tough border and other issues that they have."
Thus, he argued, "Both of our countries are going to continue to try to engage China –to be clear when we have differences, but also to look for opportunities where we can work together."
Blake disclosed that "we've actually proposed a trilateral US-China-India dialogue and I think the Chinese are seriously considering that now."
"We hope that they will agree to that and one of the most interesting early topics for discussion would be Afghanistan, because we believe there are ways that we can work together in that country," he said.
TOP photo features of the week
Last updated on: May 18, 2012 11:36 IST
Click on MORE to see another set of PHOTO features...