Advani's rath yatra: 38 days, 46 places, 14 flights
Last updated on: October 7, 2011 11:37 IST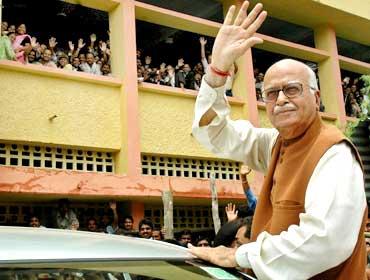 The name rath yatra may give you the impression that L K Advani is going to undertake an all-land march. Until you learn about the list of flights the Bharatiya Janata Party veteran would use as part of his nation-wide trip against corruption starting next week.
The endeavour, demanding good governance, will see Advani boarding 14 special aircraft and six helicopters. After all, the 83-year-old leader has to visit a total of 46 places across the country in 38 days -- with breaks for Diwali and his birthday on November 8.
For Advani's 7,600-km yatra, his party leadership has decided to make use of air transport in a big way, so the former deputy prime minister can cover 23 states and four Union territories before the mission ends in Delhi on November 20. The yatra will start from Bihar's Sitabdiara, the birthplace of Jayaprakash Narayan, on October 11, the birth anniversary of the late leader.
Advani's rath yatra: 38 days, 46 places, 14 flights
Last updated on: October 7, 2011 11:37 IST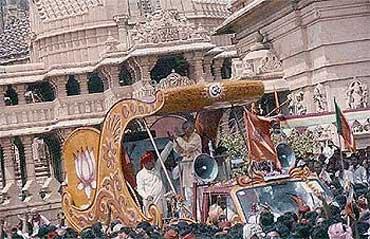 "It is not going to be a single-budget yatra," said BJP general secretary H N Ananth Kumar, its convener. "Most of the expenses will be paid by the district and states units of the party. Advaniji is visiting the Northeastern states and even the Andaman and Nicobar Islands. That is why he is using planes."
Notwithstanding the pomp attached to the proposed march, the party leadership is keen to ensure the yatra doesn't trigger talks about the BJP's prime ministerial candidate for the 2014 parliamentary elections.
Thus, its central leadership has decided not to display any huge posters or cut-outs of Advani -- or any other senior leader for that matter -- during the rath yatra. Even the bus that would act as the rath will have nothing more than the tricolour painted on it.
Advani's rath yatra: 38 days, 46 places, 14 flights
Last updated on: October 7, 2011 11:37 IST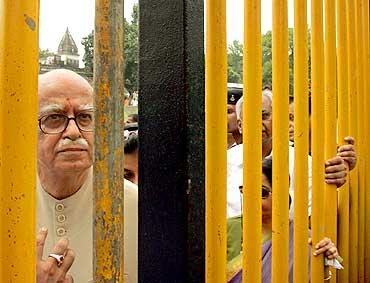 "All the senior leaders of BJP will be with Advani in two or three states," Kumar said. "Our chief ministers and other senior leaders of those states would also be present with him during the yatra."
A large section of the BJP originally wanted Advani to focus on states like Uttar Pradesh, Punjab, Himachal Pradesh and Uttarakhand, besides Gujarat, during his yatra.
But the final plan shows he will only go to a couple of places in most of these states, where assembly elections are due next year.
Departing from his usual practice in similar endeavours earlier, Advani has chosen not to visit the controversial temples at Ayodhya and Mathura in UP, besides Somnath in Gujarat, thus seeking to refrain from giving a religious colour to the upcoming march.
Advani's rath yatra: 38 days, 46 places, 14 flights
Last updated on: October 7, 2011 11:37 IST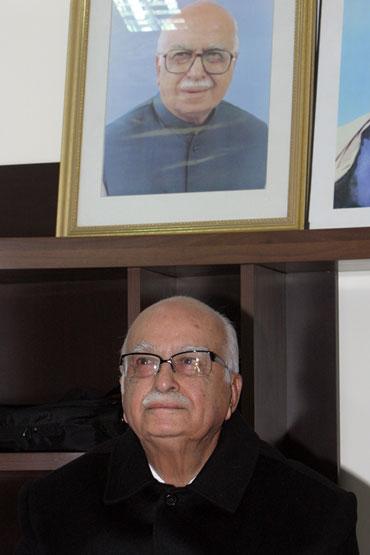 Reason? Kumar said the party already achieved what it aimed at by its rath yatra two decades ago.
"The (Ram Janmabhoomi) case is now before the Supreme Court. We hope to win that as well," he added.
"This yatra will only focus on good governance and anti-corruption because we want to put pressure on the Union government and Congress leadership before the winter session of Parliament," he explained.
That this yatra was virtually a unilateral decision from Advani was clear when he announced his plans two months ago, without having discussed it with the BJP central leadership. Pressure heaped on him as both the party leadership and the Rashtriya Swayamsevak Sangh ensured that the octogenarian would not convert the march into a show of strength to his reported plan to become the next prime minister.
Advani will now have to share his dais with senior leaders Murli Manohar Joshi, Sushma Swaraj, Arun Jaitley, Rajnath Singh and M Venkaiah Naidu besides the BJP/NDA chief ministers.
Source: