A systematic ideological WARFARE against Hindus in Pak
Last updated on: January 14, 2013 23:29 IST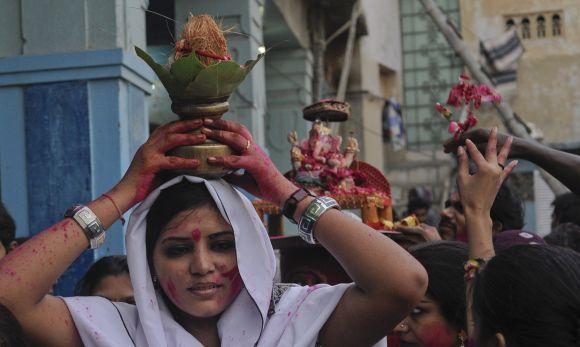 It's a sad fact that non-Muslim minorities, who are represented by the white portion in the Pakistani national flag, have been reduced to abnormally low numbers. If the situation remains as bad as it is and Hindus keep migrating to other countries, this ratio may further reduce, notes Shiraz Hassan.
Hinduism is the second largest religion in Pakistan with over eight million followers, after an overwhelming Muslim majority with a population of 170 million. The Pakistani establishment has always tried to cover real (Hindu) population with fictional statistics in the national census.
Hindus live in all the four major provinces and tribal areas in the country, but a majority of them are settled in the Sindh province. Hindu citizens face different problems depending on the province in which they are settled. Hindus in Balochistan face kidnapping for ransom or killings and this is the main cause behind their migration to India or elsewhere.
In Sindh, the Hindus face conversion, kidnapping and rape or get neglected in job offers. In Punjab, the Hindus, with 0.6 million population, are in search of recognition both from the government and the society. Also, the Hindus have no representation in the provincial assembly since 1990.
The author is an Urdu journalist with Daily Jehan Pakistan newspaper and lives in Rawalpindi. He is also a popular social media figure. Additional inputs by Lahore-based journalist Ali Abbas.
Please click NEXT to read further...
'We don't feel secure anymore'
Last updated on: January 14, 2013 23:29 IST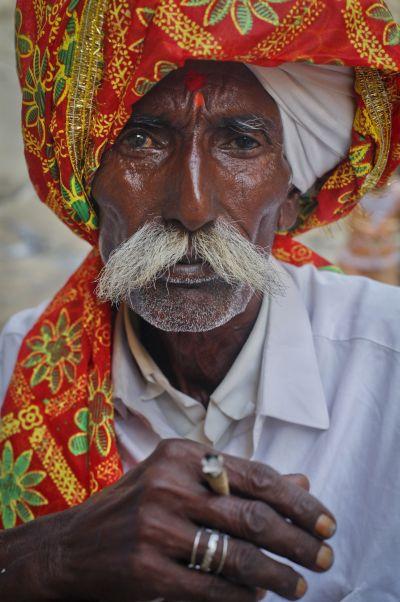 The Pakistan Hindu Council, which is working in Sindh, has confirmed that the establishment is intentionally showing incorrect figures about the Hindu population.
In Balochistan, Hindu panchayats have pointed to migration out of the province after the 1990s. "We don't feel secure anymore in our areas due to kidnapping and mass killings in Balochistan," says Bala Chand Bugti, an official in the Hindu oanchayat in Quetta, adding, "Our youngsters are studying and living in Karachi or other parts of the country only to avoid ruthless kidnapping".
A great majority of Hindus living in Pakhtunkhwa and Punjab had to migrate to India and other countries following widespread inter-religious violence and intolerance. Despite mass migration, there are Hindus in large numbers in Lahore, Peshawar, Sialkot, Sheikhupura, Multan, Hazara, Narowal and other areas -- only at the cost of practicing their religion with major restrictions.
"Anyone can understand the reality why the Hindu population is decreasing day-by-day in Punjab; as our people are converting to Christianity, Sikhism and Islam to get better opportunities and recognition," says Amar Nath Randhawa, president of the Hindu Sudhar Sabha, a community development organisation.
Please click NEXT to read further...
'We have an objection to forced conversions'
Last updated on: January 14, 2013 23:29 IST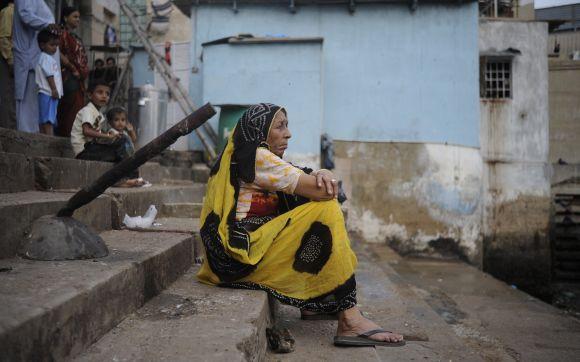 During the 1998 census, most Hindus in Pakistan didn't identify their religion for different reasons, but now they are more open to show their religion at any forum, notes Jethanand Mal, president of the Pakistan Hindu Council. "We are not against anyone but we have an objection over forced conversions," he adds.
"We are not open in our society as terrorism is a major threat to Hindus like others in Pakhtunkhwa," says Rajiv Thakur, president of the Gurmukh Sabha.
He points out towards the forced conversions and hatred for Hinduism in the Pakistani society. "We believe that textbooks and syllabus are the major reasons behind such hatred against Hindus," he added.
Dr Ram Prakash, a doctor who runs a clinic in Karachi, is thinking about moving abroad after the rise in kidnapping for ransom incidents in the city. This professional migrated to Karachi with his wife and two children from Kashmor, a far-flung district in the Sindh province. His forefathers have lived in Sindh for hundreds of years. Even during the Partition of the subcontinent in 1947, his forefathers decided to live in Sindh.
His grandfather believed the words of first Pakistan president Muhammad Ali Jinnah that the state will provide social security to all religious minorities; but after decades his grandchildren feel that living in Kashmor is impossible.
Dr Prakash says that his two uncles were kidnapped for ransom and other well-settled Hindus are also facing threats now. Like Dr Prakash, there are several Hindu families willing to migrate to other countries but are unable to move due to different reasons.
Some social and political parties and human rights organisations often raise voice against the inhuman attitude towards Hindus and other minorities in Pakistan at different national and international forums and blame the state for its failure to provide social security and equality to the minorities.
Please click NEXT to read further...
'Hindus believe in elected, not selected representatives'
Last updated on: January 14, 2013 23:29 IST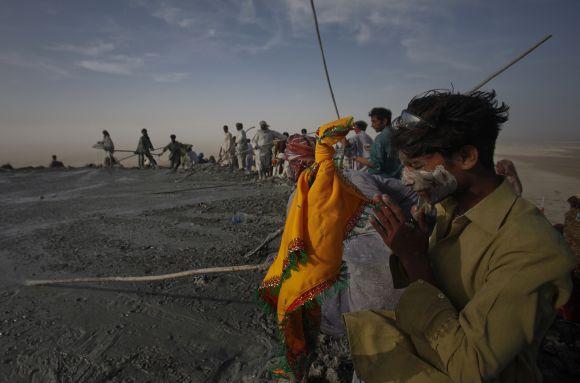 Kishan Chand Prawani, a lawmaker, believes that no one is ready to solve the basic problems faced by Hindus. He says that he always tries his best to raise his voice for Hindu rights in Parliament. He feels that many problems can be sorted out if Hindu politicians are also allowed to participate in the general elections.
The participation in the general elections will also allow the Hindu politicians to directly communicate with the people of their community, he says.
Hindu activists demand 'elected', and not 'selected' representatives for their community. "We believe that representatives with a public mandate will be able to convey our voice in Parliament," says Ratan Kumar, a Hindu activist from Narowal district.
According to the Pak Visthapit Sangh (Association of Pakistani Refugees), a Jodhpur-based organisation, a big chunk of Pakistani Hindus migrated to India in 1950s. the After 1965 and 1971 wars, almost 80,000 Hindus crossed the border and settled in India.
Almost 17,000 Hindus migrated to India after the demolition of the Babri Mosque in 1992, according to PVS statistics.
A report of the Human Rights Commission of Pakistan mentions that most of the forced conversion cases do not get much attention but at least 20 such incidents are happening every month in the country. Hindu leaders also claim the same number of incidents.
Besides kidnapping, Pakistan Hindu Seva President Sanjesh Dhanija says that basic reason behind the migration is a threat of (forced) conversion.
The minority commission reported that almost 25,000 Hindu girls in Pakistan were converted to Islam in the last ten years.
Islamic scholar Mufti Raghib Naeemi of the Jamia Naeemia Lahore clearly points out that Islam doesn't allow forceful implementation of anything. "Islam flourished in the world for its good deeds and ethics, if somewhere such act occurs it's condemnable," he says.
Noted columnist and writer Wajahat Masood argues that equality cannot prevail in society due to discriminatory laws and political affiliations. "We can observe that no citizen is safe due to the constitutional, judicial and political structure of the country. Jews migrated first, then Anglo-Indians left and now Hindus are leaving Pakistan. There was a time when Hindus were safe in Balochistan, but now they are moving to Sindh because of the militancy in the province," he notes.
Please click NEXT to read further...
'Pak establishment must protect the marriage rights of Hindus'
Last updated on: January 14, 2013 23:29 IST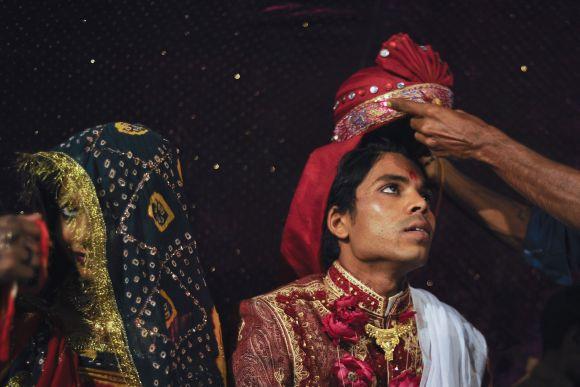 Another Hindu doctor feels the government must protect the constitutional rights of all religious and ethnic minorities by ensuring their safety, security and well being.
"Hindus also ask the government to introduce and implement legislation on an immediate basis to protect their marriage rights. In 2011, a bill for a law to register Hindu marriage was presented in the National Assembly but so far there has been no progress. Some Hindu religious leaders consider the absence of the marriage act one of the aspects responsible for forced conversions," he adds.
Hindus are also facing land grabbing of their religious places, agricultural lands and business properties. Several Hindu temples have been converted into schools or commercial buildings and several are being used as kitchens or store houses.
It's a sad fact that non-Muslim minorities have been reduced to abnormally low numbers. If the situation remains as bad as it is, and Hindus keep on migrating to other countries, this ratio may further reduce.
TOP photo features of the week
Last updated on: January 14, 2013 23:29 IST
Click on MORE to see another set of PHOTO features...