A story that will warm your heart
Last updated on: March 05, 2014 11:43 IST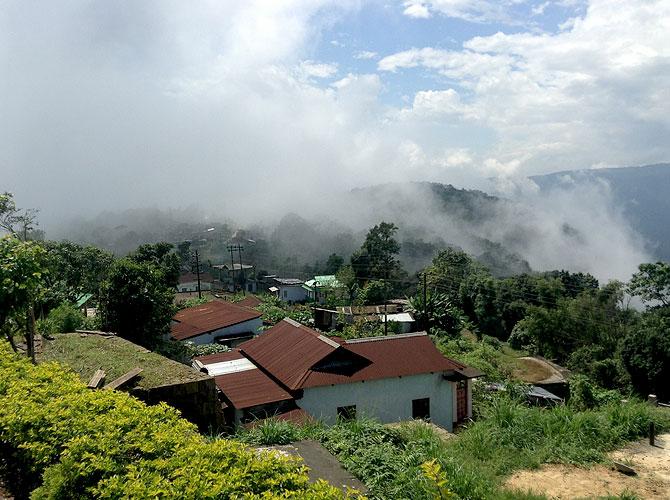 How Dinesh Desai, an Indian American from California, changed the life of Denis Ryen, a Tamilian living in Cherrapunjee, Meghalaya, half a world away.
Denis P Ryen opened the letter postmarked USA. The envelope had come a long way from America's West coast to him in Cherrapunjee, the small town on India's eastern border in the state of Meghalaya.
Ryen didn't expect to find what he did. Inside, along with a letter was a cheque for $5,000, sent by Dinesh Desai, a guest who had stayed in his hotel a month ago.
Desai, an Indian American, had arrived in Cherrapunjee, chasing the monsoon in 2001. The town was famously known as one of the rainiest places on earth, and Desai, an avid adventurer -- who had already visited the hottest, the coldest places in the world -- had come to one of the wettest.
In a life liberally indented with exciting travel experiences, Desai's earliest thrilling journey was in 1960 when he set sail from Bombay on an 8,000-ton freight ship to pursue an MS at Stanford University.
'The freighter was going non-stop from Mumbai to New York with an American crew and 11 other passengers, mostly students from India,' Desai wrote on his Web site.
'The ship stopped soon after it entered the Suez Canal and a boat pulled up alongside. Two Egyptian tour operators boarded the ship and suggested they come for a tour of the Pyramids and a few other sights.'
'It would take the ship about ten hours to pass through the Suez Canal and the passengers were told that they could do the sight-seeing trip and re-board the ship at Port Said, at the canal's northern end,' Desai recalled on his Web site.
'The tantalising idea was firmed up when the crew told them that many passengers on previous voyages had taken advantage of this opportunity. However, the captain warned them that the ship would not wait for them.'
'Young and stupid, several of us gambled on the honesty of our tour guides. We did get back onto the ship without incident, but for many years afterwards I wondered how I could have taken such a chance,' Desai wrote on his Web site.
'If our van had broken down or we were robbed, what would I have done? I would have been stranded in a foreign country, with just the clothes I was wearing.'
Please click Next to read further...
Ryen quit his job to set up a holiday resort; those early days were hard
Last updated on: March 05, 2014 11:43 IST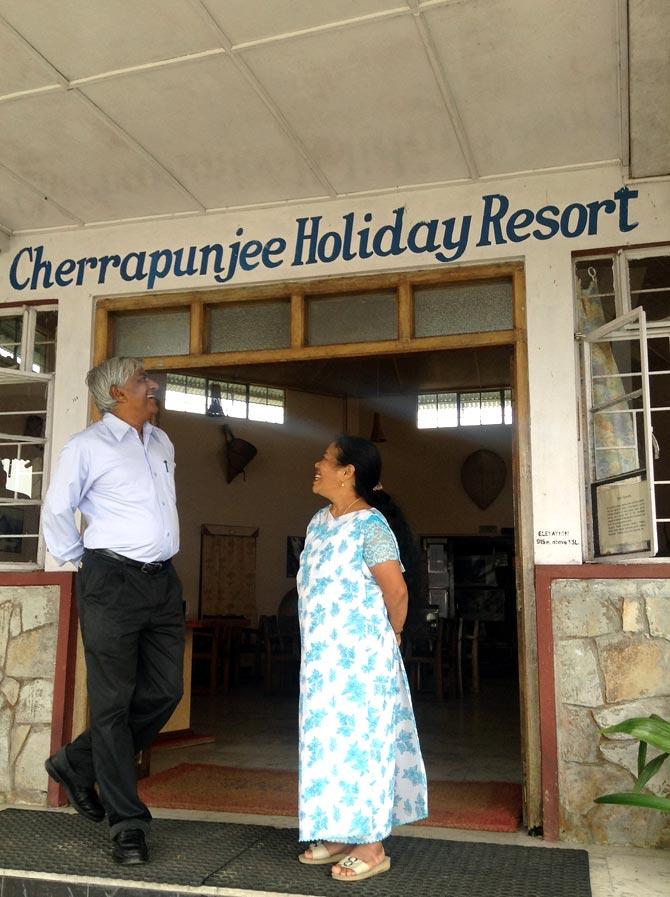 Now four decades later, Dinesh Desai had flown half way across the world -- from San Francisco to London to Delhi to Guwahati -- from where he boarded a helicopter to Shillong; and then a taxi ride to Cherrapunjee looking for paradise in the clouds.
He had planned the trip in June because it is the month with the maximum rainfall and had hoped to walk five to six hours every day, some in heavy rain.
On the drive from Shillong, he was accompanied to the Cherrapunjee Holiday Resort by Denis Ryen's 15-year-old son Joel, who used to live with his mother and two siblings in the state capital at that time.
Denis Ryen, a Tamilian from Madurai, had set up the resort after giving up his bank job the previous year. Mr Desai had read about it on the Internet and decided on staying here on his trip.
"I started out as a field officer and told my bosses you post me anywhere in India, but not in South India -- so they posted me to the North-East because there were hardly any takers for here," laughs Ryen, an affable man with silver hair.
He remembers how different it was when he had arrived here in 1977 -- when local buses used to have a 1st and 2nd class -- the first half was 1st and the other, was 2nd.
Ryen married Carmela, from the native Khasi tribe, and has lived in Meghalaya for nearly 40 years. The family speaks both Tamil and Khasi.
Carmela learnt Tamil cooking and delivered her three children in her in-laws's home in Madurai.
The day we met, she had made meen (fish) kuzhambu, a Tamil dish.
Please click Next to read further...
The chance meeting that changed it all
Last updated on: March 05, 2014 11:43 IST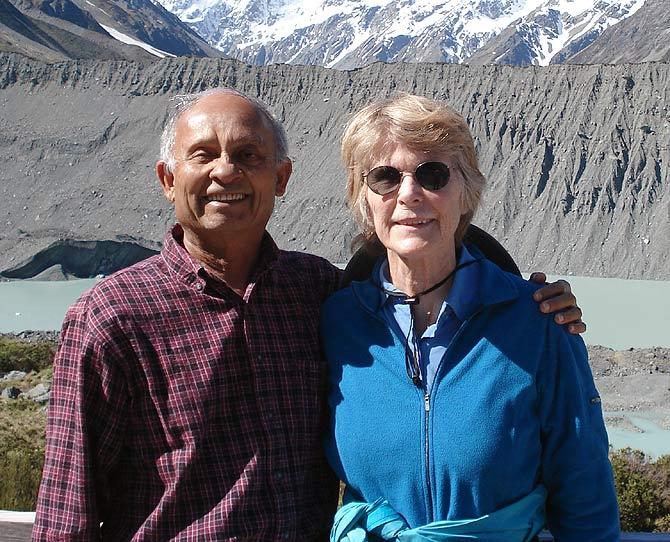 Sitting in the large dining room of the resort, interrupted with the loud singing of cicadas, the couple remembers their first meeting with Desai, more than a decade later.
It was an association that marked a turning point in their lives.
"It was market day and I was on a bike with a gas cylinder strapped to the back seat," says Denis, laughing at the memory.
The meeting came as a bit of a shock to Dinesh Desai. "I thought here he is in Cherra, one of the wettest spots in the world, and a resort owner, and he did not have a car," Desai says in an e-mail from his home in California.
"He had to make frequent trips to feed the resort guests. I felt that riding a motorcycle was very dangerous in heavy rain. Obviously, he wasn't a rich resort owner."
It had been a tough start to the business for Denis Ryen. The resort had exceeded its cost and guest arrivals had been sluggish. He had defaulted on repaying the bank loan; and sometimes there was no money to pay the staff.
Often he used to sit outside reading a book and wait for guests because there was no money to publicise.
In those pre-mobile phones days, his wife used to send the booking list by the bus coming from Shillong, or he used to phone her from a public phone in Cherra.
Most of the days, the phone would not work and he had to collect the guest list from the bus driver. Since there were just two buses in the day, sometimes guests would arrive before the list!
The only mode of transport was his old Rajdoot motorcycle, which he used to carry supplies up and down the hilly terrain.
"Once I had a situation that it was sunny when I left Shillong and 10 kms before Cherra, I encountered blasting rain. I was carrying six bottles of tomato sauce in a cardboard carton. The box became wet and the bottles starting falling out one by one. After losing three, I stopped at a friend's house on the way to keep the remaining bottles," smiles Denis, the intervening years giving him the luxury to look at those difficult days with humour.
In spite of the downpour, Ryan says he could not stop because it was after 10 pm and he had to relieve his staff.
"My friend called me mad. I told him I was mad," he says. "I still remember that night, it was terrifying. The waterfalls were roaring in the rain -- and there I was on my 11-year-old motorcycle that was giving me daily trouble."
During Dinesh Desai's week-long stay, the two men discussed how Ryen took the risk to open the resort and was still working to make a go of it. Having been an entrepreneur, Desai decided he must help this man.
Then, a freak accident turned his decision into a resolve.
Please click Next to read further...
The accident in the valley
Last updated on: March 05, 2014 11:43 IST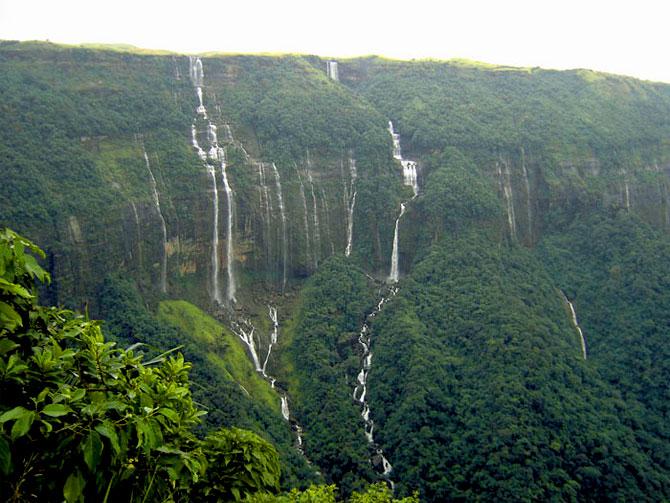 One morning on a trek down 1,000 steps to a river with Joel, Dinesh Desai slipped on a jackfruit skin and broke his wrist.
Using his umbrella as a walking stick, he followed the young boy as he led him to a village for help.
The local medicine man applied a concoction of herbs; tugged and set his bone. The treatment cost Rs 200. After resting for a while in a village hut, Desai climbed back to the hotel.
"When he returned, he said his day had been good. Very, matter-of-factly, he mentioned that he'd had a small fall and broken his wrist. He made no fuss," remembers Ryen.
The next morning, Mr Desai was sent to Shillong where he spent a couple of days in hospital. Carmela Ryen helped him get admission in the hospital and the family spent a few hours with him in the hospital.
He returned to Cherrapunjee with his hand in a cast to make the most of his remaining trip, though unfortunately it did not rain much that week.
Ryen remembers his guest had come fully prepared for his rainfall experience: Water proof socks, instruments to measure rain, huge umbrella... He had also brought little gifts for the staff. "I remember he gave Amma (his mother) pearl earrings. He was a very humble guest like he had come to my house," he says with a warm smile.
"Once as it rained heavily, he took an umbrella and walked though the villages in the middle of the night," recalls Ryan, sitting at the resort, perched on a hill, barely five kilometres from the Bangladesh border.
Please click Next to read further...
'He came for a holiday and need not have bothered about us'
Last updated on: March 05, 2014 11:43 IST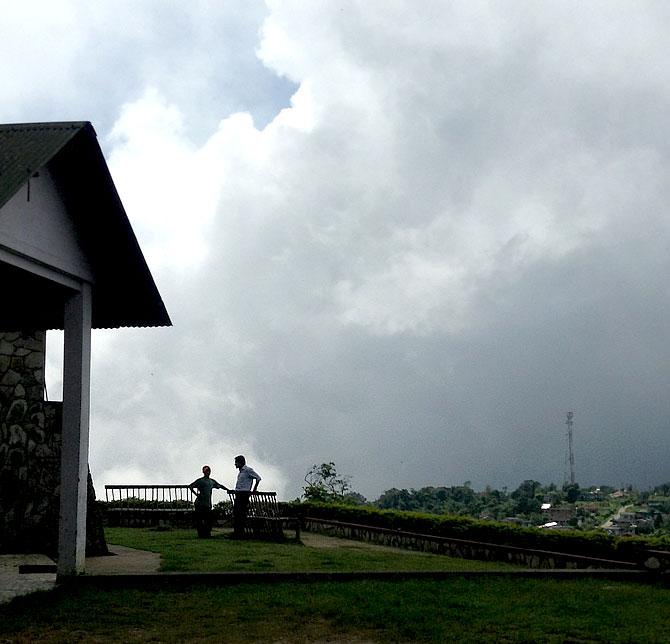 Dinesh Desai's plan was to wander around the town and the surrounding areas two or three times a day, but the resort was far out of town and since there was no phone, there was no easy way to get a cab to go to town.
The six-room resort was very basic and the rooms lacked furnishings, but that was no issue for him.
"Cherra was as I had expected; like most towns in India. One surprise was the lack of greenery. I had expected a lush green terrain everywhere. But too many trees seemed to have been cut down," Desai remembers in his e-mail response to Rediff.com
During his stay, he was deeply touched by the Ryen family's eagerness to help him any way he could.
"In the few days, I was already feeling that these people were like my family. We kept in touch even after I had been back for years. I just felt like helping my family members."
So when the cheque for $5,000 from Mr Desai arrived, it came as a welcome surprise. But what was more thoughtful was what the accompanying letter said:
'I want you to use the money to buy a good and reliable car. Be sure to get one with good luggage capacity... We do not want you to repay the amount now or in the future. This is a gift from my wife and I. We have made this gift because we like to help honest and hard working people. I do not want you to use the money to pay off debts.'
"He came for a holiday and need not have bothered," says Ryen.
"This gift for a vehicle was like a prayer being answered."
Please click Next to read further...
A few years later, Mr Desai sent another cheque...
Last updated on: March 05, 2014 11:43 IST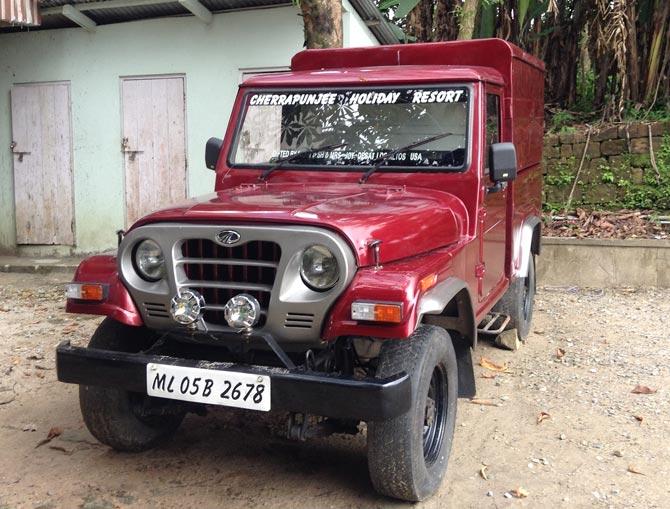 Denis Ryen went on to buy a pre-owned jeep with the money and used the remaining amount to put markers showing the direction to his resort.
He took a photograph of the vehicle and sent it to Mr Desai. The jeep, having served them well for over a decade, has been remodeled and is now mainly used to carry goods.
Painted in bright red, it bears the names of the generous Desai couple in bold, below the windshield.
Two years ago, when Ryen bought a new jeep, he wrote to Mr Desai telling him that he had bought it with his own funds.
Business at the resort finally started picking up from 2006, but the pressure from creditors continued, says Ryen. His three children were also growing up, things were better no doubt but the struggle was far from over.
Then one day in 2008, Denis Ryen received another letter. This time it was from Mr Desai's brother from Surat.
Bipin Desai wrote that his brother Dinesh had sent him another Rs 115,000 because he felt that Ryen was still struggling with the resort.
Ryen was speechless!
Dinesh Desai asked him to use one lakh to repay creditors and the balance money was a gift to his three children.
"I don't know how he knew that we were still really under pressure," says Ryen. He is now helped at the resort by his son Joel, a software engineer who recently quit his job in Infosys to help his parents.
Ryen used the money to repay the creditors and to put up hoardings about the resort en route from Guwahati, the nearest airport and rail head.
Tourist flow improved gradually and by 2008-2009, he managed to clear all his loans.
Last year, the resort had more than 600 guests from India and abroad who had come to trek, see the living root bridge, try river canyoning and experience the rain.
"We can be market leaders as long as we are innovators," says Ryen, showing a folder of activities that guests can do in the rainy town.
The idea of the folder was given by Dinesh Desai's brother when he visited them. On his return to Surat, he had sent them ten folders as samples along with the Gujarati mixture of lehsun and methi.
Please click Next to read further...
To commemorate his 50 years in the US, Desai climbed 50 peaks in 2010
Last updated on: March 05, 2014 11:43 IST
Since that trip to Cherrapunjee, Dinesh Desai has achieved greater and grander feats, but that journey is still one of his more memorable trips.
"More importantly, unlike many sightseeing trips, I was able to connect with some wonderful people. We still exchange e-mails, though the frequency is much less now," says Dinesh Desai, who along with his wife Joy, climbed 50 peaks to commemorate his 50 years in the US in 2010.
The couple's two sons from Joy's first marriage accompanied them on some of their camping and hiking trips as children.
In 2002, their elder son Edwin Roodhouse left his job as a computer engineer and joined the US Army. He served in Korea and Iraq. In December 2004, he died when an improvised explosive device detonated near his Humvee in Habbaniyah, Iraq.
'Joy and I will never forget the day in December when two army personnel knocked on our door to tell us that Edwin had been killed in Iraq by a roadside bomb. He was 36,' Dinesh Desai writes on his Web site.
In their journey together, Joy and Dinesh Desai have climbed Africa's highest mountain, Mount Kilimanjaro, and gone to Fiji to live in the huts with native Fijians. They have walked across England from one coast to the other and the length of Death Valley in California in the summer heat. They have trekked across Nepal.
When he made that trip to Cheerapunjee in 2001, Joy was also planning to come along but couldn't because of a medical issue. Many a time, the Desais have spoken about visiting Cherra again, but the long journey has deterred them.
"Another trip in the future seems not too likely," says Dinesh Desai.
Meanwhile, overlooking a breathtaking tree covered valley with the red jeep gifted by the Desais parked outside their home, the Ryens are proud of what they have built.
But they are also concerned about the deterioration of the hills in the state, where land can only be owned by the native tribes. Mining and stone quarries have eaten into the hills and trees. Last summer, it did not rain as much.
"If the period during which rains comes shrinks, there will be serious problems," says Ryen who has come a long way since the time he distributed pamphlets to tourists in the Cherrapunjee market to spread the word around and sputtered along in his broken Rajdoot.
On the resort's Web site, there is a tribute to Joy and Dinesh Desai with their photograph. The couple's generosity 13 years ago still warms the heart of a family in a village in the clouds half a world away.