A Pakistani journalist's India diary, Part I
Last updated on: October 26, 2012 10:50 IST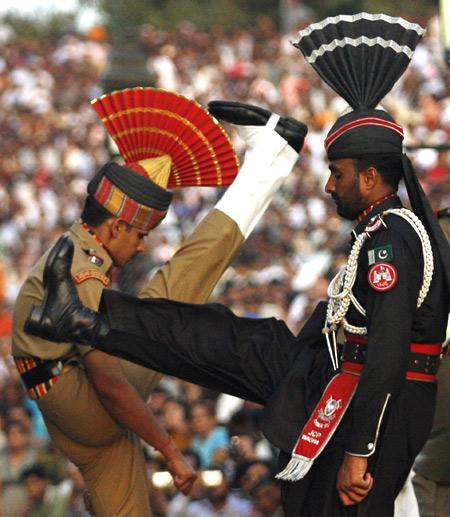 Journalist Amir Mateen travelled to India to cover the India-Pakistan parliamentary dialogue hosted jointly by the Federation of Indian Chambers of Commerce and Industry and the Jinnah Institute.
This is the first of a series of articles that he will write to give a Pakistani perspective on India's politics, society and economy with a special reference to the prospects of Indo-Pak trade.
Crossing over to India through the Wagah border can be an emotional experience, especially for those who know India only through the stories of their parents, official propaganda or -- worse -- Bollywood.

Most of the 12 parliamentarians invited by FICCI as part of the first India-Pakistan parliamentary dialogue had never seen India before.
They nurtured mixed, and mostly stereotypical, notions about this country of over one billion people.
"Funny, it's the same sky, the same humid weather," Awami National Party Senator Farah Aqil could not resist saying, the moment we crossed the border.
Nawaz League's Hafiz Noman, who is a member of the provincial assembly, was amazed that the people "look just like us."  As if weather and features can change after 10 yards! But then, 10 yards can be longer than a lifetime -- such being the reality of Pakistan and India.
Nawaz League's Mansab Dogar, who is a member of the national assembly, has suffered this reality the hard way.
He lives in Pakpattan Sharif, a mere 30 minute drive from his native Ferozwalah in India. Yet, it took him 65 years to cross to the other side and see for himself what his parents had always talked about.
He was keen to see if the family haveli in Ferozwala was as big as his father had described to him; or if the village well still had the water that his mother fetched every morning.
Pakistan's Customs and Immigration cleared us in minutes but not before they almost forced us to have some refreshments. This was typical of Pakistan's VIP-worshipping culture.
Not so in India.
Please click on NEXT to read further...
'You can't do that! For God's sake, they are parliamentarian guests'
Last updated on: October 26, 2012 10:50 IST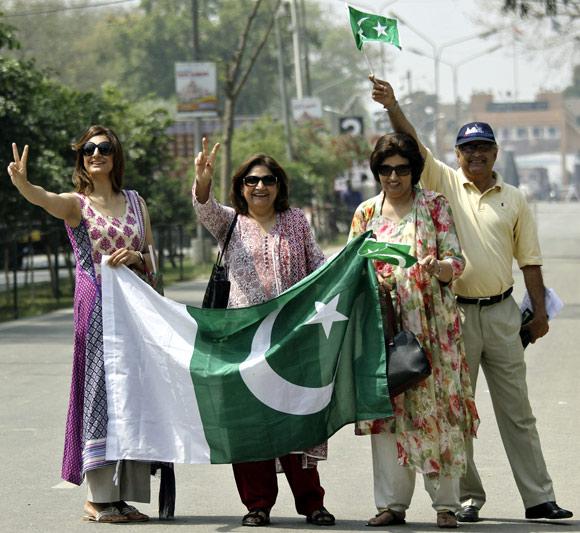 Call it good or bad, the elite is not pampered as much in India.
There was too much bureaucracy and paperwork -- India's information technology revolution has not reached its Punjab border.
We had to fill long, multiple forms. This was after a detailed visa application, where one has to write the birthplace of even one's grand parents -- not always easy to remember.
Indian customs officials had this damn-these-parliamentarians attitude. They checked every item in every bag and they did it very, very slowly.
Our host and friend, journalist Jyoti Malhotra, was visibly squirming because we were getting late for a reception in Amritsar.
She just exploded when an official opened the toilet bag of one of the women parliamentarians, as if suspecting her of trying to smuggle drugs.
"You can't do that! For God's sake, they are parliamentarian guests," she protested.
Jyoti wanted the customs officials to show some courtesy but they were adamant -- as if to prove to us how strong the Indian bureaucracy was. It was funny that at one stage we, the Pakistanis, were trying to arbitrate between the two warring Indians!

After layers of multiple checks we thought we were finally through, only to be stopped again at the last gate, get out, and register ourselves separately with the -- equally infamous -- (east) Punjab 'pullas'.
Please click on NEXT to read further...
'It's good we are on the wrong side of the border'
Last updated on: October 26, 2012 10:50 IST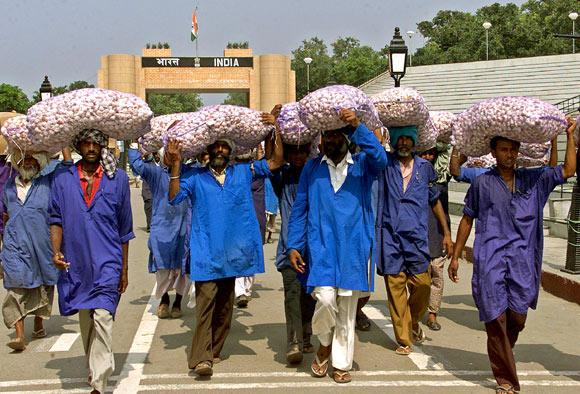 Jyoti went through another round of negotiations before we could embark on our journey on the historical Grand Trunk Road, popularly known as Jarneli Sarak, which connects Peshawar and Kolkata.
Then we were stuck somewhere in the middle of this 2,500-km track, and wondered if it had been easier to traverse it when Sher Shah Suri built it 500 years ago.

"This would have triggered a dozen privilege motions in our Parliament; good that we are on the wrong side of the border," quipped Pakistan People's Party Senator Saeed Ghani.
More seriously, Muttahida Quami Movement's MNA Rasheed Godel said, "The trade between Pakistan and India is a non-starter if we do not sort out such bureaucratic red tape on both sides."
The euphoria over the prospects of growing Pakistan-India trade is visible at the Wagah-Attari border.
Both sides have expanded their trade service areas to cater to greater volumes of trade. Long queues of trucks carrying cement and chemicals wait on the Pakistani side and fruit, dyes and machinery on the Indian side.
However, one sees bigger warehouses on the Pakistani side, almost extending from Lahore to Wagah.
One reason for this could be the fact that Pakistan has allowed trade in only 103 negative items out of a list of over 1,200 to be imported from India.
But it was the transit exports from Afghanistan that constitute the bulk.
Please click on NEXT to read further...
'Indian morality is not threatened by what the women wear'
Last updated on: October 26, 2012 10:50 IST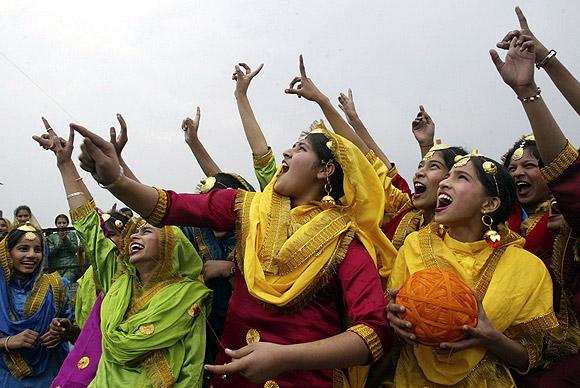 The road to Amritsar is definitely cleaner and greener on the Indian side.
Lahore has expanded almost to Wagah, exposing the ugliest side of the city. The industrial area close to the Indian border is an eyesore.
In contrast, the green fields on the way to Amritsar are refreshing.
I heard Mansab Dogar, curled up in his seat, murmuring, "Beautiful, very beautiful."
This admiration was not just for the picturesque beauty of the East Punjab landscape. Also at work was an element of nostalgia -- those stories that he had heard from the elders of the 25 Dogar villages who migrated to Pakistan in 1947.

Not everything we saw was pleasant, though.
It was shocking to see so many people defecating on the roadside, and with an abandon that was somehow difficult to imagine for Pakistanis.
Another shock was to see domestic pigs roaming around freely.
Somehow, Bollywood has never shown what is a common sight in India but unimaginable in Pakistan.
Yet another shocker, though a pleasant one, was to see a 65-year-old woman riding a scooter. MQM's Haider Rizvi was right when he remarked that women in India were definitely more liberated than in Pakistan.
It was common to see young girls, completely at ease in sleeveless shirts and jeans, commuting on flashy scooters just as the boys did. As journalist-politician Ayaz Amir remarked, Indian morality is not threatened by what their women wear.
People tend to stare less at women and foreigners in India. The reason is obvious: Indians are more accustomed to seeing people of different colour, caste and creed in comparison to largely homogeneous Pakistanis.

Here we were trying to form opinions from a small sample, sometimes forgetting the immense diversity of India.
Please click on NEXT to read further...
Indians see Pakistanis as a monolithic phenomenon
Last updated on: October 26, 2012 10:50 IST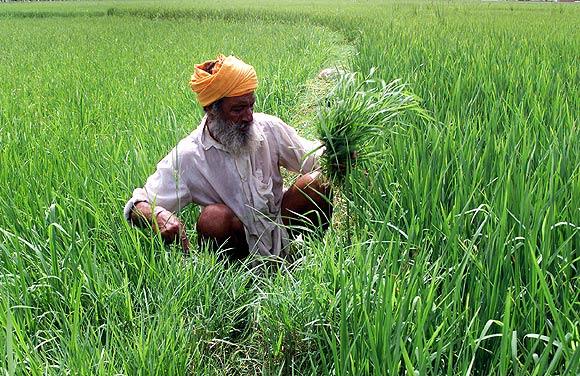 More often than not, Indians also see Pakistanis as a monolithic phenomenon.
The diversity of Pakistan was personified by the Pakistani contingent. Their perspective on India differed as much as their views on Pakistan's politics.
ANP's Bushra Gohar and Farah Aqil represented Bacha Khan's legacy in Khyber Pashtunkhwa province, seeking friendlier ties with India.
MQM's Haider Rizvi and Rasheed Godil, with family roots in India – Uttar Pradesh and Gujarat respectively -- saw the Indo-Pak detente in the larger perspective as opposed to "inter-Punjab bonhomie."
For Senator Saif Magsi, the only time Balochistan is mentioned in the Indo-Pak equation is when Pakistan accuses India of interfering in his crisis-torn province.
Parliamentarians from the mainstream Pakistan People's Party and the Nawaz League obviously saw the issue through the national prism.
Far from the madding Indo-Pak polemics, Mansab Dogar was focused on just one thing: visiting Ferozwala.
Sadly, his dream could not materialise because of some 'logistical' reasons.
Read the second part of Amir Mateen's rivetting account of his travel in India