A day when nobody spared Advani
June 09, 2013 20:22 IST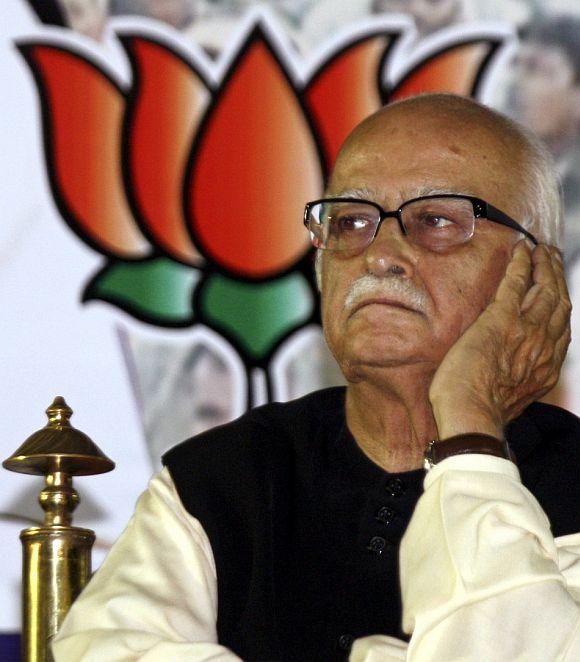 It was a day when Bharatiya Janata Party leader L K Advani was at the receiving end both within and outside his party.
While Congress leader Digvijay Singh was in the forefront to take potshots at the saffron stalwart, BJP's new campaign committee chairman Narendra Modi too did not spare the veteran leader.
Modi appeared to take a dig at Advani and other leaders who stayed away from the National Executive, as he praised party chief Rajnath Singh for being "large hearted" which "outsiders won't understand".

Modi said: "I am very grateful to Rajnath that he not only gave me responsibility of a new task, but he also gave me huge respect in front of workers and people of the country. I am very grateful to him."
"Rajnathji stood up to speak and asked me to sit. It is difficult for those outside to understand the importance of this. A person does not do so only by having a post but by having a heart. This is called 'daria dilli' (large heartedness), which the President has shown," Modi said.
He did not elaborate further, but appeared to take a dig at Advani and some others who stayed away from the National Executive as they were said to be opposed to his elevation.

Click on NEXT to read further...

A day when nobody spared Advani
June 09, 2013 20:22 IST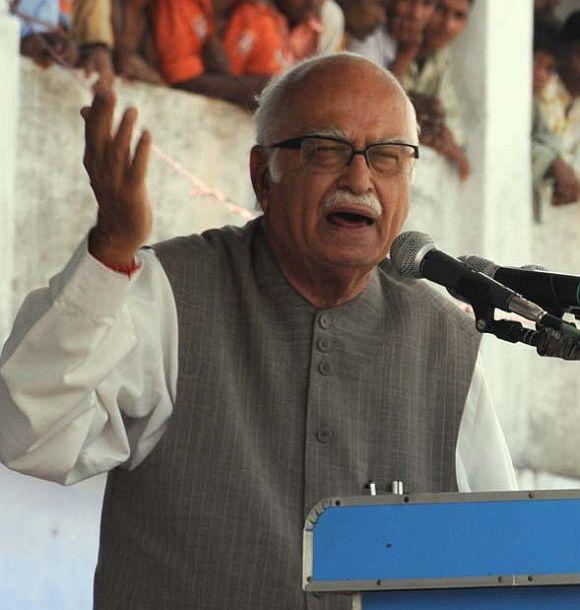 Digvijay, meanwhile, called the BJP "ungrateful" against the backdrop of a sulking 85-year-old Advani staying away from the executive meet for the first time in his entire political career.
"My heart goes out to Advani ji. He brought BJP from 2 to 182 in Lok Sabha. But then the ungrateful BJP is a Party with differences," tweeted Singh.
In a dig at Advani, Congress spokesperson Shakeel Ahmed said the BJP veteran was "reaping what he had sown."

"Advani is getting a taste of his pills. It was he who had started communal politics in India after 1985-86. Now Modi has projected himself as a more communal person than Advani, and this is the simple reason that the senior most BJP leader has now been sidelined," he told PTI.
"As you sow, so you reap. He had sowed the seeds of communalism in Indian politics. He was replaced by a more communal person," Ahmed claimed.
On micro blogging site Twitter, the Congress spokesperson commented, "Advani hints in his blog that you will have to pay for your sins in your lifetime itself. Is he repenting his role to save Modi in 2002?"
Advani is believed to have backed Modi's continuance as Gujarat Chief Minister after the post-Godhra riots.
AGENCIES