A civilised state cannot hide terrorists: Medvedev
Last updated on: December 21, 2010 15:34 IST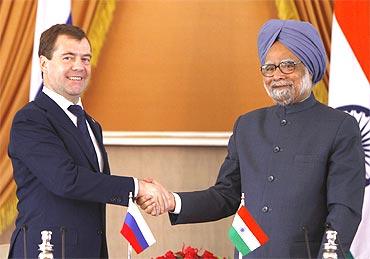 Russia on Tuesday said a modern, civilised state cannot hide terrorists and should extradite them if it is interested in cooperating in the fight against terrorism.
Please click NEXT to read further..
'Terrorists are criminals; must be extradited'
Last updated on: December 21, 2010 15:34 IST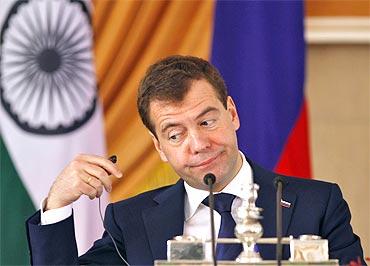 Addressing a press conference after talks with Prime Minister Dr Manmohan Singh, Russian President Dmitry Medvedev said "terrorists are criminals ... they should be extradited to be punished. Those who hide terrorists conceal criminals."
He was replying to a question on how Russia looked at safe-havens of terror operations in the region and how it can expand cooperation with India in dealing with this menace.
'International cooperation required to curb terrorism'
Last updated on: December 21, 2010 15:34 IST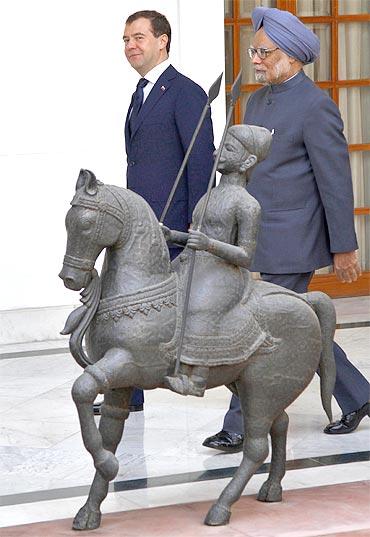 "We understand that the extradition process is quite complicated but it is important that international cooperation in this field should be in place between all those interested in fight against terrorism," Medvedev said.
"I believe that no modern civilised state can hide terrorists as law abiding citizens and cannot proceed on the assumption that they will change," he said.
'Terrorists must be punished'
Last updated on: December 21, 2010 15:34 IST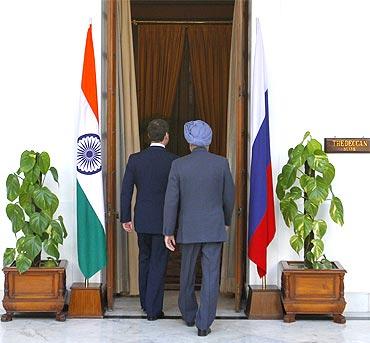 "They are subject to punishment for the evils they have committed. To extradite them we need legal, bilateral frameworks, bilateral agreements between two countries. Once they are in place they should be applied between countries, including countries in this region," the Russian president said.
© Copyright 2021 PTI. All rights reserved. Republication or redistribution of PTI content, including by framing or similar means, is expressly prohibited without the prior written consent.