Why this family must not mourn alone today
Last updated on: November 26, 2013 11:10 IST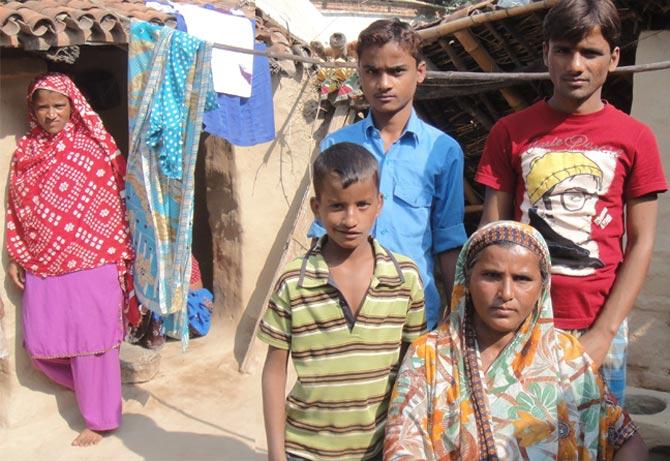 Today, the Ansari family in Bihar's Dhaab village will hold a fatiha, a prayer ceremony, to mourn six family members who died in the 26/11 terror attack at Mumbai's CST station.
Five years on, the story of the Ansari family shows that even as they try to move on from the numbing tragedy, the greatest horror is borne by those left behind, reports Rediff.com's Archana Masih from Dhaab.
In the Other India where the Ansari family lives, the road leading to Shakila Khatoon's hut is just a dirt track, making it possible for only tractors, motorcycles and cycles to slowly and bumpily make their way.
The best way to reach her home is on foot, down a narrow path past huts, cows, goats and hens. Her mud-paved house with a broken roof is at the edge of the village. A Quranic verse in Arabic, written on glittering paper, hangs above the door.
Shakila doesn't know what the verse says because she cannot read and never did go to school.
She sits in a plastic chair in the small courtyard, surrounded by family members and neighbours, cursing her fate. "Let Allah not make anyone as unfortunate as me," she says in a mix of Hindi and Urdu, Us din toh qayamat aa gayi (it was the day of annihilation)."
Shakila's husband Ilyas, along with five other family members, was killed in the November 26 terror attacks. The Ansari family, hailing from Dhaab village on the Bihar-Jharkhand border, lost five men and one woman within a few seconds in the mayhem at the Chhatrapati Shivaji Terminus.
Six members of the family lay dead as they waited for a train to go home. Two others were seriously wounded by bullets fired by Ajmal Kasab and Abu Ismail that horrific night five years ago.
Please click NEXT to read further...
The village that was drawn to the city of dreams
Last updated on: November 26, 2013 11:10 IST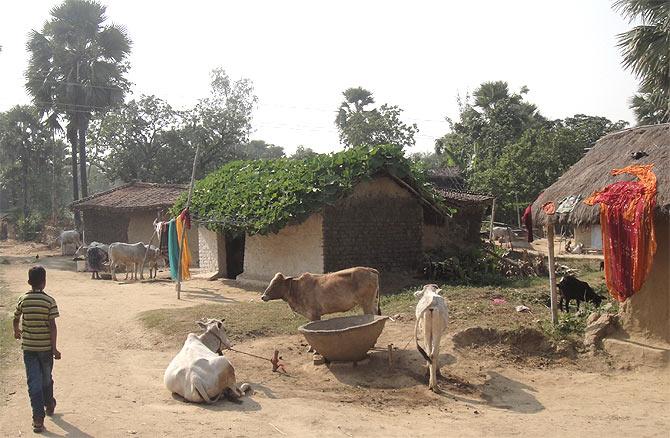 Five years later, the family is numbed by grief in the painful aftermath of the brutality unleashed by the 10 terrorists who not only killed 156 people in Mumbai that day but devastated families, altered futures, destroyed dreams and corroded lifetimes.
Shakila Khatoon's husband had worked as a cook in several small restaurants that serve Mughlai food in Mumbai. He had lived in the city for decades, sending money home on which his wife and five children survived.
That night he had gone to CST to see off three other members of the family who were taking the train to Koderma in Jharkhand, the closest station on the Mumbai-Dhaab route.
"He was sending me Rs 2,000 and was to come home himself soon. He had bought a train ticket too. He was coming to fetch my youngest son, who cannot speak, for medical treatment in Mumbai," says Shakila, drawing close the boy whose treatment could never take place. Ten years of age, Faizan can only speak in monosyllables.
As she speaks, her sister-in-law Sabra stands beside her in dignified silence. There are no spare chairs in the house while the string bed is occupied by her father-in-law and some others. Among the several present, it is hard to tell who is family and who is neighbour. A young nephew does most of the talking -- answering even before the women begin to speak.
Please click NEXT to read further...
The family could not even say a final goodbye to its dead
Last updated on: November 26, 2013 11:10 IST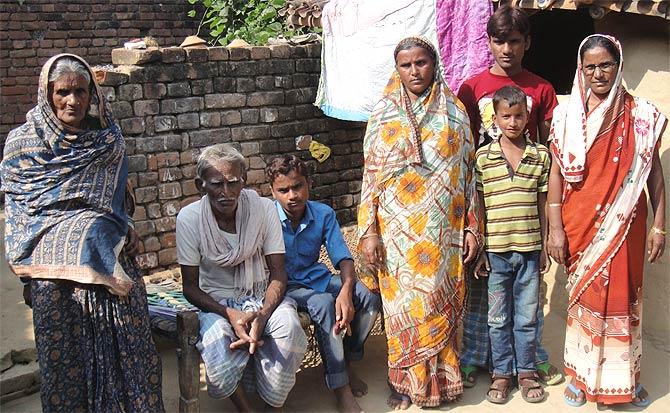 In the extended Ansari family, the scale of every tragedy is overwhelming. Sabra has come from the neighbouring village of Sheikhpura with her daughter.
Her husband died in a road accident -- a few months before 26/11 -- just a week before his daughter's wedding. Four months later, she was to receive an even harder blow that no mother should ever have to endure.
Sabra lost both her sons -- Murtaza, 19, and Sarfaraz, 20 -- at the CST station that night. Murtaza was coming home for the first time after the boys left to make a living in Mumbai five months earlier. He was travelling with three family members, while the extended family had come to see them off at the railway station.
When Ajmal Kasab and Abu Ismail rained fire at the CST station killing 58 and injuring 104 others, a family member had called Dhaab with the news. Both Sabra and Shakila held on to a thread of hope because the bodies of Murtaza and Ilyas had not been found.
"We prayed through the night that somehow they must have escaped and were hiding somewhere, but by the morning the worst came true," says Shakila who did not get a chance to bid a final farewell to her husband.
The last rites of the six members of the family were conducted in Mumbai. All that the family could do was mourn their dead in a village far away.
Please click NEXT to read further...
'The terrorists broke my family'
Last updated on: November 26, 2013 11:10 IST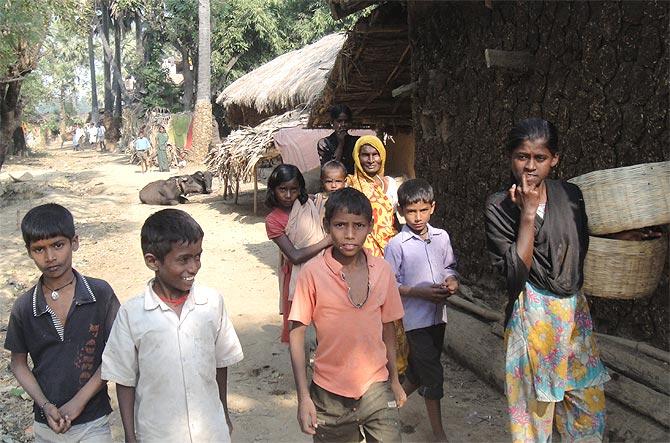 Dhaab village is in the Rajauli block of Bihar's Nawada district. The flat lands that grow rice and wheat once formed a part of the ancient kingdom of Magadh, the seat of Emperor Ashoka's great empire.
Neighbouring Rajgir is an important centre for Buddhism and Jainism, where the Buddha and Lord Mahavir spent time.
Dhaab is a cluster of 40, 45 huts, predominantly inhabited by Muslims. Every family has at least one member doing odd jobs in Mumbai.
Villagers use their own resources to reach the main road, their village road they say is almost unusable in the rains. It takes an hour's walk to reach Rajauli bazaar.
Zubeida Khatoon, an old woman about 75 years of age, stands by a hut close to the Ansari family home. She is crying.
Inside the family courtyard, she sits on the floor, wiping her tears with the edge of her sari. Her husband Sahib Ali Ansari sits on a cot beside her. The old couple are the senior-most members of the bereaved family. They have a small pucca house where they live with one of their sons's families.
The son, Ismail, who used to work as a barber in Rajauli, was given a job by the railways on compassionate grounds after Shakila's husband's death. Since Shakila's sons were too young, the job went to her brother-in-law.
"He does not give me any money from the salary, he should at least give half the amount to us," says Shakila. While Zubeida, her mother-in-law, says, "My daughter-in-law gave us one lakh rupees (Rs 100,000) from the compensation, we survive on whatever he (Ismail) provides us from his salary."
The tragedy has driven a wedge in the delicate family dynamics where everyone is a victim, and no one can be blamed.
Zubeida adds that she and her husband need Rs 2,000 for medicines alone every month. The one bigha land that they have, went uncultivated this time.
"The terrorists not only killed my children," says Zubeida, crying continuously, "They broke my family.";
Please click NEXT to read further...
'I have to live with that grief as long as I live'
Last updated on: November 26, 2013 11:10 IST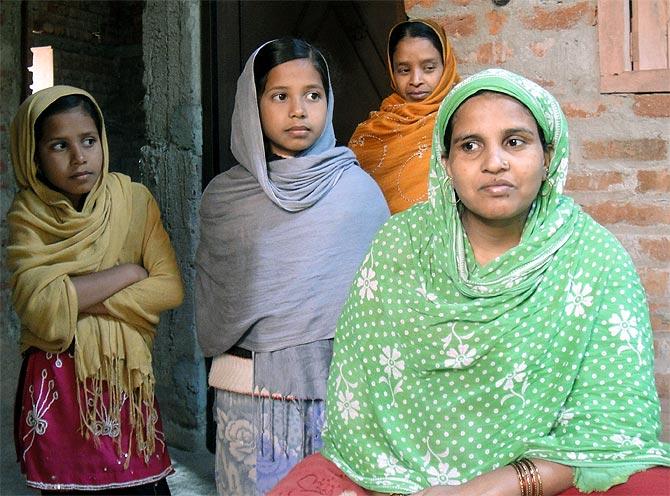 Each family was given Rs 15 lakhs (Rs 1.5 million) as compensation for the deceased. Four were allotted railways jobs and one by the Tata group.
Sabra and Shakila have put away Rs 5 lakh (Rs 500,000) each in a fixed deposit.
Sabra moved out of the village to neighbouring Sheikhpura and built a new house with the compensation received for the death of her two boys. She lives there with her daughter who is in Class IX.
Shakila used around Rs 7 lakh (Rs 700,000) of the compensation money for the wedding of two daughters. She uses the remaining amount and the interest gained from the fixed deposit for the expenses of her boys. Her oldest, Ayub, will appear for the Class X exams in February.
She does not have a Below Poverty Line card that entitles the poor to government subsidised food schemes, and says her condition is worst in the family's tragic saga.
"Had my sons been older they would have got the job that went to my brother-in-law, and our situation would have been better."
Thirty-five odd kilometres away in Nawada, her niece Shehnaz Bano is sitting in a newly constructed house, which is still half-finished.
Looking at her it is impossible to fathom what she must have endured that night when in one spray of bullets she lost both her parents and her husband.
Shehnaz, just 25 then, was left with four young children -- the youngest just a month old.
"I have to live with that grief as long as I live," she says, sadness etched all over her face. Her father had been a taxi driver; her husband a bag-maker.
A few years after the death of her husband, the family counselled her to marry her husband's younger brother, Salauddin Ansari, who had got a job in the railways as compensation for her husband's death. He draws a salary of Rs 13,000 every month.
Five years after the catastrophe, Shehnaz is trying to rebuild her life -- slowly and courageously.
She moved out of the village, used the compensation money to buy land and built a house, keeping Rs 60,000 each in a fixed deposit for her children. Shehnaz never went to school, but sends her children to a private school, which has a red and grey uniform.
She and Saluddin have a little daughter and are expecting another child in January.
They had to stop work on their house because money was running out and have a family of eight to support.
"Can anything worse than this befall anyone, I wonder?" she asks. "My parents were not even 50 when they died. My youngest brother was only 12 when he was orphaned."
Her four younger brothers used the compensation money for their parents's deaths to build a house and moved to Ranchi, where Sagir, the eldest was also given a railway job.
Two of her brothers who sustained bullet wounds -- one in the thigh, another in the back -- have recovered. One of them now works for the Taj Hotel in Varanasi.
Please click NEXT to read further...
'Now Mumbai brings tears to my eyes'
Last updated on: November 26, 2013 11:10 IST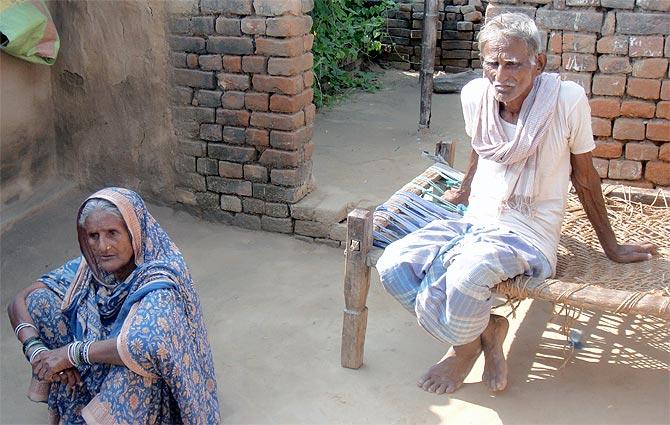 Last year, Sabra and Shakila were taken to Mumbai by two good people. The women don't know which organisation or charity they were from, but say the trip brought some sort of closure for them.
They were put up in a hotel and both went to CST station, the place where their loved ones were last seen alive. They saw the plaque at the station bearing the names of those killed on that railway terminus that night.
For a family that always had relatives making a living in Mumbai, no one from the Ansari family works in that big metropolis any more.
"First, everything for us was Mumbai," says Zubeida, the matriarch, "Now Mumbai brings tears to my eyes."
Today the families will observe fatiah, a prayer to remember their dead. While some in the family have stoically tried to rebuild their lives; others still struggle to cope with poverty and an uncertain future.
The gnawing sadness in the eyes of the women is testament to the torment terrorism inflicts on loved ones.
Five years since Ajmal Kasab and his accomplices rained death on India's City of Dreams, the tragic story of the Ansari family shows that the greatest horror is borne by those left behind.