What the dream merchants are selling you in 2014
Last updated on: April 08, 2014 13:13 IST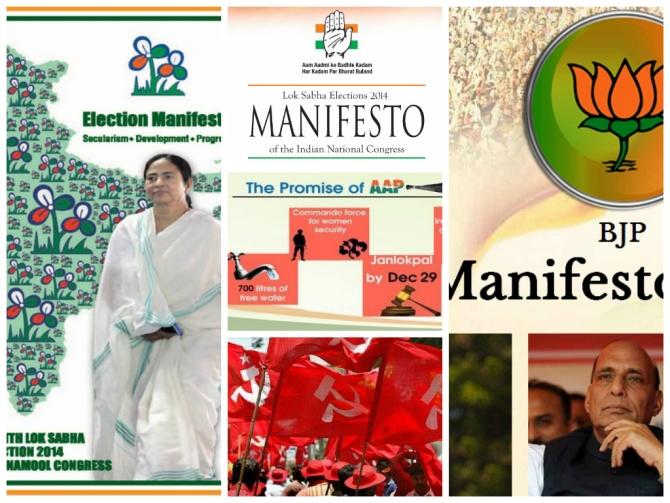 The Bharatiya Janata Party released its manifesto on Monday. The Congress already came out with its own on March 26, while the Aam Aadmi Party did it on April 3 and the Communist Party of India-Marxist on March 20.
With the exception of FDI in multi-brand retail, there is not much of a difference between the economic agendas of the Congress and the BJP.
"Barring the multi-brand retail sector, FDI will be allowed in sectors wherever needed for job and asset creation, infrastructure and acquisition of niche technology and specialised expertise," the BJP manifesto said.
The Congress has said the United Progressive Alliance's decision to allow FDI in multi-brand retail would transform the agrarian economy and ensure better returns for farmers. The Trinamool, the AAP and the CPI-M are also opposed to FDI.
We take a look at the differences and similarities in the manifestos released by different political parties
Click NEXT to read further...
Economy
Last updated on: April 08, 2014 13:13 IST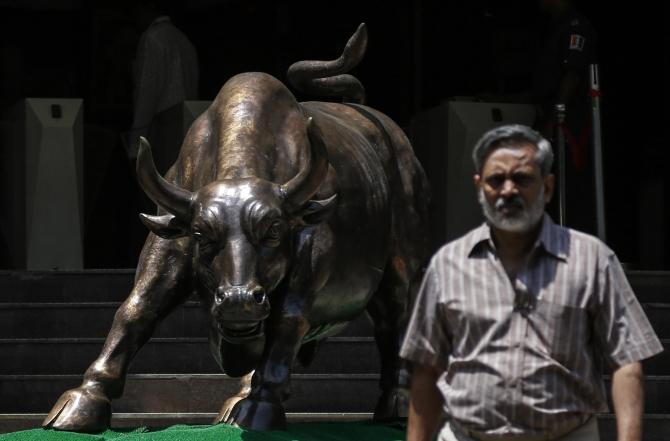 What the Congress promises: Introduce basic rights and welfare package for all working people. Priority on bringing India back to 8 per cent inclusive growth path. Zero aversion to foreign investment. Increase aggregate revenue. Ensure 10 crore new jobs.
What the BJP promises: Find out solutions, which are effective in the short run and lasting in the long run. Strictly implement fiscal discipline, without compromising on funds availability for development work and asset creation. Undertake Banking reforms to enhance ease and access, as well as accountability.
What the AAP promises: Facilitating robust economic growth with holistic well-being. Creating decent jobs and gainful employment for youth. Simplify rules, create accountable Institutions, curb black economy. Reinvigorating rural economy. Protecting the common man from rising prices.
What the TMC promises: Employment to become the fulcrum of future economic growth, keeping in view India's demographic dividend. Controlling inflation.
What the CPI-M promises: Enlarge the resource base by taxing the rich, corporate profits, crackdown on tax evaders, black money, money laundering, higher taxes on luxury goods, thereby generating resources for growth, increase public investments in agricultural production and research.
Click NEXT to read further...
Internal security
Last updated on: April 08, 2014 13:13 IST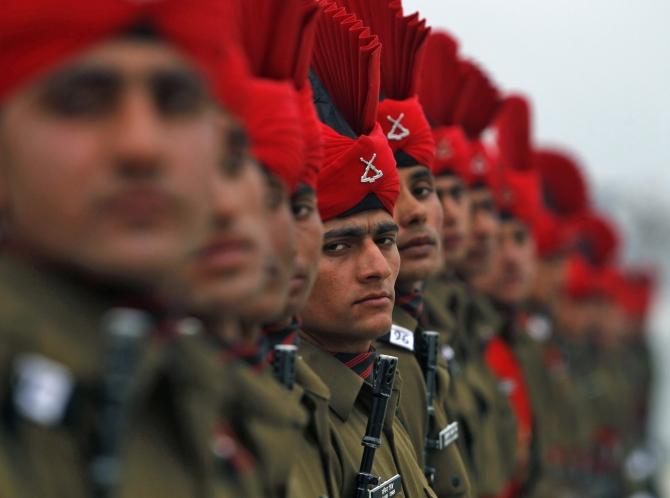 What the Congress promises: Left Wing extremism to be dealt with a firm hand. Strengthen security forces deployed in LWE affected areas by augmenting equipment, infrastructure and manpower, while also pursuing a development agenda to empower locals.
What the BJP promises: Insulate intelligence agencies from political intervention and interference. Completely revamp the intelligence gathering system by modernising the intelligence department. Take urgent steps for the safety of the migrant workers and communities from the Northeast and other states.
What the AAP promises: Encourage indigenous production and reduce dependence on foreign defence equipment in a short time span. Integrated approach to all three services; involvement of defence personnel in the process of making decisions on national security issues; commitment to better coordination between the military, intelligence, bureaucracy, and the political leadership.
What the TMC promises: Corruption free and transparent procurement policy for all defence equipments through e-tendering and other transparent e-processes based on full integrity. More efforts on self-reliance and indigenous production. Emphasis to be spread equally for proper maintenance of defence assets on the basis of regular checking and monitoring mechanism and also for fresh acquisition on need basis.
What the CPI-M promises: Revising the Indo-US nuclear agreement; no import of foreign nuclear reactors; pursue self-reliance in civilian nuclear energy based on domestic uranium and thorium reserves. Protecting Indian Internet and telecommunications networks from cyber attacks and surveillance by building indigenous capability.
Click NEXT to read further...
Governance
Last updated on: April 08, 2014 13:13 IST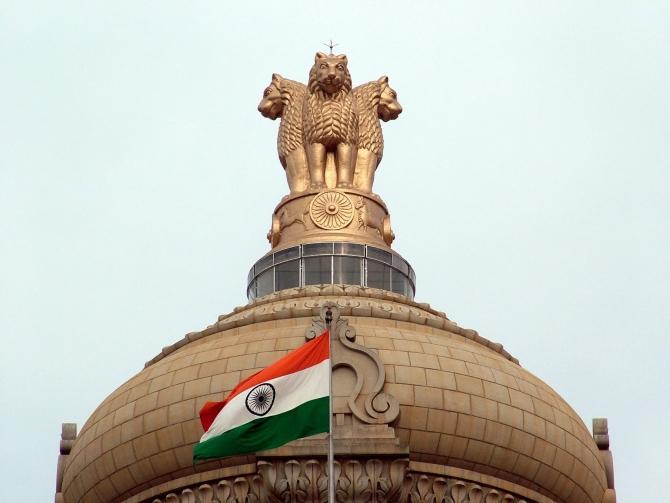 What the Congress promises: Recommendations of the administrative reforms to be implemented. Special monitoring system to be put in place for timely disposal of all cases involving elections. Establish a transparent method of appointing judges. Work towards decriminalising consensual sexual relations between adults of the same-sex.
What the BJP promises: Rerformance review, social and environment audit to be mandated for all government schemes and programmes. Open up government to draw expertise from the industry, academia and society into the services. Government to be redefined by elimination of whatever is obsolete in laws, regulations, administrative structures, practices. Generate 'Kartavya Bhavna' among public servants as lives and productivity of people is dependent on the quality and efficiency of public services.
What the AAP promises: Bringing an end to corruption, devolving power directly to the people, providing swift, accessible justice to the common man, ensuring accountable, humane policing, free and fair elections, improving representation
What the TMC promises: Thrust to administrative reforms to make government more accountable to the people. Universalise and intensify all forms of e-governance in the country to bring further efficiency and transparency in governance. Set up Lokpal and Lokayukta in every state. Massive comprehensive electoral reforms.
What the CPI-M promises: Amending and strengthening the Prevention of Corruption Act and the Lokpal Act to widen its purview and bring all contracts, agreements or MOUs of any kind between the government and the private sector within its purview. Strengthen the Right to Information Act.
Click NEXT to read further...
Foreign policy
Last updated on: April 08, 2014 13:13 IST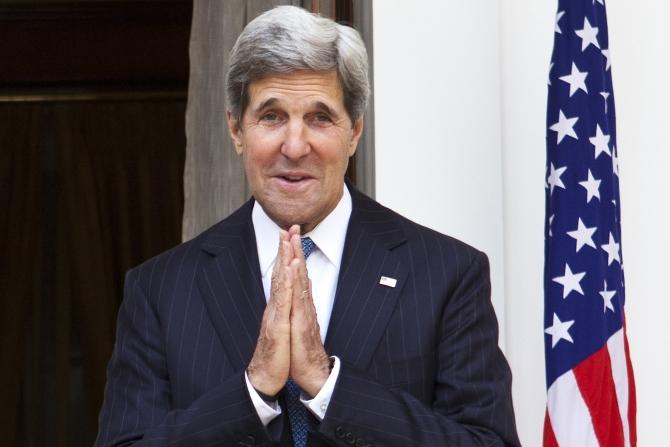 What the Congress promises: Strive to mobilise support for India's permanent membership in the United Nations Security Council. Focus on intelligence sharing, cutting out financial flows to terrorist outfits, and stopping money laundering.
What the BJP promises: Champion uniform international opinion on issues like terrorism and global warming. Will work towards strengthening Regional forums such as SAARC and ASEAN. Empower diplomats, ensuring our message is taken to the world and our great nation represented on the whole in a befitting manner.
What the AAP promises: Reducing political hostilities in our immediate neighbourhood through confidence building, and providing development and relief assistance to our neighbours. Develop border areas as zones of high economic engagement to create a larger constituency for peace on both sides and tackle illegal immigration. Supplement India's meaningful engagement with the US, with that of other blocs such as the BRICS, and IBSA and encourage a multi-polar world.
What the TMC promises: Greater promotion of social, economic, technological and cultural ties with all nations. Resolving territorial or other disputes through talks and negotiations. Nation's self-interest.
What the CPI-M promises: Independent and non-aligned foreign policy. Opposing interventions and regime changes imposed by the United States and NATO. Continued dialogue with Pakistan to resolve all outstanding issues; promote people to people relations between India and Pakistan.
Click NEXT to read further
Education
Last updated on: April 08, 2014 13:13 IST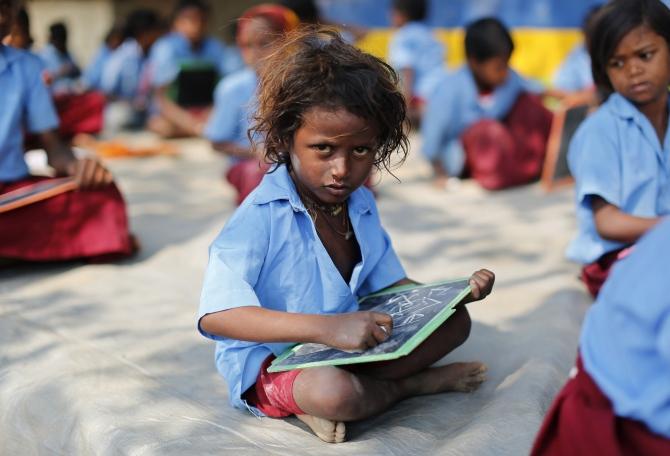 What the Congress promises: Give India the best education system in the world. Provide state-of-the-art sporting facilities across India and establish a NationalSportsEducationUniversity. Youths from J&K, NE and LWE affected areas to receive special attention. A state-run employment exchange to be opened for those seeking employment abroad.
What the BJP promises: Universalision of secondary school education and skills development through functional school shall be seriously pursued with particular focus on rural, tribal and difficult areas. On priority, a national modernistion programme for madrasa's would be started. Mid-day meal scheme to be revitalised in terms of management and delivery.
What the AAP promises: State provision of equitable access to high quality of education for all children (beginning with early childhood care) irrespective of their ability to pay. Strengthening of public education system through adequate budgetary allocation and recruitment and capacity building of teachers and administrators.
What the TMC promises: An expert's committee will be set up for an employment oriented educational policy in the country. New All India Medical Institutes to be set up in all of the four regions of the country within a time frame. Madrasa's to be empowered and mainstreamed as per their own requirement.
What the CPI-M promises: Complete coverage of basic services, such as supplementary nutrition, immunisation, pre school non-formal education, regular health check ups and quick referral services. Lift the ban on recruitment in central government and state government services. All vacant posts to be filled in central and state governments within a time bound framework. Drastically amend the 'National Youth Policy 2014' to properly address the concerns of youth.
Click NEXT to read further...
Minorities
Last updated on: April 08, 2014 13:13 IST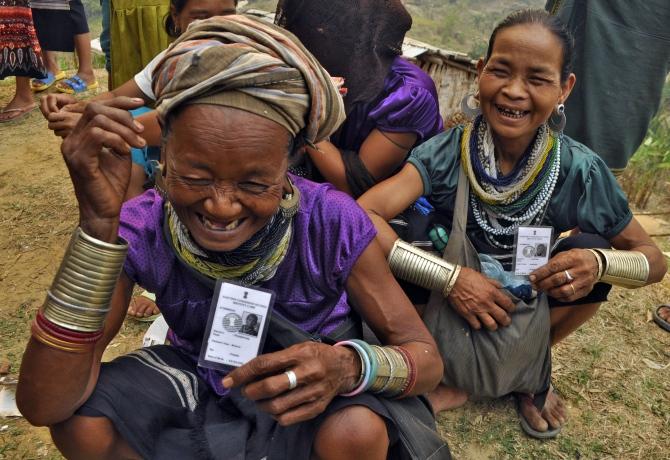 What the Congress promises: Ensure the passage of Scheduled Castes and Scheduled Tribes (Prevention of Atrocities) Amendment Bill, 2013, provide 1,000 annual overseas scholarships and skill development vouchers of Rs 10,000 to unemployed graduates.To establish a special commission to identify communities that have not benefited from reservations.
What the BJP promises: Commitment to the eradication of untouchability at all levels. Ensuring that the funds allocated for schemes and programmes for SC, ST, OBCs and other weaker sections are utilised properly. Commitment to eliminate manual scavenging. Ensuring that the tribal land is not alienated.
What the AAP promises: Ensuring the effective implementation of existing provisions of reservations. Widespread public education to change the mindset of caste-based inequality and untouchability.
What the TMC promises: Full protection of minorities. Special thrust to be given for the social and economic empowerment of the Backward Classes. Special drive to eliminate the backlog of caste certificates of the SC, ST and OBC communities across India. All underprivileged tribal population to be given a special status equivalent to the BPL.
What the CPI-M promises: Committed to the abolition of the caste system and all forms of caste oppression. In all spheres of basic human rights such as the universal right to health, education, employment, decent living conditions and security, it will promote special measures specifically for the advancement of the rights of scheduled castes including additional allocations.
Click NEXT to read further...
Women's empowerment
Last updated on: April 08, 2014 13:13 IST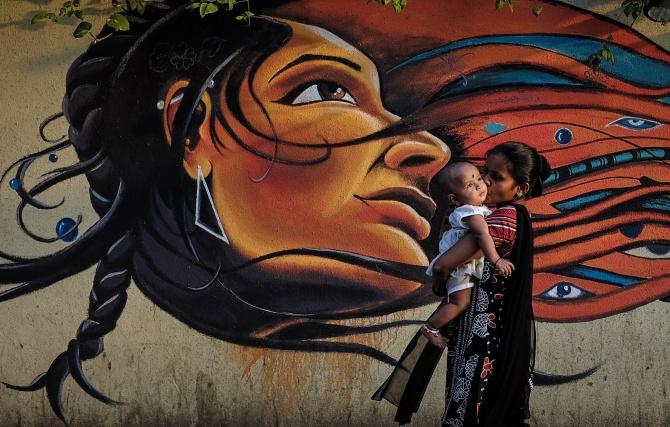 What the Congress promises: Women's Reservation Bill and strict implementation of the Child Labour and the Protection of Children from Sexual Offences Act's. One Stop Crisis Centres for women to be set up in all hospitals. Ensure all police stations have at least 25 per cent women staffers. Passing a Citizens' Charter for Women's Safety.
What the BJP promises: Using information technology for women's safety. Strict implementation of laws related to women, particularly those related to rape. Launch a national campaign for saving the girl child and educating her -- Beti Bachao – Beti Padhao. Special programs aimed at girls below poverty line, tribals and indigent women.
What the AAP promises: Implement comprehensive and long-term public education programmes to end the culture of gender-based discrimination and violence. Establish and enforce a comprehensive response protocol for crimes against women, and publicise it. Establish rape crisis response teams, with rural and urban pilot projects.
What the TMC promises: Special thrust on empowering the girl child. Set up exclusive women's courts.
What the CPI-M promises: Putting in place a series of measures to prevent, curb and punish those responsible for the horrific increase in violence against women and children. A code of conduct for all elected representatives in different spheres to adhere to standards of decency in public comments and discourse about women and against sexist and misogynist language which demeans and insults women.