'There is no BJP; it's only Modi, Modi and Modi'
March 26, 2014 08:54 IST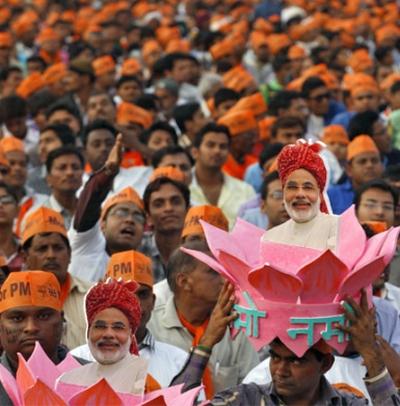 For the first time since he made the statement in January that his party will accept the verdict of people in case Narendra Modi becomes prime minister, National Conference chief Farooq Abdullah in this interview to CNN-IBN, calls the Bharatiya Janata Party' 'bitter' veteran Jaswant Singh and senior leader L K Advani secular, but also says that there is indeed a National Democratic Alliance wave
In January, you made a statement that if Modi is elected as prime minister, it will be the will of the people and that your party will accept the verdict. This was largely seen as the National Conference not being averse to the idea of Modi as prime minister. Is Modi acceptable to you as a PM?
I don't think it's a question of my accepting or not accepting Modi. It will be the people of India who have to decide the future. Do they want a secular India or do they want a communal India?
My feeling is that Modi being supported by the Rashtriya Swayamsevak Sangh, and others who are 'communal', will destroy the secular element of India. Therefore, I don't think that the National Conference will ever accept this to happen.
We hope that India will not go the communal way. It is a secular nation; it should remain secular so that we all can survive. That is the greatness about this nation, of unity and diversity; it is this diversity that we have to protect. I wonder whether Modi will be able to protect that.
You are saying that Modi is not acceptable to you. But if the BJP brings out another face post elections, say Advani, Sushma Swaraj or anybody else, will that person be acceptable to the National Conference because you have been a part of the NDA in the past?
These are all conjectures; no one knows what will happen, so let's not jump the gun, lets see what happens, but as far as we are concerned, we are absolutely certain that we don't want to be a part of a communal element.
Click NEXT to read further...
'Jaswant Singh is sensible'
March 26, 2014 08:54 IST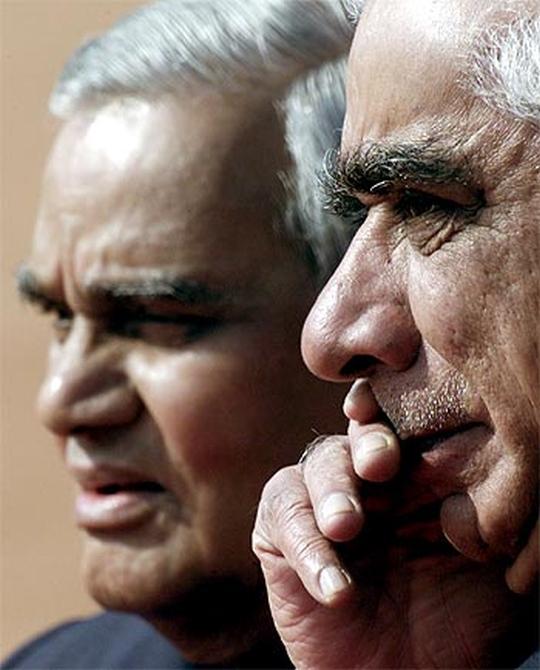 Do you believe that the BJP is practicing the politics of communalism or is it just one person?
I think today, there is nothing like 'a BJP', today its entirely Modi, Modi and Modi. If there was just the BJP, then Jaswant Singh wouldn't have left. Advani won't have been treated the way he has been treated.
I saw how in a jiffy the BJP president Rajnath Singh first say that BJP will be coming in to power, and within few minutes he changes his tune and says, no, it is Modi. So there is no BJP.
You are saying there is no BJP -- do you think you talked about Singh, do you think the manner in which he was been treated, Advani's candidacy was kept pending for the last minute, senior leader Murli Manohar Joshi was asked to move to Kanpur -- does that make you sad, because they are your contemporaries?
I personally know Singh. He is sensible. He was the minister for finance, as well as for foreign affairs and I was chief minister of Jammu and Kashmir when Atal Bihari Vajpayee was prime minister. And when financial help was essential for our state, it was he (Singh) I turn to, so that he could accompany me to the prime minister and speak for us.
How can I forget that? Here was a man who had seen Kashmir as an army officer and knew the sufferings of people. He was out to help them in every manner. I feel sad when you see such people who have devoted so much for India being sidelined.
Is Advani also secular for you?
Yes he is very much secular. On many fronts, I think you remember he had called Muhammad Ali Jinnah secular on a visit to Pakistan. He drew so much flak for that statement.
Will you consider joining the NDA in case if the BJP projects Advani post elections?
No I don't think so. We have been a part of the United Progressive Alliance, and I am not one of those people who would ditch people. I have suffered in the past but I have never deceived people.
Click NEXT to read further....
'There might be dangers when Modi is there'
March 26, 2014 08:54 IST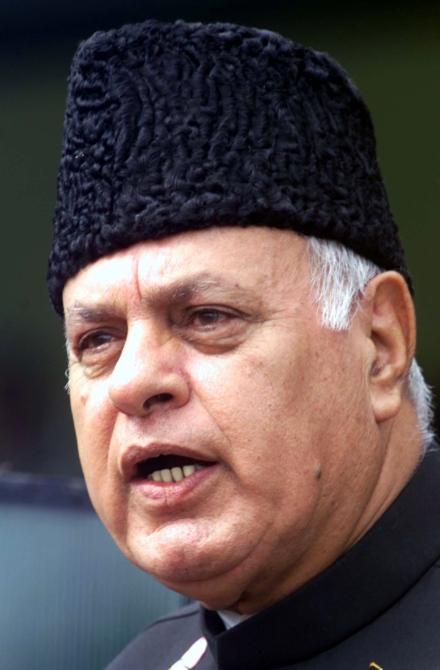 At the moment, will you accept that it seems to be advantage NDA?
Well obviously it is, because it is all Modi, Modi and Modi, and unfortunately the UPA has not yet come up to that standard. But I think things are changing.
Do you think Congress vice president Rahul Gandhi has perhaps not really succeeded in striking a cord with the people?
I think he is doing his best, whatever he can. It is a new experience for a man. He has been pushed into the thing (political fray) and he is really working very hard and I hope people realise that. His heart is in the right place. I hope they (the people) realise that he will be able to deliver.
Will you be ready to be a part of a UPA under Rahul
I am now too old to serve the government, I have done enough. I will help outside, but there will be other people from my party who will be there to helm him, to carry on, my son (Jammu and Kashmir Chief Minister Omar Abdullah) himself.
Are you indicating at some kind of a retirement plan here?
Maybe my son might come, you never know. Time will tell.
So you are saying Omar might come to Delhi and be a part of the government under Rahul?
If that situation arises and he feels that he (Rahul) needs Omar for his work, I am sure Omar will not hide. He will be very ready to join them, there is a need.
The BJP has inducted M J Akbar, a well-known journalist who said that the time has come to look beyond 2002 (Gujarat riots). Do you think that Muslims of India should look beyond 2002?
I don't know what has happened to Akbar. He is a secular man; I don't know what turned him towards Modi. I think I will have to meet him and talk to him about it. I think we are all afraid. I don't know how he is not afraid. Probably he doesn't see the beyond a certain point. And I see that there might be dangers when Modi is there.
Click NEXT to read further...
'Politics of fear is nothing new'
March 26, 2014 08:54 IST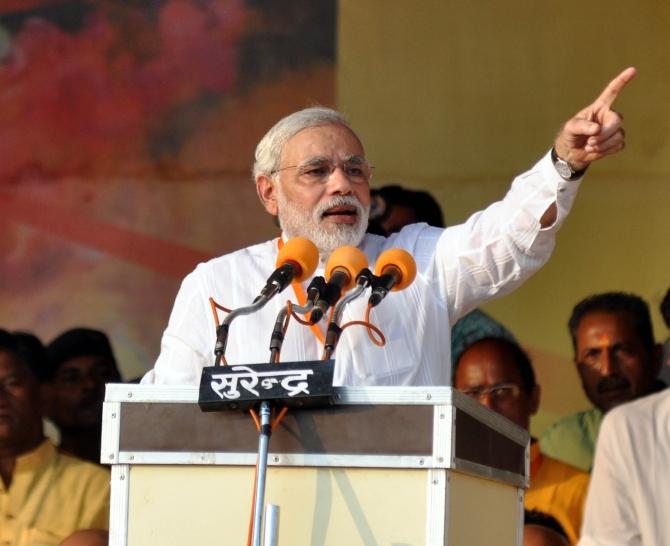 Don't you think it should be left on the judiciary to decide whether Modi is guilty or not, and he should perhaps be given a chance?
The Judiciary will have to decide, but there is a higher judiciary, and that is God. You may escape these judiciaries but you cannot escape His justice. That justice will come one day.
Do you think that the Congress perhaps is practicing what is being seen as the politics of fear with Muslims of India, that's why we heard those statements from Congress president Sonia Gandhi -- first she said 'maut ka saudagar' and then 'zeher ki kheti'?
I think politics of fear is nothing new; it has been there for a long time, ever since the Partition. The biggest sufferers of the Partition are the Muslims of India. And that is why Indian Muslims, are still establishing themselves in every field with great difficulty.
And they do fear that the secular trend of India must remain. Therefore, if that fear is being created, it is not because it is being created, there has been a fear all the time in the minds of Muslims.
People's Democratic Party patron Mufti Mohammad Sayed has praised the BJP for what he has said a 'pragmatic approach' towards Jammu and Kashmir. And he has talked about Vajpayee's 'insaniyat ke daire mei' approach towards problems of Kashmir. Why do you think he is making these statements?
He wants to be a part of the NDA under Modi, that is why he is doing all this. I think he has made his path clear that he is going to be a part of the BJP.
Click NEXT to read further...
'What is this insaniyat approach?'
March 26, 2014 08:54 IST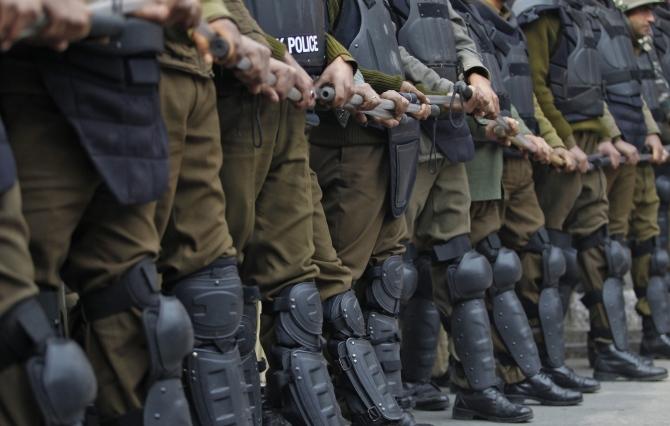 If the BJP actually adopts that insaniyat approach, will that be also acceptable to the NC?
What is this insaniyat approach? The point here is we put in a document for autonomy by over more than two-thirds majority of the assembly. It was thrown out of the window so what is he talking about?
The final decision, let me be very frank about it; the political solution for Jammu and Kashmir will have to be done between India and Pakistan, whether it is new roots to be opened, whether soft turning of the border have to take place, anything else, it is all to be done by (the Indian and Pakistan governments.
Now when you say insaniyat ke daire ke ander, why is it that that government did not think of the Armed Forces Special Powers Act being removed from areas? That you can shoot at anyone, you can murder anyone and that you will not be chargesheeted, literally.
The point is, do they have the will to get the people of Kashmir realise that there future lies in this nation and that we are here to see that justice is done to you in every form?
Finance Minister P Chidambaram isn't contesting elections; a number of Congress members of Parliament have opted out of the electoral battle, do think that the Congress perhaps has accepted defeat much before the first ballot is to be casted?
I don't think so. I think Chidambaram had made up his mind that he is not going to contest but don't underestimate him. He is going to be back. He is going to be one of the most important constraints of the UPA, even in the future.
A Third front is again taking shape, and it is often being called as the biggest mirage of Indian politics. Do you also have some kind of prime ministerial ambitions?
No I have no prime ministerial ambitions, but I do feel and I hope that the Third Front gets enough seats, and then the UPA has the courage to back them to form a government.
When you say that the Third Front should get enough seats, who do you think is best placed to be the prime minister?
There are lots of candidates, only time will decide. There is Bihar Chief Minister Nitish Kumar, there is Odisha Chief Minister, Naveen Patnaik himself.
Will you be looking at becoming a part of the Third Front later, post elections?
If the UPA becomes a part of it, yes.
TOP photo features you missed last week
March 26, 2014 08:54 IST
Click on MORE to see another PHOTO feature...