Apologising for unintentionally hurting sentiments, restaurant aggregator Zomato on Thursday withdrew an ad after it came under fire for depicting the actor who played the Dalit character Kachra in the film Lagaan as items made of recycled waste.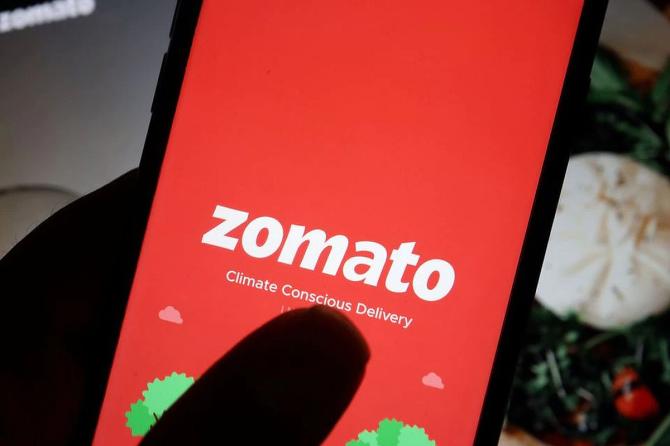 The ad, which draws a link between the character Kachra with 'kachra', the Hindi word for garbage, was aired on World Environment Day on June 5.
As ire grew and the ad came under attack on social media for being casteist, the company issued an apology from its official Twitter handle and said the intent was to 'spread awareness about the potential of plastic waste and benefits of recycling in a humorous way'.
'Unintentionally, we may have hurt the sentiments of certain communities and individuals. We have taken down the video,' it said.
The ad, aiming to show the food delivery company's recycling efforts, was termed 'disgusting', 'blatantly casteist', and 'extremely insensitive' by netizens on Twitter.
Masaan director Neeraj Ghaywan, filmmaker Madhurita Anand and Dalit historian Karunyakara Lella were among those who spoke out.
In the nearly two-minute ad, actor Aditya Lakhia, who played the character in the 2001 hit film, is depicted as a lamp, paper, paperweight, watering can, and different types of jackets -- the accompanying text detailing how much recycled 'kachra' was used to make each item.
The company in its now deleted ad on YouTube also claimed it has 'recycled 20 million kg of plastic kachra so far'.
'Zomato voluntarily recycles more than 100% of the plastic used to package orders, and keeps it out of landfills. This 20 million kg of plastic waste, recycled in FY 23 under our 100% plastic-neutral deliveries initiative, can be turned into many items of immense value. We believe in the power of recycling, and kachra the best spinner in the entire British Raj does as well,' the description of the ad read.
Discussing the controversial ad campaign, communications strategy consultant Karthik Srinivasan said Zomato did not think adequately about making the character perform 'seemingly dehumanising and menial tasks'.
"There's a context to Kachra's character in Lagaan, and within the larger spectrum of commercial entertainment in India, on how castes are portrayed, and how Dalits, in particular, are portrayed or stereotyped.
"Coming from that angle, to see the character perform seemingly dehumanising and menial tasks -- even if he is performing them figuratively, as 'waste' and not his Lagaan character per se -- made the ad seem very awkward," Srinivasan told PTI.
He added that Zomato attempted to mine a 'kind of sly humour' from the name for waste upcycling/recycling.
The video was slammed online for its seemingly casteist overtones.
'#Kachra from #Lagaan was one of the most dehumanised voiceless depictions of Dalits ever in cinema. @zomato has used the same character and made a repulsive #casteist commercial. A human stool? Are you serious? Extremely insensitive,' Ghaywan wrote on Twitter.
Filmmaker Madhurita Anand wrote in reply to Ghaywan's tweet: 'That is just so offensive. One has to wonder who these people are who created the advert, approved it and put it online without once thinking about it.'
Dalit historian and writer Karunyakara Lella also hit out at Zomato for its 'Dalit phobic' advertisement.
'Why #Zomato is insensitive to Dalit sentiments? Why it takes liberty to hurt Dalit life by humiliating Dalit Identity? #BoycottZomato for #DalitPhobic #casteracist advertisement,' Lella wrote.
Another Twitter user, Sana Satpathy, said Zomato is 'beyond disgusting' and its marketing head should be fired immediately. She used the hashtag #BoycottZomato and called for a public apology.
The food delivery company has found itself on the wrong side of marketing in the past as well.
In 2017, an outdoor ad campaign in major cities including Delhi, Mumbai and Bengaluru showed Hindi expletives 'MC, BC' as abbreviations for mac n' cheese and butter chicken.
The company later withdrew the ad after backlash on social media.
In 2022, Zomato pulled down an advertisement featuring actor Hrithik Roshan who was shown to be craving for a thali (food platter) in Ujjain so he ordered it from Mahakal .
Priests of the famous Mahakaleshwar temple in Madhya Pradesh objected, claiming that it offended Hindu sentiments and demanded its withdrawal.
Madhya Pradesh Home Minister Narottam Mishra had issued directives to the police to look into the controversy.
The company later apologised clarifying that the Mahakal reference was for a restaurant and not the temple.
The character Kachra in Lagaan is a polio-affected Dalit.
When Aamir Khan's character Bhuvan insists on adding him to the cricket team -- the central theme of the film -- after spotting his spinning skills, upper caste members openly reject the idea as he is an 'untouchable'.
However, he ends up playing a crucial role in the cricket match.