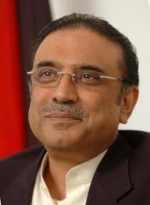 Pakistan President Asif Ali Zardari has said that Pakistan Muslim League-N chief Nawaz Sharif has denied his request for a visit though he had once played a key role in saving the former premier from being hanged during the regime of military ruler Pervez Musharraf.
Zardari, currently camping in Lahore to oversee the Pakistan People's Party's preparations for the upcoming general election, had intended to visit Sharif to condole the death of his brother Abbas Sharif.
While talking to visitors on Wednesday at Bilawal House, his private residence in Lahore, Zardari complained that Sharif had denied him a visit despite owing his life to him, The Express Tribune reported today.
Zardari claimed he had saved Sharif from being hanged by former President Musharraf.
He said he became "friends" with Sharif after the latter was imprisoned by Musharraf following the military coup that ousted the PML-N government in 1999. He claimed that at the time, Musharraf had been pressuring Justice Rehmat Hussain Jafri to severely punish Sharif.
"I had some acquaintance with Justice Jafri, and when I heard Musharraf was pressuring him into punishing Nawaz, I advised him to settle the case only on merit," Zardari was quoted as saying.
He said he was successful in convincing Jafri against announcing capital punishment for Sharif.
Zardari also claimed responsibility for the PML-N's success in Punjab province during the 2008 election, saying Sharif had intended to boycott the polls before he convinced him to contest them. He claimed the PML-N got votes under the banner of reconciliation with his slain wife, Benazir Bhutto
© Copyright 2021 PTI. All rights reserved. Republication or redistribution of PTI content, including by framing or similar means, is expressly prohibited without the prior written consent.