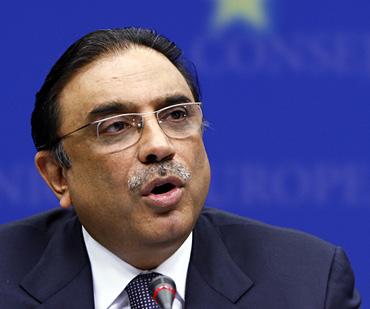 Pakistan's former President Asif Ali Zardari was on Monday summoned by a court to appear before it on October 29 in relation to five corruption cases against him which were re-opened last week, compounding his legal woes.

Zardari, 58, failed to submit a response in accordance with the court's earlier order, upon which the bench took a recess to wait for his response. Despite earlier notices from the court, officials of the National Accountability Bureau, which is probing charges against Zardari, also failed to turn up for Monday's hearing.
Meanwhile, newly appointed NAB chairman Qamar Zaman Chaudhry took notice of the absence of officials from the hearing and issued instructions to ensure the implementation of the court's order. He directed the bureau's prosecutor to appear for the hearing. The court was also informed that Zardari had not complied with its earlier order, after which the bench issued another summons for him to appear on October 29.
Taking suo motu notice, the accountability court's judge Bashir Ahmed had reopened five references against the former president. Giving details of the cases, Express Tribune said that in July 2011, pronouncing its verdict in the 13-year-old graft case commonly known as the SGS reference an accountability court had absolved all accused, except Zardari.
In the SGS reference filed in 1997, it was alleged that then PM Benazir Bhutto and her spouse Zardari had received kickbacks in a pre-shipment contract between the Pakistani government and SGS. They were accused of receiving kickbacks through offshore bank accounts of Schlegelmilch.
The case against Benazir Bhutto and her mother Nusrat has lapsed following their deaths while six foreigners have been declared proclaimed offenders. The Contecna case involved an allegedly corrupt award for a contract for supervising pre-shipment at the Karachi port. The contract was awarded to the Swiss company Cotecna in exchange for a bribe during Bhutto's second term. Both Benazir and Zardari were accused of taking a 6 per cent bribe on the revenue stream the Swiss company expected on the USD 131 million contract.
A R Siddiqui, the sole accused, was acquitted in the case in September 2011, 14 years after the case was first filed. Another case relates to ARY Traders for import of gold and silver causing alleged losses to public exchequer amounting to approximately Rs 18.2 million. The illegal construction of the polo ground and other ancillary works at the prime minister's house in violation of the rules and procedure and misuse of office by the accused is another pending reference. In this case the court has acquitted Saeed Mehdi, while the case against Shafi Sehwani, the former chairman of the capital development authority, was withdrawn following his death, Express Tribune reported.
Another reference pertaining to Ursus tractors is against the alleged misappropriation in the purchase of 5,900 Russian and Polish tractors at a cost of Rs 150,000 each, for the then Awami Tractor Scheme.