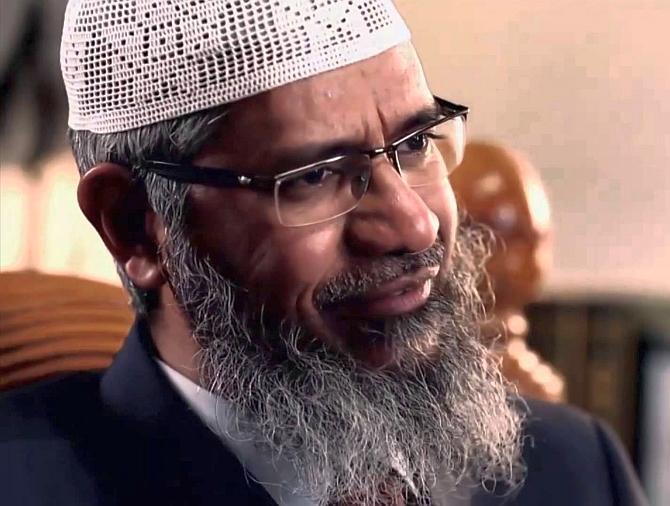 In an unprecedented move, 15 joint secretaries serving in the ministry of home affairs on Tuesday met Home Minister Rajnath Singh and urged him to reconsider the decision to suspend senior IAS officer G K Dwivedi for renewal of Foreign Contribution Regulation Act licence of controversial Islamic preacher Zakir Naik's NGO.
They conveyed to the home minister that Dwivedi, who was serving as Joint Secretary-Foreigners in the home ministry, has been "wrongly punished" for the alleged lapses of his juniors, who reportedly facilitated the renewal of FCRA licence of Naik's Islamic Research Foundation.
Sources said the senior officers, mostly belonging to IAS, told the home minister that Dwivedi is an honest officer and such action sends "wrong signal" and is "demoralising" for others.
The home minister assured the joint secretaries that he will look into the matter, the sources said.
Dwivedi also separately met the home minister to plead his case.
The move by the joint secretaries is seen as unprecedented as there has been no such happening when the bureaucrats joined hands to stand by one of their colleagues, who faced disciplinary action by the government.
Dwivedi, along with three of his junior officers, was suspended last week after the government found that the FCRA licence of an NGO run by Naik was renewed by the home ministry's foreigners division headed by him (Dwivedi) despite several probes against Naik for allegedly radicalising youths and attracting them towards extremism.
On Saturday, four joint secretaries had met Union Home Secretary Rajiv Mehrishi with the same demand.
"It is demoralising for honest officers. I feel injustice has been done to Mr Dwivedi. We have conveyed our feelings," Joint Secretary (Police-I) in the Home Ministry Kumar Alok, who was one of the four officers, had told PTI when asked whether he had met the Union Home Secretary, pleading Dwivedi's case.
Dwivedi has been credited with successfully implementing Prime Minister Narendra Modi's several key projects, including TVoA (tourist visa on arrival) and enabled by electronic travel authorisation, popularly known as e-tourist visa scheme that led to 293 per cent jump in foreign tourist arrivals in India.
He oversaw the Modi government's another pet project of offering long term visa and citizenship to Hindu, Sikh and other minorities of Pakistan, Bangladesh and Afghanistan, who have taken refuge in India after facing religious persecution in their home counties.
Dwivedi was also instrumental in completely overhauling the registration process of NGOs under the Foreign Contribution Regulations Act and making it completely online and transparent.