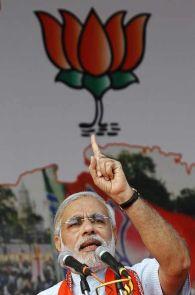 The lawyer defending the Supreme Court-appointed special investigation team, which gave a clean chit to Gujarat Chief Minister Narendra Modi in the 2002 post-Godhra riots case on the complaint by Zakia Jafri, Friday said that "her complaint contains nothing but all irrelevant things".
Opposing the protest petition filed by Jafri against SIT's closure report, its lawyer R S Jamuar said, "Zakia Jafri's complaint, at the behest of Teesta Setalvad and retired ADGP R B Sreekumar, contains nothing but irrelevant things, most of which are part of records of the Nanavati Commission".
During the third day of arguments, SIT's lawyer targeted contents of Jafri's complaint, which she had filed in the apex court in June, 2006, and also vehemently defended actions taken by the Modi administration during and after 2002 riots, in which more then 1000 people had died.
Zakia's petition demands filing of chargesheet against Modi and 58 others who she had named in her complaint filed before the Supreme Court. She had also sought further investigations by an independent agency other than the SIT.
Trying to demolish contents of the complaint, SIT's lawyer Jamuar described it para-wise and argued that most of the allegations were directly extracted from various affidavits filed by R B Sreekumar before retired Justice G T Nanavati-Akshay Mehta Commission and added that, "This material has no value for any judicial process before any civil or criminal court"
He also alleged that Sreekumar nurtures disgruntlement against the state government, as he felt he was denied promotion to the post of Inspector General of Police. He began complaining about the government and Modi only after he was superceded, Jamuar alleged.
Pointing out "irrelevant" portions in the complaint, Jamuar cited contents about appointments of 'pro-ruling party' advocates as public prosecutors in rioting cases, the chief minister's public address during an election rally on September 19, 2002, early closing down of relief camps set up for riot affected people and transfers as well as promotions of certain IPS and IAS officers.
"All these incidences are totally irrelevant to the commission of offence raised in the complaint, as these occurred long after riots stopped," he said.
Jamuar opposed the contention that the police intentionally remained inactive at Gulbarg Society while a violent mob killed its residents, which included Ehsan Jafri, a former Congress MP and husband of complainant Zakia Jafri.
"On February 28, a full police force was there at the Gulbarg Society with the Station Head Officer of Meghaninagar K G Erda. They were at the front gates of the society, but rioters broke its backside wall and started the violence. What could the police do?" he argued.
Jafri had complained that much before the riots broke out, Gujarat had insufficient police force and yet the Modi administration delayed deployment of the Army to contain widespread riots.
As per the complaint, there were 7,650 vacant posts in the police and 1,900 in the Gujarat's State Reserve Police Force when riots broke out in the state.
"This is totally irrelevent. This has nothing to do with commission of the offence," Jamuar claimed.
While opposing claims that there was delay in calling the army, he said, "There is no truth in this. As per evidence we gathered, at 2 pm on February 28, the government wrote to the central government and sought the army's help. However, the army too had a crunch of personnel and its first batch was airlifted to Ahmedabad on March 2".
"Chief Minister Narendra Modi was in constant touch with the central government. What more you can expect from this man? Should the chief minister have taken an AK-47 in his hand and gone out to contain the riots," he asked.
This prompted Jafri's advocate Mihir Desai to ask him Jamuar, "Are you advocate of the Chief Minister or the SIT?"
"I am not siding with anyone, I am just assessing the evidence," Jamuar replied.
Further hearing will resume on Monday.
© Copyright 2021 PTI. All rights reserved. Republication or redistribution of PTI content, including by framing or similar means, is expressly prohibited without the prior written consent.