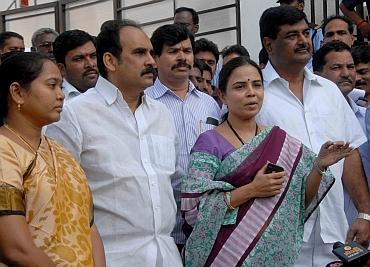 Senior YSR Congress party leader Shobha Nagi Reddy succumbed to multiple injuries after she met with an accident in the wee hours in Kurnool district. The 45-year-old was shifted to Care Hospital in Hyderabad after the crash but breathed her last at 11 am on Thursday.
Reddy, who was contesting from the Allagadda assembly constituency in Kurnool district, was returning to her hometown after campaigning when her car turned turtle at Gubagundametta village near Allagadda.
The police said that the accident occurred when the driver applied sudden brakes to avoid colliding with a heap of paddy that had been placed on the road by a few farmers. The car overturned at least seven times, causing Reddy to fall out of the car and sustain serious injuries to her head and neck.
Reddy is survived by her husband, former member of Lok Sabha Bhuma Nagi Reddy and three children. Bhuma Nagi Reddy is also in the fray from the Nandyal Lok Sabha constituency in Kurnool district.
Reddy, daughter of former minister SV Subba Reddy, had quite an eventful political career. Starting in the Telugu Desam Party, she became a member of legislative assembly and even climbed to the position of party general secretary. She then went on to the Chiranjeevi's Praja Rajyam Party in 2009 and was even elected to the assembly on the PRP ticket. Later, she quit the party and joined the YSR Congress.
While, several top political leaders have expressed shock over her sudden demise, YSR Congress president Jaganmohan Reddy has cut short his election campaign to rush to Hyderabad.
Image: Shobha Nagi Reddy (centre) was returning from a campaign when her car met with an accident.