Sporadic violence continued in Kashmir on Tuesday, leaving one more person dead and raising the unrest toll to 33, even as Prime Minister Narendra Modi reviewed the situation and appealed for calm with the hope that no innocent person would face any inconvenience or suffer any loss.
One more youth was killed and two others wounded in police fire late Tuesday afternoon in north Kashmir frontier Kupwara district in unrelenting violence over past four days.
These deaths now bring the toll in the protester-security personnel clashes up to 25 according to official counts although unofficial sources put it at 33.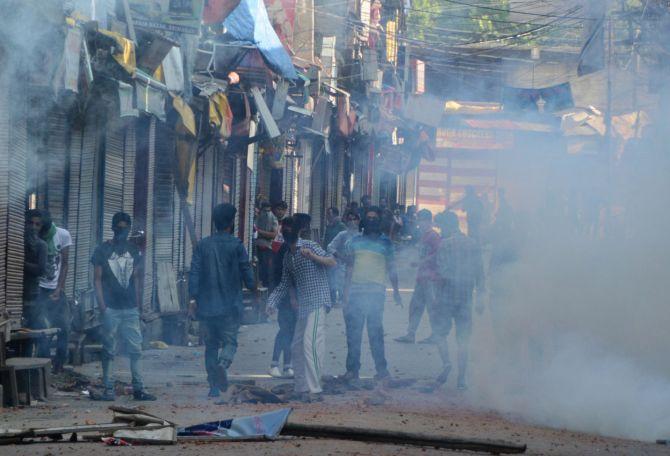 IMAGE:
Youth defy curfew as they pelt stones at security forces. Photograph: Umar Ganie
Five other people were injured and several police structures were damaged in violence and arson by mobs at nearly two dozen places in the valley, a police spokesman said, while describing the situation as "under control".
Chief Minister Mehbooba Mufti reached out to the parents, as a "parent myself", appealing to them to restrain their children from participating in such violent protests as these lead to "unfortunate" loss of lives.
In a televised address, she said anti-social elements were out to misguide common people, leading them to violence, which provokes reaction by security forces.
In Delhi, Modi held a high-level meeting to review the Kashmir situation soon after his return from his five-day Africa visit. It was attended by Home Minister Rajnath Singh, Finance Minister Arun Jaitley, Defence Minister Manohar Parrikar, External Affairs Minister Sushma Swaraj and National Security Adviser Ajit Doval.
The prime minister voiced concern over the situation in the state where the death toll rose to 33 in the violent protests and clashes with security forces, triggered by the killing of Hizbul militant commander Burhan Wani last Friday.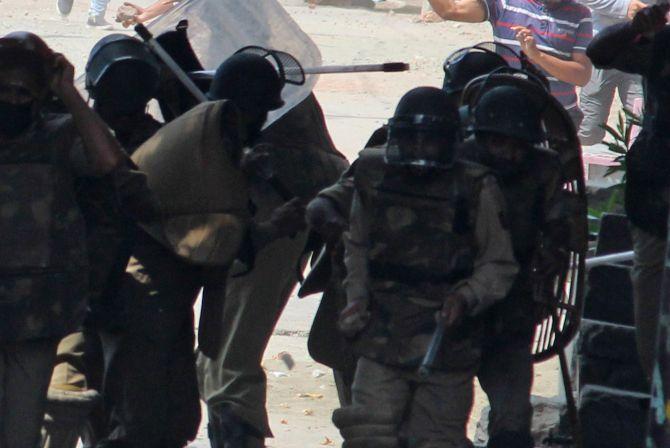 IMAGE:
Security forces charge protesters who were breaking curfew. Photograph: Umar Ganie
"He (PM) has appealed to the people of Jammu and Kashmir to maintain peace so that the situation can normalise. He (PM) also expressed hope that no innocent person should face any kind of inconvenience or loss," Minister of State in the Prime Minister's Office Jitendra Singh said after the meeting.
Modi said the Centre will provide whatever help is needed by the state government, according to Jitendra Singh.
The prime minister also expressed satisfaction over the progress of the Amarnath Yatra.
The prime minister was given a detailed presentation of the situation prevailing in the Valley.
"The prime minister kept taking updates about the Jammu and Kashmir situation during his visit abroad. The biggest evidence of his concern is that he called this review meeting within hours of returning from the tour and took details," Singh told reporters.
In the valley, one person was killed when policemen opened fire to disperse a stone-pelting mob outside Kralpora police station in Kupwara district of north Kashmir, the police spokesman said.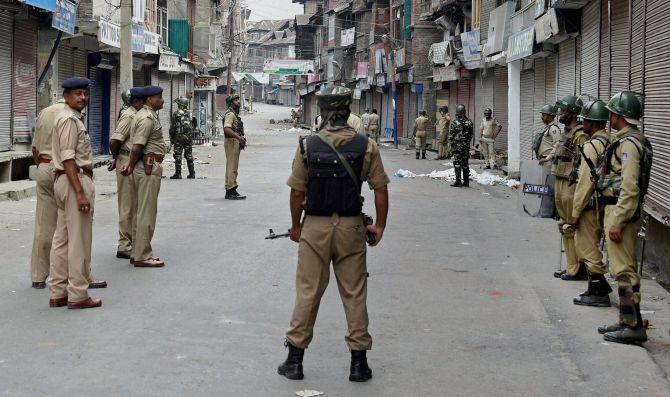 IMAGE: Authorities imposed restrictions in most parts of Valley following the killing of most wanted Hizbul Mujahideen commander, Burhan Muzaffar Wani, along with his two associates. Photograph: S Ir fan/PTI
"A mob attacked the Police Station and set on fire a Police vehicle in which policemen got trapped. While dealing with the incident, one person was injured who later on succumbed to injuries," he said.
Adil Ahmad Mattoo, who was injured in the firing incident at Bijbehara on Monday, succumbed to injuries at SMHS hospital here late last night, the spokesman said.
Mattoo was reportedly pursuing M.Com course from DelhiUniversity and had returned home recently to celebrate Eid-ul-Fitr with his family.
More than 350 people including over 115 security force personnel have been injured in the clashes and militant attacks since last Friday following Burhan's killing.
While normal life remained paralysed, unidentified militants targeted a police post in Sopore, about 55 kms from Srinagar, firing seven to eight rounds but no one was injured.
"During stone pelting on Police and CRPF deployment, a stone pelter identified as Arhan Mir of Bijbehara picked up a tear smoke shell, which exploded in his hand due to which he was injured," the police spokesman said.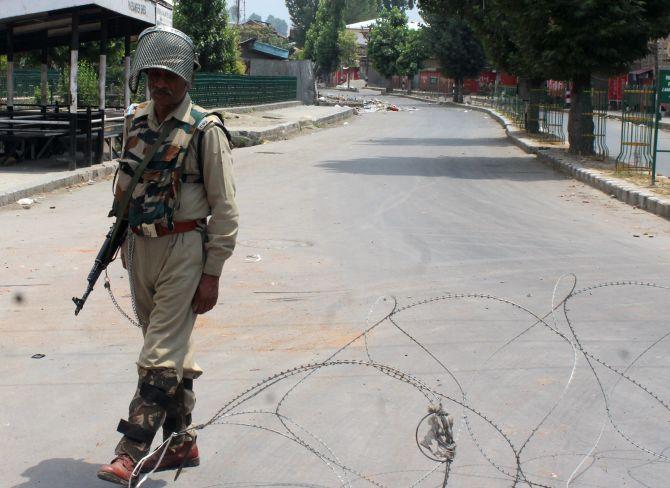 IMAGE: A security official patrols the streets after m

iscreants set ablaze a police guard room at Gadbugh
. Photograph: Umar Ganie
The incidents of stone pelting were reported from Tral, Nowdal, Gadbugh, Batnag, Chindrigam, Shopian, Memander, Frisal, Yaripora, Ruhama, Rajpora, Newa Bijbehara and Goriwan in the four south Kashmir districts of Anantnag, Pulwama, Kulgam and Shopian, exchange road Beerwa in central Kashmir Budgam, Main Chowk Sopore, Warpora, Khanpora bridge, Baramulla in Baramulla district, Langate and Trehgam in Kupwara district and Popchan and Bandipora in Bandipora district.
Miscreants set ablaze a police guard room at Gadbugh, a minority picket guard room at Batnag, Tral, and a guard room of Police Post Ruhama in Pulwama district, the spokesman said.
Miscreants also lobbed a petrol bomb on CRPF and police party deployed in Safa Kadal area of downtown Srinagar.
In Awantipora area of Pulwama in south Kashmir, a mob beat up and injured wife and daughter of a police Sub-Inspector Mohammad Ashraf Pal and damaged his house.
The injured were shifted to Sub District Hospital Awantipora where their condition is stated to be stable.
Pal, who is posted as duty officer at Sangam police post in Bibjehara area of Anantnag district, was not at home at the time of the attack, which marks continuation of attacks on police personnel and installations since the killing Hizbul Mujahideen commander Burhan Wani on last Friday
The clashes marked the fourth day ceremony of the slain Hizbul commander and came despite curfew which remained in force in many parts of the valley including parts of Srinagar city and Pulwama district.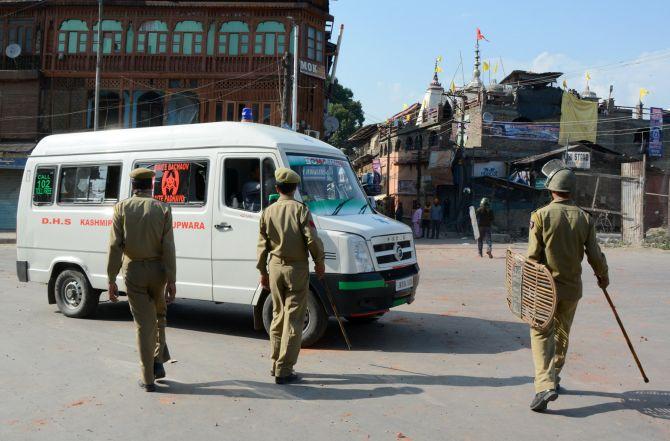 IMAGE: An ambulance is inspected at a police blockade; public transport is almost entirely non-existent on the streets though medical services are still up. Photograph: Umar Ganie
Authorities have strengthened the presence of security forces on ground in vulnerable areas of the city and elsewhere in the valley to contain the protests, the official said.
The mobile internet services across the valley and train services remained suspended for the fourth day even as mobile telephony was partially restored in the four districts of south Kashmir.
Normal life remained affected across the valley due to the strike called by the separatists groups.
Public transport was completely off the roads while private cars and auto-rickshaws were seen plying at few places in the areas where there were no restrictions, they said.
Educational institutions in the Valley were closed on account of the ongoing summer vacations, while Central University of Kashmir, Islamic University of Science and Technology and Jammu and Kashmir Board of School Education have postponed the examinations due to the prevailing situation.
Most of the separatist leaders, including Syed Ali Shah Geelani, Mirwaiz Umer Farooq and Mohammad Yasin Malik, are either under custody or house arrest.
With inputs from Mukhtar Ahmad in Srinagar.