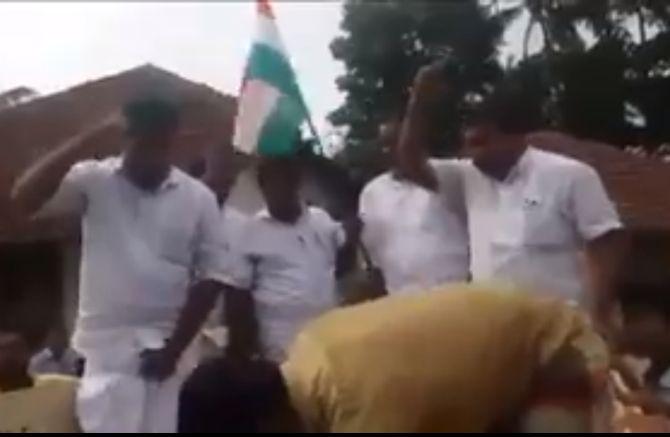 Three Youth Congress activists were on Monday suspended in connection with the public butchering of a calf in Kannur district as part of a protest against the Centre's ban on sale of cattle for slaughter.
Youth Congress Kannur district president Rijil Makkutty and activists Joshi Kandathil and Sharafuddin were suspended both from the organisation and the Congress, party sources in Thiruvananthapuram said.
The action came a day after party vice president Rahul Gandhi condemned the public slaughter of the animal.
Kerala Pradesh Congress Committee president M M Hassan said that the action had dented the Youth Congress' protest and the activists were suspended from the party.
"The public slaughter of the calf by the YC activists is against the Congress' culture. The party condemns the incident," Hassan told reporters in Thiruvananthapuram.
The All India Congress Committee in-charge of communications, Randeep Surjewala, said such an action by Congress workers was 'completely unacceptable' and was 'alien to the civil society, our culture and founding principles'.
"Anybody who has done so will have no place in the party and that's why the workers have been already suspended by the Youth Congress," he said.
"Such elements have no place in the Congress or in our culture. Indian culture is not to cause harm to any living being, much less to the holy cow which we all celebrate and revere," he also said.
Triggering a widespread row, the Youth Congress workers had allegedly butchered the 18-month-old animal in full public view in an open vehicle two days ago and raised slogans against the Centre's decision to ban sale of cattle for slaughter.
The meat was later distributed free of cost to onlookers.
Cutting across party barriers, a number of political leaders and cultural activists had come out against the gory protest.
On the basis of a complaint from a Yuva Morcha worker, the police registered a case against the YC activists under Section 120 A of the Kerala Police Act.
The offence deals with slaughter of any animal in a way that causes annoyance or inconvenience to the public and is punishable with imprisonment up to one year or a fine of up to Rs 5,000 or both.
Hassan also demanded that the government convene a special assembly session and formulate a new legislation to overcome the Union government's notification.
Congress workers would stage a protest march before the Raj Bhavan here on June 1, demanding withdrawal of the Centre's notification, he said.
The Kerala Pradesh Congress Committee president also alleged that the Centre was trying to snatch away the fundamental rights of the people to eat food of their choice through its latest decision.
IMAGE: A screenshot from the video of slaughter posted on social media.