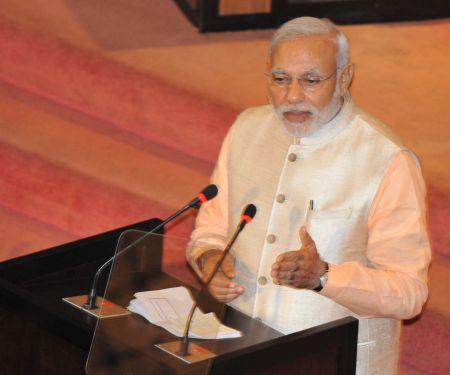 PM Modi addressing the Sri Lanka Parliament. Photograph: MEA/Flickr
Noting that security of India and Sri Lanka was "indivisible", Prime Minister Narendra Modi on Friday strongly pitched for enhanced cooperation in key areas of maritime security and counter-terrorism.
In an address to Sri Lankan Parliament, Modi said the unity and integrity of Sri Lanka were paramount for India and that the recent elections have reflected the hope for change, and reconciliation in the country.
He also announced India's unstinted support to Sri Lanka in its march for development.
Modi became the fourth Indian prime minister to address the Sri Lankan Parliament. Jawaharlal Nehru, Indira Gandhi and Morarji Desai were the other Indian PM to address it.
Talking about the security challenges, he said both the countries should join hands and expand maritime cooperation to successfully combat terrorism and extremism.
"We deeply value our security cooperation with Sri Lanka. We should expand the maritime security cooperation between India, Sri Lanka and Maldives to include others in the Indian Ocean area," Modi said.
The PM said enhanced maritime cooperation between the two countries will be vital for building a peaceful, secure, stable and prosperous maritime neighbourhood.
"The Indian Ocean is critical to the security and prosperity of our two countries. And, we can be more successful in achieving these goals if we work together; build a climate of trust and confidence; and we remain sensitive to each other's interest," he said.
"For both of us, local threats remain. But, we see threats arising in new forms and from new sources. We are witnessing globalisation of terrorism. The need for our cooperation has never been stronger than today," Modi said.
PM Modi being welcomed to Sri Lanka Parliament. Photograph: Press Information Bureau
Promising India's whole-hearted support to Sri Lanka, Modi said it was time for a "new vigour" in partnership between the two countries and that both should ensure that the proximity always translates into closeness.
Referring to the Sri Lanka's nearly three-decade-long civil war with the Liberation Tigers of Tamil Eelam, Modi complimented the country for successfully defeating terrorism and brining the conflict to an end.
"You now stand at a moment of historic opportunity to win the hearts and heal the wounds across all sections of society. The recent elections in Sri Lanka have reflected the collective voice of the nation – the hope for change, reconciliation and unity," he said.
Talking about India's commitment towards Sri Lanka, Modi said, "I bring the greetings of 1.25 billion friends; and millions of fans of Sri Lankan cricket."
The PM said Sri Lanka has the potential to be India's "strongest economic partner" in the region and his government would try to boost bilateral trade and make it more balanced.
"India's trade environment is becoming more open. Sri Lanka should not fall behind others in this competitive world. That is why we should conclude an ambitious Comprehensive Economic Partnership Agreement," he said.
Calling for sustained efforts to harness the vast potential of the Ocean economy, Modi also assured Sri Lanka of India's "full commitment" to development partnership it.
"We see this as a responsibility of a friend and neighbour," he said.
Modi said people were at the heart of the relationship and that is why India had decided to extend the visa-on-arrival facility to Sri Lankan citizens.
Modi also referred to civil nuclear cooperation pact signed between the two countries last month.
"More than anywhere else in the region, I see enormous potential to expand cooperation with Sri Lanka in areas like agriculture, education, health, science and technology, and space. Indeed, we are limited only by our imagination. We hope that Sri Lanka will take full benefit of India's satellite for the SAARC Region. This should be in space by December 2016," he said.