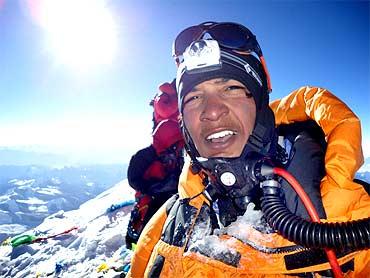 Seventeen-year-old Arjun Vajpai, who became the youngest Indian to climb Mount Everest on May 22, 2010, is about to add yet another feat to the annals of mountaineering. This time, by making a solo attempt to climb Mount Lhotse, the fourth highest peak in the world.
It should be noted that no one has made a solo attempt to reach the peak, considered on of the most tedious of the Himalayas before.
Arjun has been in the mountains for a month and a half, trying to acclaimatise himself before attempting this venture. He had even gone to the Mt Everest base camp, and had reached camp no 3 on May 18. 
Arjun, who is now just a few hours away from making a world record for the country, reached camp 4, his last camp at 11:30 am on Thursday. He is expected to reach the summit (at 8,516 metres) on Friday morning.
He will make the final attempt to reach the peak at around midnight on May 20, and try to reach the summit between 6.30 to 7.30 am the next day. He will have to battle gusty winds, blowing at 50 miles per hour.
Once atop the mountain, Arjun will speak to his family, using a satellite phone to announce his success.
According to his mother Priya Vajpai, who worked out the details of the climb along with her son a year ago, "Arjun is fit, and very excited to reach closer to his goal. The last stretch from camp 4 to the summit will take about 7-8 hours. Arjun's knowledge as a mountaineer will be tested as this last part is technically very difficult; a mix of steep rocky and ice face," she said.
"A mountaineer has to juggle between ice and rocks with their crampons (spike shoes), down suit, and an oxygen mask. So a mountaineer is tested to his or her limits," Priya told rediff.com. 
Image: Arjun Vajpai atop Mount Everest