Conscious that he will have to rely on the bureaucracy to deliver, Adityanath is changing the faces and rejiging the administration.
Virendra Singh Rawat reports.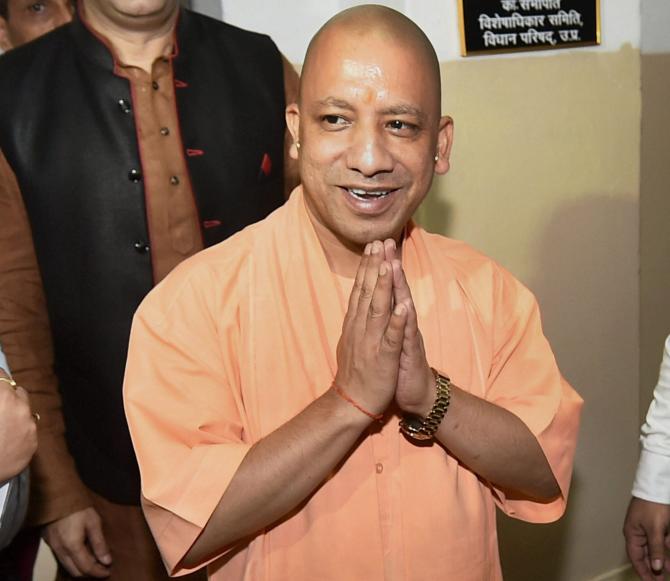 Yogi Adityanath made no move to carry out a major reshuffle of key administrative and police posts immediately after taking charge as Uttar Pradesh chief minister. This was unusual.
The state bureaucracy has got used to being moved around after an election and regime change.
Uttar Pradesh has a sanctioned strength of more than 600 Indian Administrative Service officers.
The previous government headed by Akhilesh Yadav had transferred more than 1,000 senior administrative and police officials within a month of taking oath on March 15, 2012, and had shunted out bureaucrats considered close to his predecessor, Mayawati.
On her part, Mayawati shifted more than 200 senior IAS and Indian Police Service officers three to four days after assuming charge as UP CM on May 13, 2007.
She inducted her confidantes into key posts for tighter administrative control.
Adityanath's first message to bureaucrats was that officials unable to put in long working hours in the new dispensation could pack up and leave.
In his first 30 days in office, the new CM transferred only about 60 IAS officers, none in the top echelons.
The first set of transfers took place on April 12, when the government shifted 20 IAS officers, including those heading the cash-rich Noida, Greater Noida and Ghaziabad Development Authority in the National Capital Region.
Those removed and put on waiting list included Rama Raman and Navneet Sehgal, both of whom were considered close to the Akhilesh Yadav regime and had been tasked with the completion of flagship projects of the Samajwadi Party government.
Anita Singh, once Mulayam Singh Yadav's principal secretary, and for five years, the occupant of a room on the hallowed 'pancham tal' (fifth floor, the CM's office in the secretariat) and acknowledged as one of UP's most powerful officers, was also put on compulsory wait.
In the second round of major transfers on April 18, the new dispensation shunted 41 IAS officers, including seven divisional commissioners and as many district magistrates.
On June 29, when the CM completed 100 days in office against the backdrop of several incidents relating to maintenance of law and order, he undertook a comprehensive bureaucratic reshuffle, which included posting senior IAS officer Rajive Kumar as the new chief secretary.
Kumar was earlier repatriated to his home cadre of UP from his central deputation at Adityanath's instance. He was given the extra charge of chief resident commissioner of UP at New Delhi.
A 1981 batch officer of the UP cadre, Kumar last served as Union shipping secretary before his premature repatriation to UP.
In bureaucratic circles, he is known as an upright bureaucrat and a stickler for rules and norms.
In all, the Bharatiya Janata Party government shifted 44 IAS officers.
Sehgal, who was principal secretary, information, besides holding several key posts during the Akhilesh Yadav regime, has now been posted as principal secretary, khadi and gramodyog after being kept waiting for two months.
Sehgal is acknowledged for his networking and delivery skills, which got him key posts during the Mayawati and Akhilesh Yadav regimes.
The change of guard in the state bureaucracy tells you about the new government's priorities and the key projects it wants to take up.
Kumar took charge at a time when the Yogi government was preparing for its maiden Budget session apart from smoothening the transition to the goods and services tax system.
The government is also struggling to meet the promises it made before the elections.
The most important of these is the announcement that agricultural loans, subject to a cap, would be waived.
It will now be the responsibility of UP bureaucrats to fund this ambitious programme, especially as the central government has made it clear it would provide no funds for this project.
Although 100 days of the Yogi government are over, its achievements are nothing to write home about -- a few administrative decisions pertaining to the formation of the anti-Romeo squad or closure of illegal slaughterhouses.
This period has essentially been spent taking stock of the situation on the ground and tweaking the previous government's flagships projects.
But now, conscious that he will have to rely on the bureaucracy to deliver, Adityanath is changing the faces and rejiging the administration.
Whether this alone will be enough, only time will tell.