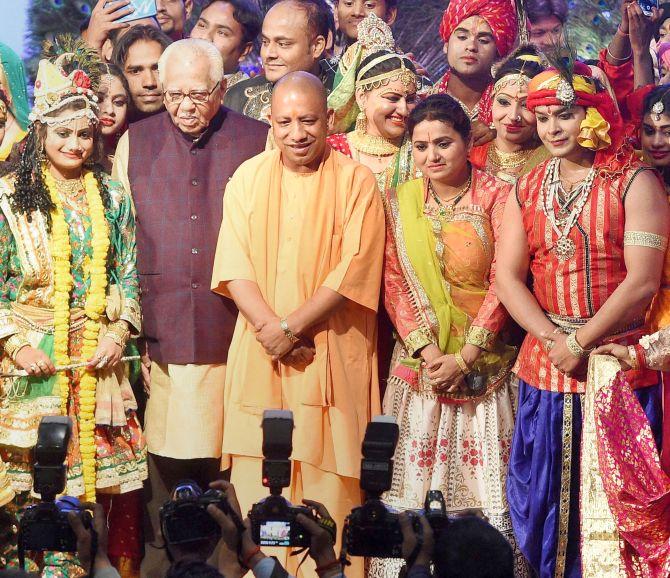 Uttar Pradesh Chief Minister Yogi Adityanath on Monday launched an anti-graft portal as his government completed its first year in office.
The chief minister also declared that his government will soon hire four lakh people in various government departments.
The portal was launched at the Lok Bhavan in the presence of Governor Ram Naik, deputy chief ministers Keshav Prasad Maurya and Dinesh Sharma, and UP BJP chief Mahendra Nath Pandey.
"Through this portal any official who is involved in corruption or is encouraging it at any level will not be spared. Effective action will be taken if a video or any other evidence is uploaded on the portal. This will deliver a lethal blow against the corrupt elements," Adityanath claimed.
Our government will come up with four lakh jobs in as many as 64 departments ranging from police constables to sub-inspectors, block development officers and revenue officials, he said.
Adityanath said that Prime Minister Narendra Modi has frequently referred to the alleged anomalies in recruitments by the UP Public Service Commission in the past.
"Even the Supreme Court had to act and halt the police recruitment as it was biased and there was rampant corruption. The election promise of ending the interview process for group-C and group-D during recruitment, which was encouraging corruption, has been implemented by us," he said.
Today I can say that UP, where there was no law and order and anarchy was prevalent, is witnessing a change, the chief minister said.
"A faith has been reposed...Some people are afraid of monkeys, but I can say that a monkey had destroyed Ravana's Lanka, and the monkeys will play their role in the war against corruption and goonda raj," he said.
He was apparently hitting back at SP MLC Anand Bhadauria who had recently posted a 'monkey joke' on social media to take a jibe at the government.
Attacking the previous state governments, he said, "Contracts were given for mass copying in various examinations. When we initiated fair examination, nearly 12 lakh students opted out...Later, it was revealed that 75 per cent of them were Munnabhais (contractual cheats) from other states."
Adityanath said that during verification of ration cards, it was found that there were 30 lakh fake ration cards.
The chief minister asserted there was an improvement in law and order with provision of on-line FIR and foot patrolling.
"When our government took over the reins of the state, the coffers were virtually empty. There were pot-holed roads, a VIP culture was prevalent, farmers were committing suicide, traders were also leaving the state and youths appeared to be misguided. We stopped redundant expenses, and came up with a crop loan redemption scheme, becoming the first state to do so. Over 86 lakh farmers have benefitted from this scheme," he said.
The chief minister also remarked that in UP's politics, casteism, divisive forces and dynastic politics were ruling the roost.
However, under the leadership of Prime Minister Narendra Modi, the state has been freed of divisive politics, he said.
"For the first time, the agenda of the government is to think about the welfare of the poor, villagers, Dalits, people from deprived sections and those belonging to the last strata of the society," he said.
Adityanath said the 'one district - one product' scheme of his government will help in generation of 20 lakh jobs in the next three years.
In his speech, Governor Ram Naik said "The governor acts as a bridge between the Centre and state. Earlier I had made efforts (to act as a bridge) but now there is no need."
Naik also said that the recently-held UP Investors' Summit was a bold step and exuded confidence that UP will become 'Uttam Pradesh'.
A grand cultural programme was held on this occasion and a multi-colour booklet titled 'Ek Saal - Nayee Misaal' with the punchline 'Huaa Vikaas - Badha Vishwaas' was unveiled.
Building temples won't solve any problem: Key BJP ally
Playing spoilsport, alliance partner Suheldev Bharatiya Samaj Party today decided to skip the grand event held to celebrate the first anniversary of the Yogi Adityanath government in office and even took a pot-shot saying building temples in Mathura and Kashi will not solve any problem.
SBSP chief Om Prakash Rajbhar even warned that if the BJP did not reach out to his party, his MLAs may skip voting in the upcoming Rajya Sabha polls.
"We made this government and it is our duty to repeatedly point out shortcomings...Holding celebrations is not going to serve the purpose...making temples in Mathura and Kashi will not give education to the poor, or toilets and pension to them," a visibly angry SBSP leader and UP cabinet minister Rajbhar told newspersons here.
Rajbhar also threatened that his party's four MLAs would boycott the coming Rajya Sabha elections in case "big brother" BJP does not redress its problems.
"If they do not talk to us. If (BJP chief) Amit Shah does not talk to us, our four MLAs will boycott the election and will not vote in the Rajya Sabha elections (on March 23)," Rajbhar said.
Refusing to take part in the celebrations on completion of one year in office, Rajbhar said, "Let them celebrate. I will not go to attend it till the question of ration cards, housing, education, medicine and others are not redressed".
Stressing that the BJP was ignoring smaller allies, Rajbhar said, "We kept begging for seats in the local body elections but we had to go it alone at the last moment...we were not taken into confidence in the (Lok Sabha) bye- elections. At no place in Purvanchal where BJP senior leaders went they took the name of SBSP or used our flag."
The SBSP has considerable presence in pockets of Purvanchal in eastern UP.
"They fielded Anil Agarwal. We are alliance partners but they did not tell us or asked for us to vote for him. I kept saying let us talk but to no avail. Can an elder brother humiliate the younger one like this," Rajbhar asked.
The BJP has fielded nine candidates for the Rajya Sabha elections and Agarwal is one of them though the party is sure of victory in only eight seats.
Rajbhar, however, said he had not talked to either the SP or the BSP.
Introspect on failures, Mayawati tells Adityanath
Terming the first year of BJP rule in the Uttar Pradesh as 'a year of setting bad examples', BSP chief Mayawati asked the Yogi Adityanath government to seriously introspect on its failures.
"Ek Saal, Buri Misaal", said Mayawati as she claimed that the people had assessed the one year of the Yogi government and given it a 'zero'.
They have been taught a lesson in Phulpur and Gorakhpur Lok Sabha bye-elections, she said.
It is my suggestion to the BJP government to seriously introspect on its failures instead of celebrating one year in office, Mayawati said.
"It is the fallout of the unfulfilled promises and efforts to create communal frenzy that Adityanath had to lose his traditional seat Gorakhpur seat while earlie the party faced losses in the local body elections. They cannot befool the people repeatedly," she said.
The BSP president said even the BJP workers were saying that the party performed below par because of the "doings" of Prime Minister Narendra Modi and Chief Minister Yogi Adityanath.
In a dig at the chief minister, Mayawati said instead of working for the poor, laboureres, unemployed and common people, he remained busy in worship for most part of the year forgetting that working wholeheartedly with the right intentions for the welfare of 22 crore poor and backward people of the state was the real "puja"(worship) and "raj dharma" which his government has failed to fulfil.
Because of these reasons, the people of the state are expressing their anger against the BJP again and again, she said. There is also the possibility of them not performing well in the coming Lok Sabha polls, Mayawati added.
The former chief minister alleged there was jungle raj in the state and development works were stalled because of lack of funds.
"On one hand the criminal cases against BJP men are being withdrawn while on the other there is an effort to check law and order through encounters. This reflects the discriminatory policies of the BJP government," she said.
The BSP president said that instead of lashing at the opposition for the defeat on Phulpur and Gorakhpur seats, Adityanath should have resigned on moral grounds as people had given a clear message that the state government should use the time and resources on people's welfare shunning the RSS's agenda of hatred.
She also contested the claims of the Yogi government that no riot took place in the state referring to the Kasganj violence.
To a question on NDA allies expressing views against the BJP government, she said that MLAs and ministers of the BJP will also open their mouth against them as there is difference between what they say and what they do.
"Those who were elected by the people have promised that once coming to power we will resolve their problems but nothing is being done. They are not able to face the people," she claimed.
IMAGE: Uttar Pradesh Governor Ram Naik and Chief Minister Yogi Adityanath pose for a photograph with the artists performing at a function on completion of one year the government at Lok Bhavan in Lucknow. Photograph: Nand Kumar/PTI Photo