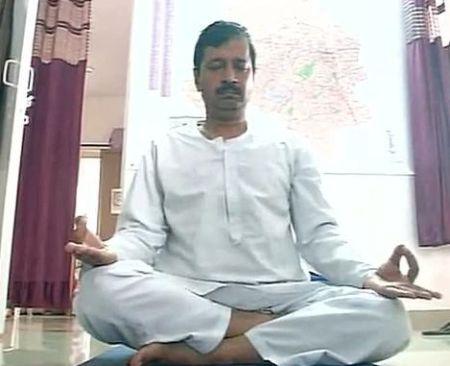 Delhi Chief Minister Arvind Kejriwal was on Thursday admitted to a naturopathy institute on the outskirts of Bengaluru for a 10-day nature cure regimen for treatment of his persistent chronic cough problem and uncontrolled sugar level.
The 46-year-old AAP leader, who landed at the airport around noon accompanied by his parents, headed straight to Jindal Nature Cure Institute on Tumkuru Road on city outskirts, where treatment began in right earnest by a team of four doctors.
"He has got uncontrolled sugar level and uncontrolled cough is there. So far, we have done the basic ECG... tomorrow we will do the blood test about the fasting blood sugar and postprandial blood sugar and even his general health condition..." Dr Babina Nandakumar, Chief Medical at Jindal Nature Cure Institute, told reporters.
Nandakumar said, "We have a set of four senior doctors who will be taking care of him, so we all will be working together like -- acupuncturist will also be there, physiotherapist, the yoga officer. So everybody combined together will be prescribing him the treatment."
She said the treatment had been started with the first step being detoxification and naturopathy so as to eliminate toxins from different parts of his body.".... we have already started with the mud pack, eye pack, enema, some massages, steam all these things we have already started...."
Kejriwal is staying in an accommodation with two bedrooms, a hall and a treatment room, called "Nest" at the Institute, a specialty charitable naturopathy and yoga hospital in an eco friendly campus of 100 acres.
The AAP leader has come to Bengaluru amidst turbulence in his party with deepening divide after the party's National Executive meeting in New Delhi yesterday eased out founder members Yogendra Yadav and Prashant Bhushan from the Political Affairs Committee, the party's key decision-making body.
On Kejriwal's routine, Nandakumar said it starts at 5.30 am.
"Tomorrow, we will have his blood test done first, followed by yogic kriyas, pranayam, laughing therapy, different yogasanas, then his naturopathy treatment will start till evening."
"He will also undergo acupuncture, physiotherapy, yoganidra, aquatic exercises. Like this, he will undergo different treatments till 8:30 in the night," the doctor said.
Nandakumar said Kejriwal's parents, who have health problems related to arthritis and constipation, would also undergo the treatment.
Stating that Naturopathy is a slow but sure process, Nandakumar said, "especially for this type of problem it is always better if he stays for 15 to 21 days where complete detoxification will be done, and there we can taper the insulin and then gradually taper the medication and then bring him to only with the normal diet."
"If he stays here for 21 to 30 days then he can definitely go hundred per cent free of insulin from here."
"Tomorrow, when we get to know his condition then maybe we can taper with his diet as well, because as of now we have kept him on chapathis, boiled vegetables, soup and all these things. So once we know his sugar level then accordingly we can plan his diet therapy as well," she added.
Kejriwal came to the institute in a private car driven by AAP's national executive member Prithvi Reddy, with police escort and a few AAP volunteers. He did not speak to the media waiting for him outside the hospital but waved at them with a smile.
Prime Minister Narendra Modi had reportedly recently advised Kejriwal to consult a Yoga expert at Swami Vivekananda Yoga Anusandhana Samsthana (S-VYASA), Bengaluru, for his persistent cough and high sugar levels.
Kejriwal has however opted for Jindal Institute, where he was admitted in 2012 spending 10 days for treatment of diabetes, along with anti-corruption crusader Anna Hazare with complaints of high blood pressure.