In a diplomatic triumph for India, an intergovernmental committee of the United Nations has inscribed yoga in UNESCO's Representative List as the Intangible Cultural Heritage of Humanity.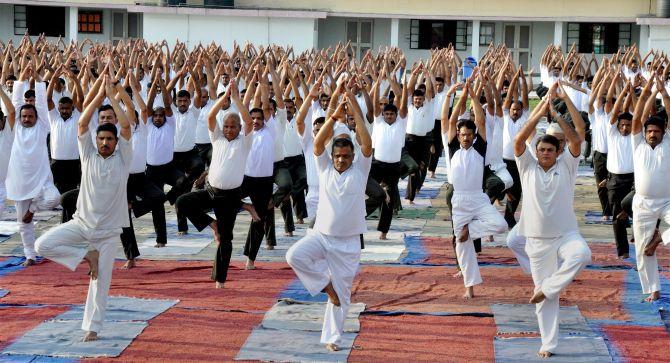 "This declaration of yoga as a 'Human Treasure' enjoyed the unanimous support of 24-member Intergovernmental Committee for the Safeguarding of the Intangible Cultural Heritage, which overturned the decision of an evaluation body of technical experts, seeking to defer the case to the next session of the committee in 2017," Ministry of External Affairs Spokesperson Vikas Swarup said on Thursday.
The tag emphasises yoga's role as a social practice, an oral tradition and a system of ancient and scientific knowledge, facilitating an enhanced harmony and peace across caste, creed, gender, age and nationality, he said.
The eleventh session of the Intergovernmental Committee is being held in Addis Abeba, Ethiopia, from November 28 to December 2.
The inscription and classification as a 'human treasure' brings immense recognition to yoga, as it went through rigorous criteria set out by UNESCO, the only UN body mandated to capture the intangible aspects of culture, Swarup said.
Additionally, the inscription enables a bottoms-up empowerment, as it directs the spotlight towards the numerous institutions and communities in India disseminating this ancient tradition, he said.
"As well, it can potentially foment a dialogue on the ideas of peace and tolerance, how these can be extended to meet the goals of sustainable development and where India can play a leading role in this global dialogue on intercultural relations," he added.
Recognising its universal appeal, in December 2014, the United Nations had proclaimed June 21 as International Yoga Day.
The core functions of the Committee are to promote the objectives of the Convention (for Safeguarding of the Intangible Cultural Heritage), provide guidance on best practices and make recommendations on measures for safeguarding it.
"Huge achievement for India. #YOGA as an element has been inscribed in the @UNESCO list of Intangible #CulturalHeritage of the World.
"All 24 Member Countries of IGC supported and it was a unanimous decision," Culture Minister Mahesh Sharma tweeted.
The delegation from India that attended the Intergovernmental Committee Meeting was lead by the country's permanent representative to UNESCO, Ruchira Kamboj, and Cutlure Ministry Joint Secretary M L Srivastava, the ministry said in a release.
"Never ever happened before! After #Yoga inscription, entire conference does Yogic breathing," Kamboj tweeted.
Yoga has become the 13th intangible cultural heritage from the country that has been listed with UNESCO so far.
Other intangible cultural heritage that has been listed from India include the Chhau dance (inscribed in 2010), the Buddhist chanting of Ladakh (2012), Sankirtana - the ritual singing, drumming, and dancing of Manipur (2013); the traditional brass and copper craft of utensil making among the Thatheras of Jandiala Guru, Punjab (2014); and Ramlila -- the traditional performance of the Ramayana (2008).
© Copyright 2021 PTI. All rights reserved. Republication or redistribution of PTI content, including by framing or similar means, is expressly prohibited without the prior written consent.