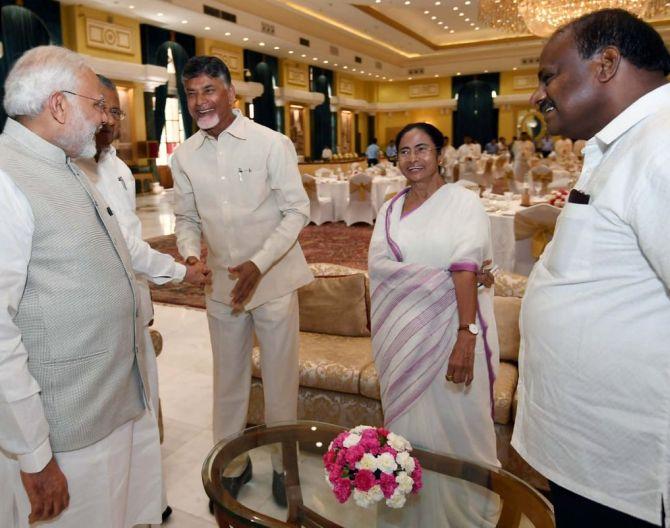 The International Yoga Day celebrations in West Bengal were a low-key affair on Thursday with neither Chief Minister Mamata Banerjee nor any of her ministers participating in any yoga session anywhere.
Union minister Mahesh Sharma and other Bharatiya Janata Party leaders performed yoga asanas in public as part of the International Day of Yoga celebrations.
When contacted, Trinamool Congress secretary general and state Parliamentary Affairs Minister Partha Chatterjee said the party observed the International Yoga Day every year and this year was no exception.
"International Yoga Day was observed in Moulali today. In the districts also, it was observed in schools. Last year, we had observed the International Yoga Day in Kolkata," he said.
Sharma took part in a yoga session near Shahid Minar in the heart of the city. Asked if he had noticed a lack of enthusiasm as regards the Yoga Day celebrations in the state, the Union minister of state (independent charge) for culture evaded a direct reply.
"West Bengal is a part of India and yoga transcends the boundaries of states, countries, religions and fosters brotherhood," he said.
BJP national secretary Kailash Vijayvargiya, who also attended the yoga session near Shahid Minar, said it was a matter of regret that the West Bengal government was finding politics in everything.
"Yoga Day is also being celebrated in the Islamic countries, but the West Bengal government is politicising everything," he said, replying to a question on the alleged lack of enthusiasm in the state as regards Yoga Day celebrations.
"Of the 193 countries, 177 are celebrating the International Yoga Day, in recognition of the ancient tradition of India," Sharma said.
Across the state, yoga sessions were organised in various state-run and private educational institutions.
Last week, Governor Keshari Nath Tripathi had written to the vice-chancellors of the state-run universities, requesting them to celebrate the International Yoga Day, which drew protests from the state government.
Chatterjee, who is also the state education minister, had said the governor sending letters directly to universities, asking them to hold Yoga Day celebrations, was 'unprecedented and unacceptable'.
International Yoga Day did not figure much in the scheme of things of the Janata Dal (Secular)-Congress coalition government in Karnataka too, with Chief Minister H D Kumaraswamy not taking part in any yoga events in the city.
Deputy chief minister G Parameshwara too did not take part in any yoga event.
Barring a message on Twitter, Kumaraswamy's itinerary for the day did not have any mention about participation in any yoga event.
In his message carrying his picture doing Pranayama, Kumaraswamy said Yoga has been very much a part of his family as his father, wife and others regularly practise it.
"Yoga is a gift from India to the world. Recognising the importance of yoga, the United Nations too made arrangements to organise 'World Yoga Day'. It has also given an insight into the yoga tradition existing in India," Kumaraswamy said.
"Kumaraswamy did not perform any yoga but he did visit a school managed by Adi Chunchanagiri Math in Ramanagar district. He also gave a message," said an officer in the Department of Information and Public Relations.
The picture that was shared on social media was about his presence among visually impaired children.
Parameshwara's Twitter handle did not have any message or pictures on the day, although he is quite active on social media.
Kumaraswamy's octogenarian father and former prime minister H D Deve Gowda demonstrated his yoga skills befitting Prime Minister Narendra Modi's fitness challenge.
On the other hand, yoga fever was high at the BJP headquarters where BJP leaders and workers led by state president B S Yeddyurappa performed asanas.
Later, sharing the photos on Facebook, Yeddyurappa said, 'Celebrated International Yoga Day at Malleshwaram, Yoga is a way to have a divine lifestyle and also strengthen mind body & soul.'
He thanked Modi for his efforts in taking yoga to the global platform.
Meanwhile, at the Field Marshal Manekshaw Parade ground in Bengaluru about 8,000 NCC cadets from 150 schools and colleges in and around Bengaluru participated in a yoga event, organised by the NCC Directorate (Karnataka & Goa) Bengaluru.
Union Minister for Chemicals and Fertilisers, Ananthkumar too actively took part in the proceedings.
In Mizoram, the Lal Thanhawla led Congress government did not organise any official function to observe the International Yoga Day, officials said.
An official statement narrated about the valedictory function of the Healthy Mizoram Campaign but did not mention yoga.
Reports said that the Yoga day functions was observed in the headquarters of the central para-military forces in Aizawl.
The powerful church, the civil societies and the student bodies of the state had earlier objected to the observance of the International Yoga Day expressing suspicion that Yoga is a part of 'Hindu ritual' and should not be practised by Christians.
The People's Rights to Identity and Status of Mizoram (PRISM) party on Thursday flayed the 'forcible' practice of Yoga by the state police.
Meanwhile, Delhi Chief Minister Arvind Kejriwal, found having a raised sugar level, had to give a miss to the International Yoga Day celebrations in New Delhi and leave for Bengaluru to undergo a 10-day naturopathy treatment.
Kejriwal, who had joined International Yoga Day participants last year along with Lt Governor Anil Baijal and the then Union minister and now Vice President Venkaiah Naidu, was found having high blood sugar following his nine-day, arduous sit-in at the Lieutenant Governor's office.
A day after his sit-in ended at the LG office on June 19, he left for Bengaluru today to undergo naturopathy treatment after holding meetings with his ministers and officials, said a government official.
Union Minister Harsh Vardhan, Lt Governor Anil Baijal and senior BJP leader Meenakshi Lekhi took part in the celebrations.
Kejriwal's name was also there in the guest list of New Delhi Municipal Council (NDMC) that made preparations for the event.
In Delhi, the fourth edition of the celebrations was organised at several venues -- from the sprawling Rajpath to the lawns of the Red fort and the old municipal parks and gardens in other parts of the city.
Kejriwal had participated in the first International Yoga Day celebrations at Rajpath along with his deputy Manish Sisodia. Erstwhile LG Najeeb Jung too was present there but in a different enclosure and the two had not exchanged pleasantries.
Delhi BJP chief and MP Manoj Tiwari accompanied by Union minister Rajyavardhan Rathore at Shahdara Lake Park in his north east Delhi constituency.
Kejriwal's failure to attend the International Yoga Day events attracted criticism from the BJP.
Leader of Opposition in Delhi Assembly Vijender Gupta alleged that city government deliberately 'boycotted' the event.
"If Kejriwal was himself not well, he could have deputed Deputy Chief Minister Manish Sisodia or one of his ministers to participate in the celebrations, said Gupta.
However, Kerala Chief Minister Pinarayi Vijayan said yoga should not be seen as part of any religious practice.
Speaking at the state-level celebrations in Thiruvananthapuram, Vijayan, a Communist Part of India-Marxist veteran, however lauded the greatness and benefits of yoga.
Vijayan said Yoga can be practised by all, irrespective of caste and religion, adding it should be done with a 'free and secular' mind.
He said the Left Democratic Front government has taken steps to set up a yoga and naturopathy centre of international standards in the state.
Stating that yoga was an exercise and not part of any ritual, Vijayan lamented that attempts were being made by some groups to 'hijack' it in the name of religion.
"This kind of false propaganda will only keep common people away from yoga and reduce its popularity," he said.
Terming yoga as a 'good exercise' for the body and mind, the chief minister said, 'though there may be many other forms of exercises in the world, there is nothing as good as yoga especially for the mental health and well-being'.