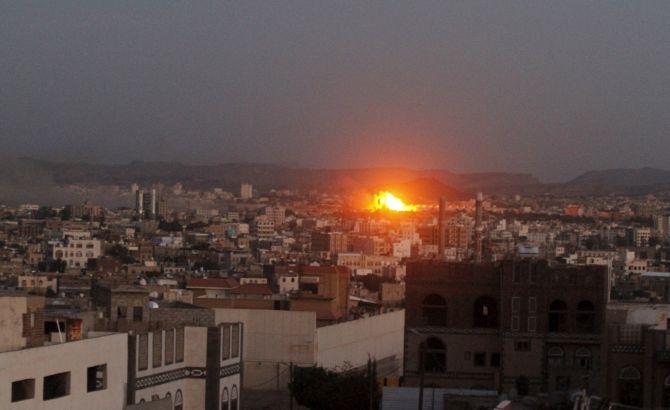 Around 70 crew members, who had to abandon ship in search of safety, are now stranded near the Khokha Port. Prasanna D Zore/Rediff.com spoke to Indian crew members who say they are safe for now but will die of hunger if not rescued by the Indian government.
Wali Mohd (00967739477621), one of the Indian crew member from Kutch Mandvi told Rediff.com that as many as 70 crew in five ships are stranded near Khokha Port in Yemen.
Wali said that all were safe but on Saturday night had to evacuate their ship and seek shelter in a small village about six kilometres away from the port, after heavy shelling began where their ship was anchored.

"It is a small village and people here are helping us with water, food and shelter," Wali Mohd said. He feared that given the intensity of the shelling they may not be able to remain safe for longer.
Wali Mohd was reduced to tears as he spoke with this correspondent over the phone. He was unable to give the name of the village but said that it was just five to six kilometres away from Khokha Port.

He said that they were forced to evacuate their small mechanised boat after heavy shelling on Saturday and the group abandoned the ship in search of safety. Most of these 70 were now scattered, he said. "We ran wherever our instincts took us," Wali Mohd said.

When asked if the Indian government was in touch with them, Wali Mohd said, "We get a lot of calls from India but due to poor network connectivity it was difficult to say who the callers were." He said he wasn't aware of the exact date when they sailed from Mandvi with a cargo of foodgrain, textile material and edible oil, but were stranded at Khokha Port for more than a week.

Wali Mohd said two of the ships that set sail last week fearing escalation in bombing were wrecked in the shelling just close to the port. He said they had set sail for Oman.

Haji Juneja, former president of the Kutch-Mandvi Vahanvatt Association said that the five ships were safe but the crew with whom he and other members of his association were in touch with were scared for their safety.
Abdul Majid Adam Chauhan, the captain of ship M V Arzuu, which is stranded at the Khokha port, told Rediff.com from Khokha, Yemen, that all the 65 to 70 Indian crew members in Khokha and safe. He said the owners of the five stranded ships are in touch with the Indian government, who have assured to rescue them in the next few days.

Majid said that nobody from the Indian government has yet spoken with him or any member of the crew directly.

Majid, Arzuu's helmsman, said that he has 18 Indian crew, all from Mandvi-Kutch in Gujarat, onboard his mechanised vessel. He identified the owner of Arzuu as Bakhtiar, a Dubai-based Indian businessman.

The names of the other four ships are Sher-e-Naushad, al Zubair, Razzaq and Noor-e-Haji-Hussain. Majid also confirmed that two boats that had set sail from Yemen to Oman, Mustafa and Asmar, could not make it out of the port as they were bombed.
Speaking over an erratic connection, Majid said that while all the crew members were safe at Khokha, the small village too has come under shelling. He feared for the lives of all the crew in Khokha.

"We abandoned our ships on Friday night amid continuous firing," he said. From there they moved to Khokha and reached there the same night.

"The locals are helping us with whatever they can. But being poor and suffering from the intense civil war there is only that much they can do. Till the time our ration lasts, or these people help, us we will survive. After that if the government does not rescue us we will die of hunger," Majid said.

Abdul spoke with this correspondent on 00967714787331 that belonged to a crew member Yakub Dosani. Abdul Majid's number 00967715381450.
Image: An explosion is seen after a Saudi-led air strike hit the weapons depots at a Houthi-controlled military base in Yemen's capital Sanaa. Photograph: Mohamed al-Sayaghi/Reuters