The Bharatiya Janata Party had to cancel its rally and roadshow that was to be attended by party strong man and former Chief Minister B S Yediyurappa in Mudigere on Thursday, following a protest by a group of partymen urging the leadership not to give ticket to sitting MLA M P Kumaraswamy from the segment in the upcoming assembly elections.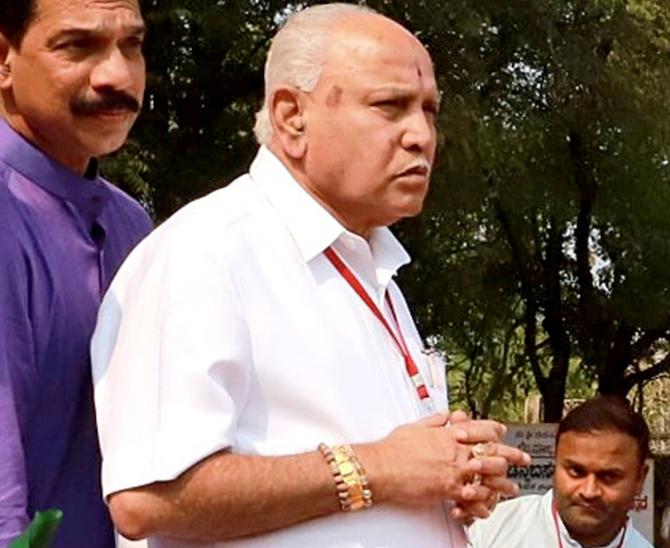 The developments forced the veteran leader, who is also the party's Parliamentary Board member, and other leaders including its national general secretary C T Ravi, and MLC M K Pranesh to abandon the event, which was organised as part of the BJP's ongoing 'Vijaya Sankalpa Yatre', and go back.
As Yediyurappa was on his way to take part in the road show, a group of partymen surrounded his car and raised slogans against Kumaraswamy and wanted the senior leader to hear their appeal; following this, another group of workers gathered at the spot shouting slogans in favour of the MLA.
The group opposing the MLA had reportedly even planned to submit a memorandum to Yediyurappa, expressing their opposition to Kumaraswamy being given the ticket.
Repeated attempts by Ravi and other BJP leaders to pacify both sides, with an appeal to allow them to carry on with the roadshow and rally, were not successful.
Yediyurappa, who was said to be upset with the behaviour of the workers, did not get out of his car, party sources said.
They said, he instead cancelled the roadshow and rally, and travelled to Chikkamagaluru.
Later, speaking to reporters, Kumaraswamy turned emotional stating that he was pained that a senior leader like Yediyurappa was not allowed to take part in the rally in Mudigere, to organise where lakhs of rupees were spent.
Stating that Yediyurappa has instilled confidence in him and has asked him to work for the party and people, he hit out at those protesting against him, and said, "I'm being targeted as I come from SC community."
© Copyright 2023 PTI. All rights reserved. Republication or redistribution of PTI content, including by framing or similar means, is expressly prohibited without the prior written consent.