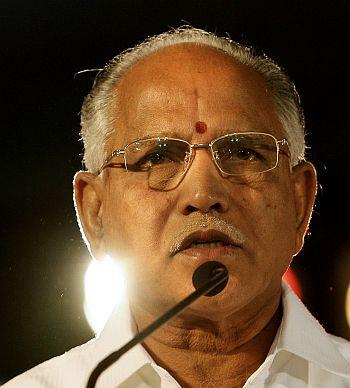 After all attempts at peace between former Karnataka chief minister BS Yeddyurappa and the Bharatiya Janata Party have failed, there are indications that a new political outfit will be floated on November 19. Yeddyurappa, who was ousted as the chief minister by his own party, has been sulking over not being given the post of party president.

He has indicated that a new political outfit will be launched on November 19 at Davangere in Karnataka, after he finally breaks away from the BJP.
Davangere has been a preferred venue for many politicians to kick-start their campaigns, as it is considered to be lucky. Almost every party which launched its political party from this city in Karnataka has gone on to win the elections.
Yeddyurappa has indicated that he would quit the party on November 19 with 25 of his loyalists. According to persons close to him, 25 legislators have declared their unconditional support to him, and more may follow depending on the response he is able to muster once he floats a new party.
it appears that Yeddyurappa, however, is not handing out an open-ended threat like he has usually done in the past, and appears to be serious this time. His loyalists say that he has given the party many chances and the central leadership never lived up to its promises.
Although Yeddyurappa made it clear that there was no scope for any more talks with the BJP leadership, he will make one last trip to New Delhi to meet with senior leaders. According to sources, his demands include replacing Deputy Chief Minister KS Eshwarappa with himself, and more say in the Cabinet.
Many political observers would however point out that Yeddyurappa does know his limitations, but this move by him is more vindictive. "He prefers to play kingmaker," a source pointed out.
The question, however, is how his new venture shapes up. The Yeddyurappa camp is not being too optimistic and says that they may win at least 30 seats in Karnataka which is a good enough start to their campaign.
While Yeddyurappa has the assured support of 26 members of the legislative assembly, a source said that he would not ask them to leave the BJP immediately but to wait till December.
Meanwhile, there are whispers that both the Congress and Yeddyurappa are looking for an alliance. A source said the Congress does not want him formally in the party as they might be accused of roping in someone facing corruption charges.
However, they are more than happy that Yeddyurappa will split from the BJP as it betters their chances in the elections, said a source.
The real picture would emerge only after the elections and the Congress will decide on whether it needs Yeddyurappa or not. Yeddyurappa, on the other hand, would hope to make a difference if he manages 30 seats.
The BJP, on the other hand, stands to lose a lot. While 25 legislators are expected to join Yeddyurappa, the party also expects to lose some Lingayat strongholds which Yeddyurappa had won for it.
In addition to this, if Yeddyurappa does manage to perform well, the BJP stands a chance of losing more legislators who for the moment are sitting on the fence and waiting for things to happen if a new party is floated.