From the Syrian civil war to the Ukrainian crisis to the terror unleashed by the dreaded Islamic State, there was no lack of news in 2014. In this five-part series, rediff.com presents a selection of the year's most enduring moments year from around the world.

PART I: The moments that defined 2014

PART II: The moments that defined 2014

Now see the last part of the series below...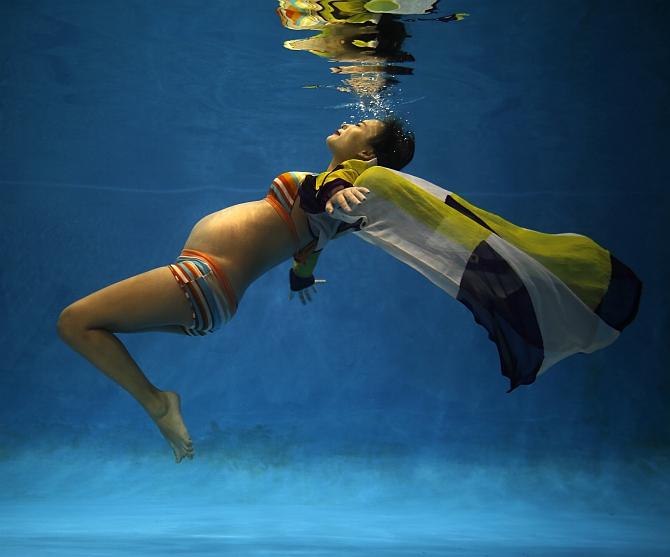 Jiejin Qiu, who is six months pregnant with her first baby, poses underwater during a photo shoot at a local wedding photo studio in Shanghai September 5, 2014. Reuters Photographer Carlos Barria photographed a person born in each year China's one child policy has been in existence; from a man born in 1979, to a baby born in 2014, and asked them if they would have like to have siblings. China, the world's most populous country with nearly 1.4 billion people, says the country's one-child policy has averted 400 million births since 1980, saving scarce food resources and helping to pull families out of poverty. Couples violating the policy have had to pay a fine, or in some cases have been forced to undergo abortions. But late last year, China said it would allow millions of families to have two children, part of a plan to raise fertility rates and ease the financial burden on a rapidly ageing population.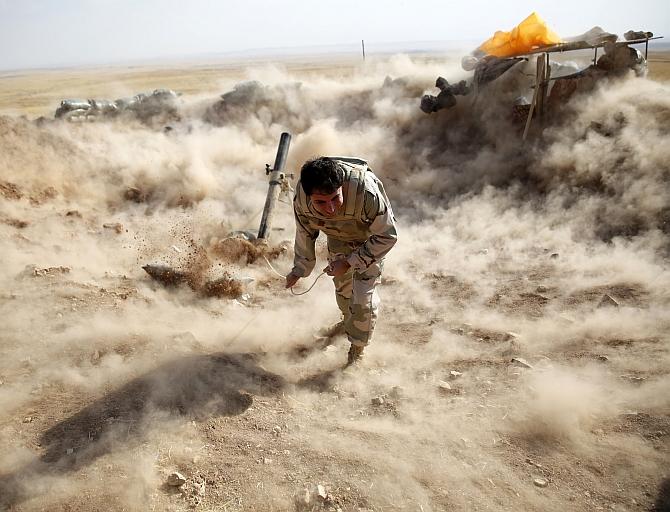 A Kurdish Peshmerga fighter launches mortar shells towards Zummar, controlled by Islamic State, near Mosul September 15, 2014. Photograph: Ahmed Jadallah/Reuters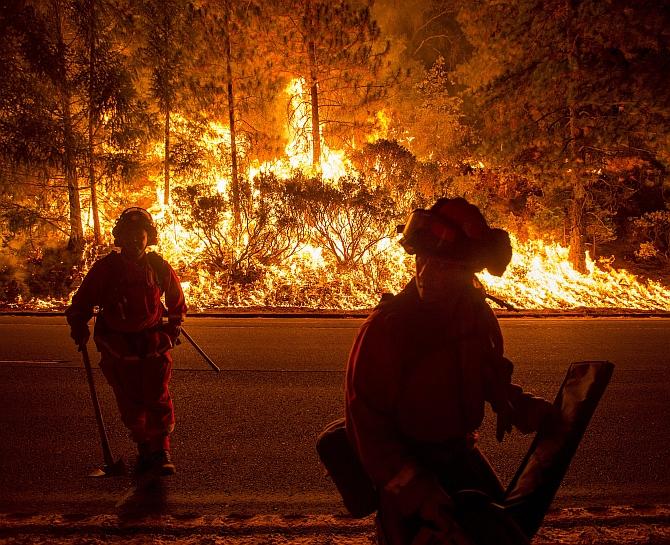 Firefighters battling the King Fire watch as a backfire burns along Highway 50 in Fresh Pond, California September 16, 2014. It has charred more than 11,500 acres (4,654 hectares) and was 5 percent contained on Tuesday. Photograph: Noah Berger/Reuters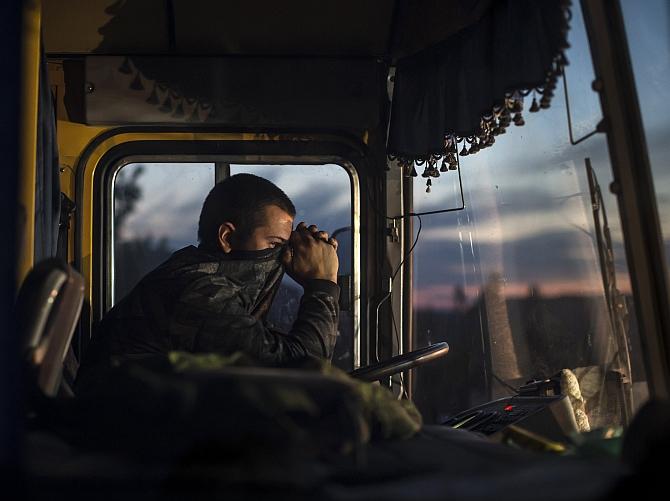 A driver sits inside a bus during an exchange of prisoners-of-war near Donetsk, eastern Ukraine, September 21, 2014. The two sides, that of the government forces and the pro-Russian separatists, exchanged POWs under the terms of the current ceasefire. Photograph: Marko Djurica/Reuters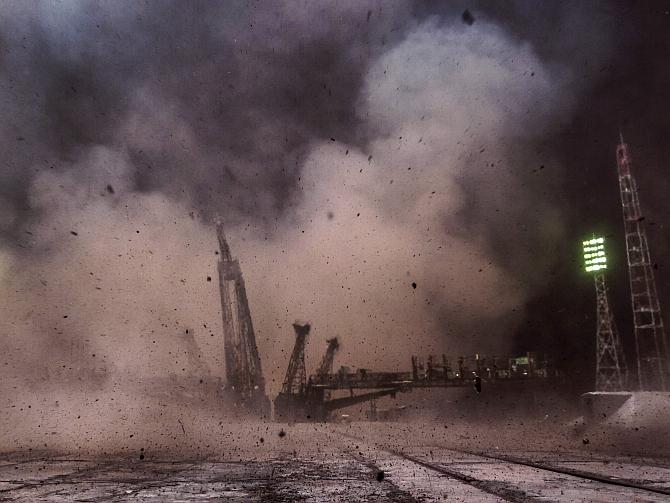 Debris flies after the Soyuz TMA-14M spacecraft carrying the International Space Station crew of Barry Wilmore of the US, and Alexander Samokutyaev and Elena Serova of Russia blasted off from the launch pad at the Baikonur Cosmodrome September 26, 2014. A Russian rocket blasted off from the Baikonur Cosmodrome in Kazakhstan to the International Space Station, taking to orbit a US-Russian trio including the first Russian woman to serve on the $100 billion space outpost. Photograph: Shamil Zhumatov/Reuters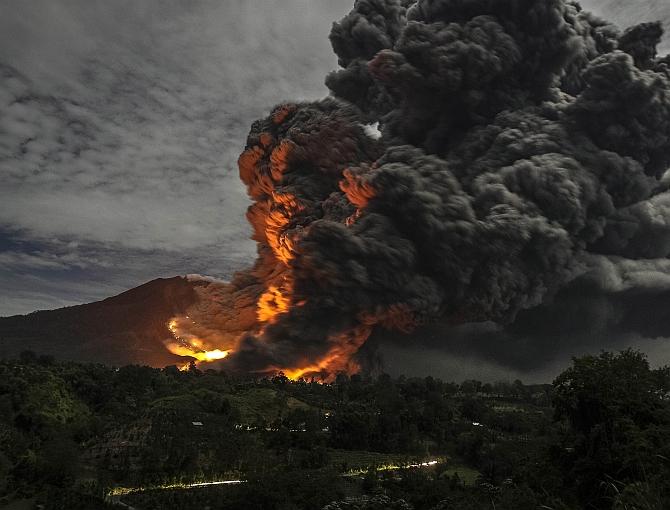 Mount Sinabung volcano erupts, as seen from Tiga Pancur village, Karo Regency in Indonesia's North Sumatra province October 8, 2014. Photograph: YT Haryono/Reuters




A woman reporter runs with a rebel fighter to avoid snipers at the frontline against the Islamic State fighters in Aleppo's northern countryside October 10, 2014. Photograph: Jalal Al-Mamo/Reuters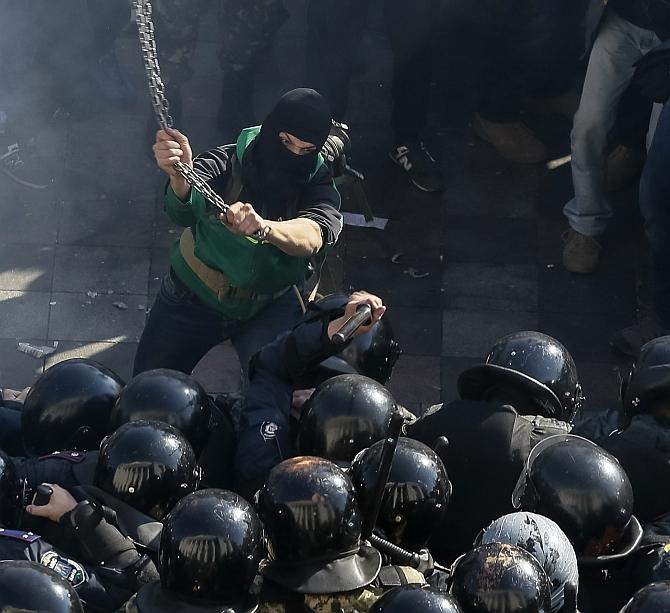 A radical protester clashes with law enforcement members on the Day of Ukrainian Cossacks, marked by activists and supporters of the All-Ukrainian Union Svoboda (Freedom) Party and far-right activists and nationalists to honour the role of the movement in the history of Ukraine, during a rally near the parliament building in Kiev, October 14, 2014. The radical protesters demanded the release of political prisoners in Ukraine. Photograph: Gleb Garanich/Reuters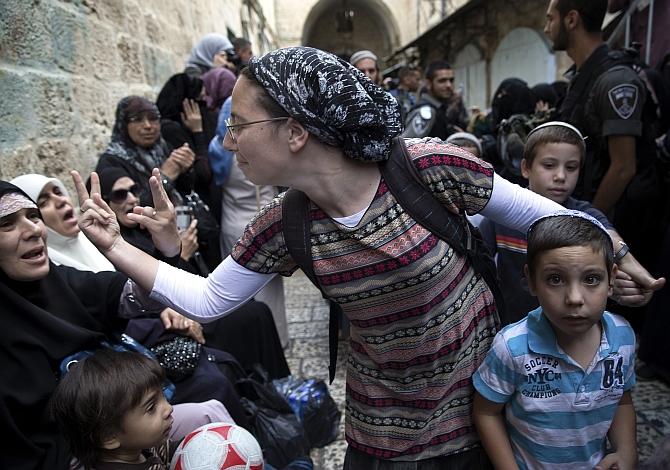 An Israeli woman and a Palestinian woman gesture at one another during a protest by Palestinian women against Jewish visitors to the compound known to Muslims as Noble Sanctuary and to Jews as Temple Mount in Jerusalem's Old City October 14, 2014.
The site in Jerusalem's walled Old City has seen repeated disturbances over the years over what Palestinians say are fears of an Israeli threat to the site, which Muslims call the Noble Sanctuary. Israel denies any such threat. Jews also revere the site as the location of two destroyed biblical temples.
Photograph: Finbarr O'Reilly/Reuters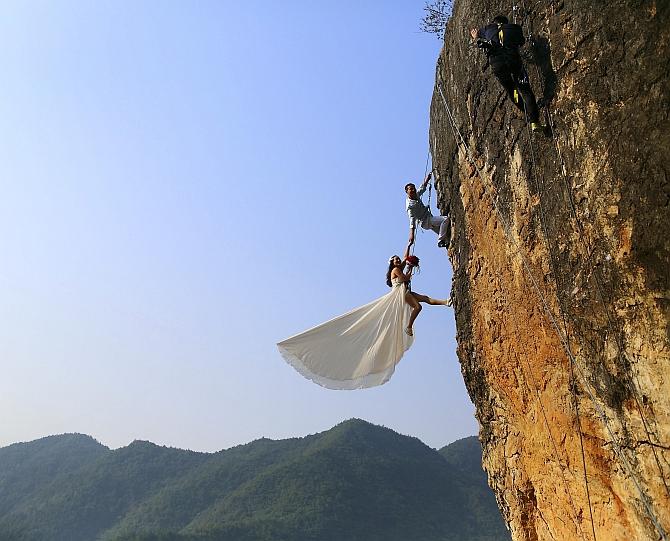 Zheng Feng, an amateur climber takes wedding pictures with his bride on a cliff in Jinhua, Zhejiang province, October 26, 2014.
Photograph: China Daily/Reuters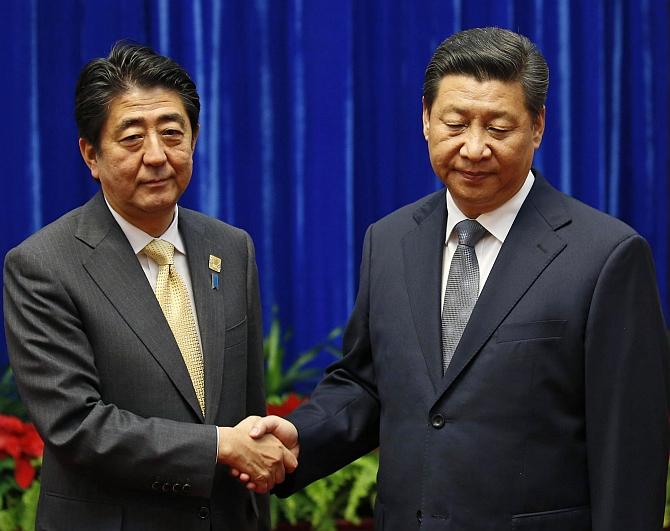 China's President Xi Jinping (right) shakes hands with Japan's Prime Minister Shinzo Abe during their meeting at the Great Hall of the People, on the sidelines of the Asia Pacific Economic Cooperation meetings, in Beijing November 10, 2014.
Photograph: Kim Kyung-Hoon/Reuters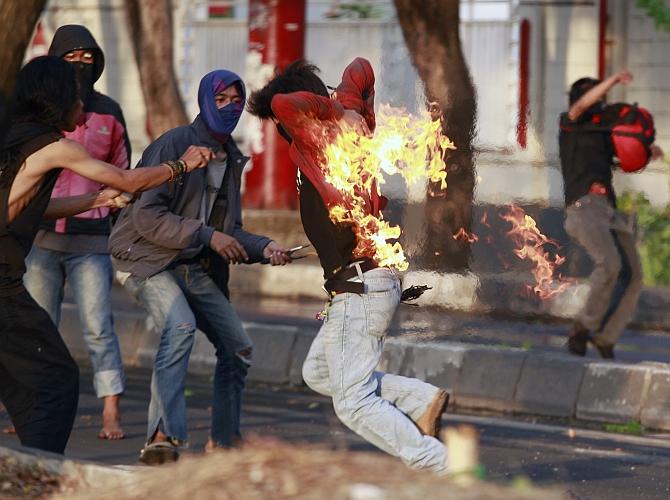 An Indonesian student protester runs after he caught fire while throwing a molotov cocktail towards police during a protest against the new president's decision to hike fuel prices this week in Makassar, South Sulawesi Province November 19, 2014.
Photograph: Yusuf Ahmad/Reuters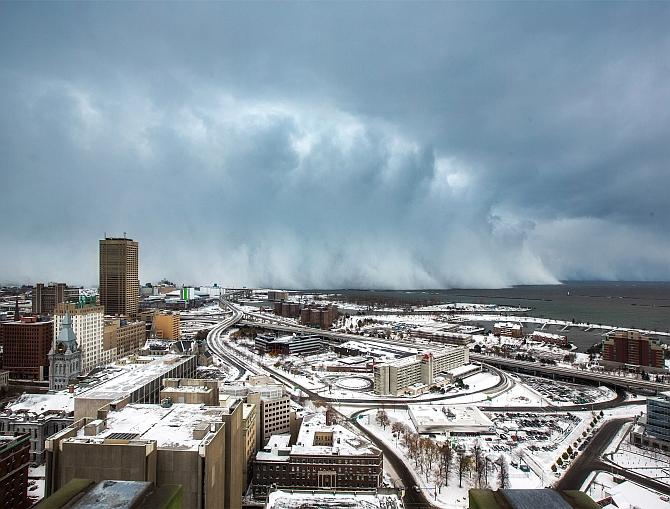 Storm clouds and snow blows off Lake Erie in Buffalo, New York, November 18, 2014. An autumn blizzard dumped a year's worth of snow in three days on Western New York state, where five people died and stranded some overnight in cars.
Photograph: Lindsay DeDario/Reuters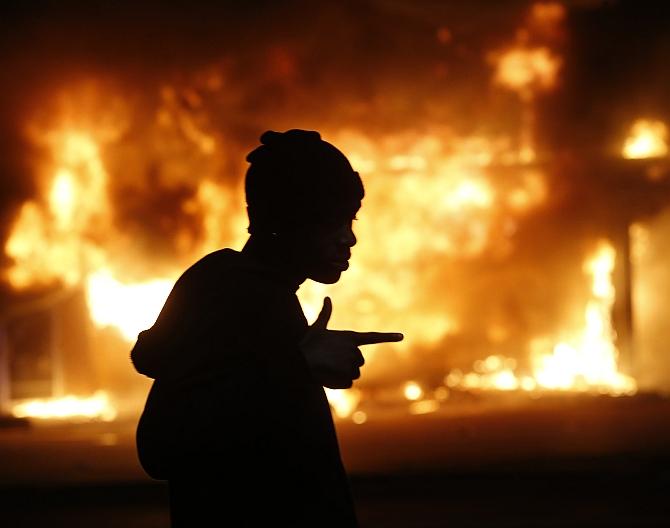 A man walks past a burning building during rioting after a grand jury returned no indictment in the shooting of Michael Brown in Ferguson, Missouri, early November 25, 2014. Gunshots were heard and bottles were thrown as anger rippled through a crowd outside the Ferguson Police Department in suburban St Louis after authorities announced that a grand jury voted not to indict a white officer in the August shooting death of an unarmed black teen.
Photograph: Jim Young/Reuters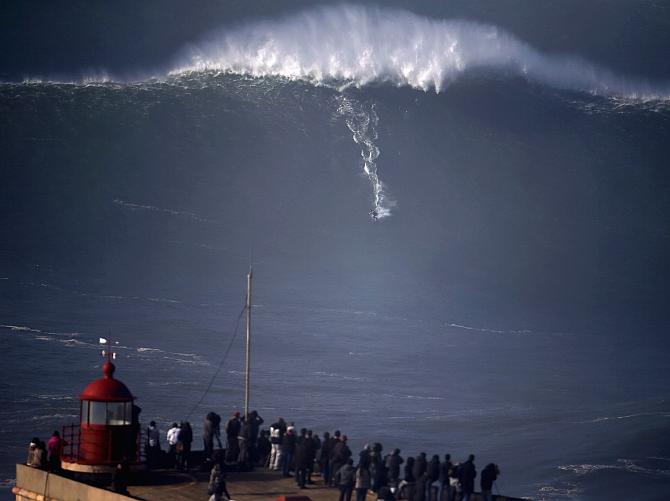 A surfer drops in on a large wave at Praia do Norte, in Nazare December 11, 2014. Praia do Norte beach has gained popularity with big wave surfers since Hawaiian surfer Garrett McNamara broke a world record for the largest wave surfed here in 2011.
Photograph: Rafael Marchante/Reuters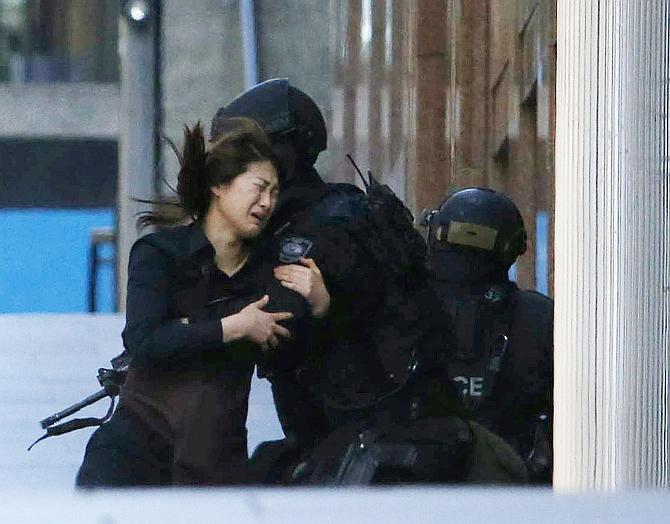 A hostage runs towards a police officer outside Lindt cafe, where other hostages are being held, in Martin Place in central Sydney December 15, 2014.
Photograph: Jason Reed/Reuters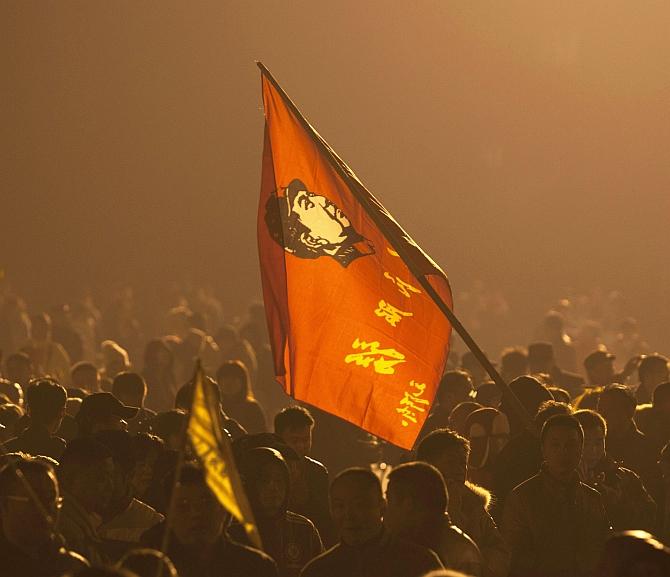 A person holds a flag of China's former Communist Party leader Mao Zedong, as people gather at a square to celebrate Mao's 121st birth anniversary in his hometown of Shaoshan, Hunan province December 25, 2014. Various commemorative activities were held nationwide on December 26 to mark the occasion.
Photograph: Darwin Zhou/Reuters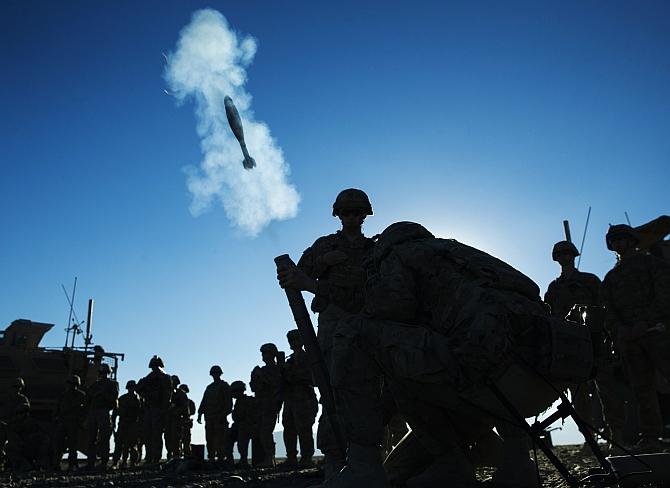 A mortar flies out of a tube during a mortar exercise for US soldiers in Dragon Company of the 3rd Cavalry Regiment near forward operating base Gamberi in the Laghman province of Afghanistan December 26, 2014.
Photograph: Lucas Jackson/Reuters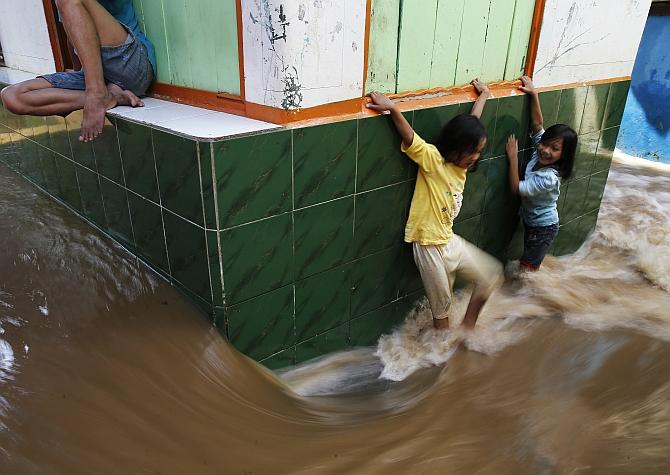 Children try to walk through a flooded street at Kampung Melayu residential area in Jakarta, December 23, 2014.
Photograph: Beawiharta/Reuters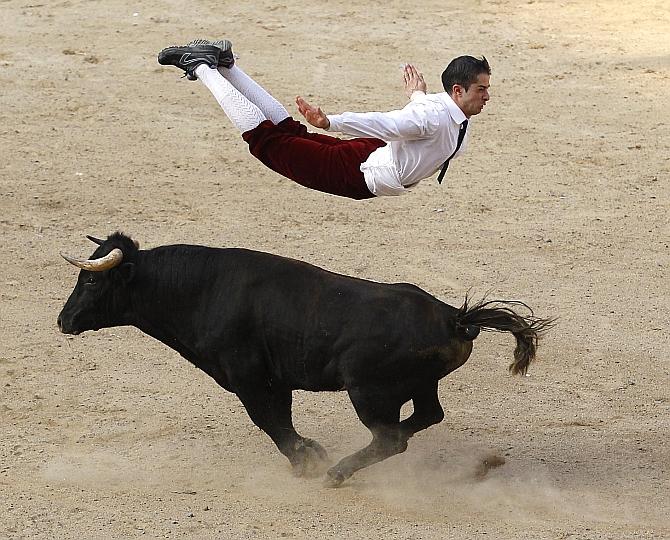 A Spanish recortador jumps over a bull during a show in Cali December 21, 2014.
Photograph: Jaime Saldarriaga/Reuters