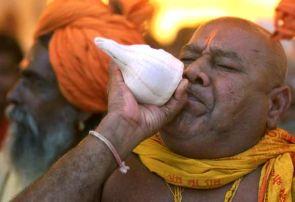 The Samajwadi Party on Thursday justified the Uttar Pradesh government's decision to ban a proposed yatra by the Vishwa Hindu Parishad to garner support for the construction of the RamTemple at a disputed site in Ayodhya.
It said the state government will not allow an event that might raise communal tensions in Uttar Pradesh. SP spokesperson Rajendra Choudhary asserted that the 2002 Gujarat communal violence cannot be repeated in Uttar Pradesh. He said stern action will be taken against all those who conspire to raise communal tensions in the state.
"We won't let Uttar Pradesh to become Gujarat. There is brotherhood and communal harmony here. Chief Minister Akhilesh Yadav has made it clear that anything against the law will not be tolerated," he said.
"Be it RSS, VHP or even BJP, if they use sadhus and sants for political purposes…the people of Uttar Pradesh are well aware of their motives and conspiracies. Sadhu and sants should be peace loving and not take law in their hands. Why didn't they take out a yatra during BJP rule? We believe in secularism," he added.
Choudhary said Babri Masjid would not have been demolished if the Samajwadi Party was in power at that time. "When Mulayam Singh was CM they tried to demolish the Babri Masjid. But when he was not the CM, Babri Masjid was demolished. Had we been in power at that time, no one would have dared to demolish Babri Masjid," he said.
"We want communal harmony and we want development but there are some people who consider communalism as politics, they are least bothered about development. Communalism cannot grow in Samajwadi Party's rule," he added.
The UP government on August 20 banned the VHP from holding a religious procession to Ayodhya, as a preemptive measure against communal flare-up. According to reports, devotees from several parts of the country are expected to arrive in large numbers at Ayodhya, from August 25 to September 13, as part of VHP's proposed yatra of seers and saints, called the '84 Kosi Parikrama'.
The VHP plans to start from Ayodhya and travel through six districts -- Basti, Faizabad, Ambedkarnagar, Barabanki, Bahraich and Gonda, before returning to Ayodhya on September 13. The UP government has said the administration of all six districts have advised against allowing the yatra.